2012 Hatzidakis Winery, Nikteri, Santorini, Greece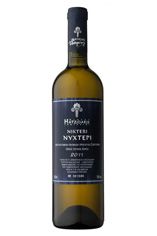 The Producer
Hatzidakis Winery
Santorini is one of Greece's best known islands, mainly for its stunning views, whitewashed chapels and black sand beaches.
Hatzidakis Winery is named after the winemaker and oenologist, Mr. Haridimos Hatzidakis and is located near Pyrgos at the centre of the island. Hatzidakis studied oenology at the higher school of Oenology and Spirits Technology in Athens, graduating in 1986. He then went on to train with, and work for, the Greek wine giant Boutaris, before setting up this family venture in 1997.
Domaine Hatzidakis produce a range of red and white wines, including some organic offerings. Production is small but quality is high. All wines are made from indigenous varieties Assyrtiko, Aidani, Marotragano...

A few words on Santorini Vinsanto wines: From ungrafted vines (phylloxera never reached Santorini), many of which are over a century old and some of which are allegedly five hundred years old, comes a blend of the indigenous Assyrtiko grape as well as Aidani, a grape widely grown throughout the Cycladic islands. The method of viticulture involves growing the vines into baskets (pictured below) to protect the grapes from the aggressive sun and wind on Santorini. Any moisture from the night air is also collected in the basket shape, aiding the survival of these un-irrigated vines on a volcanic island that often receives rather less than 6 inches of rain a year.




On Santorini Vinsanto is made in the following way. The grapes are harvested from early August and laid out on nets in the sunshine to dry for about 10 days. The Aidani grapes are the latest grapes to be harvested as the vineyards are at altitude. As is the family tradition here, the wine is aged for at least 6 years in used oak barriques. The barriques are kept in north facing caves excavated into the volcanic pumice soil.
View Producer
The Grape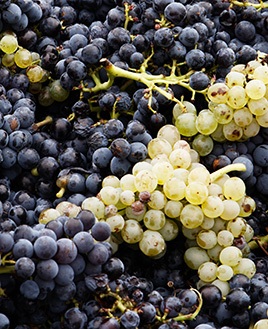 Assyrtiko
Assyrtiko (aka Assirtiko) [pronounce: A seer' tee ko] is one of Greece's signature white wine grape varieties, used for both dry and sweet wine. It reaches its apogee in the island of Santorini (where it was first planted – currently 70% of the island's vineyard area). It yields a bone-dry, steely wine that has deliciously concentrated citrus aromas mixed with an earthy, mineral aftertaste evocative of the volcanic soil of Santorini.

Uniquely, the vines are cultivated in low basket shaped crowns, pinned to the ground, for protection from the often fierce winds dominating the climate in Santorini. Coming off the sea, the nocturnal fog brings much needed water to the vines during the dry, hot summer season and this, coupled with the cooling northerly winds provide the right growing conditions for the grape to thrive.

Assyrtiko is highly resistant to most grape diseases and this partly explains why it been widely re-planted throughout appellations in Greece, such as in Paros, Naxos, Crete, and in smaller quantities in Attica, Drama, Epanomi, Halkidiki and Hromitsa, Drama.

Owing to its pronounced mineral profile, Assyrtiko stands up well for blending with grapes such as Sauvignon blanc, Sémillon and the indigenous Greek white grape Malagousia.

These are wines to be enjoyed young or aged; the ideal complement to delicate dishes, fish, seafood and, surprisingly, even grilled meat dishes.

More famously, Assyrtiko is paired with the aromatic Aidani and Athiri white grapes for the production of a distinctive, naturally sweet wine called Vinsanto (derivative of the name Santorini), known since the Byzantine times.

Vinsanto can be naturally sweet or fortified and must be barrel-aged for a minimum of 2 years. The opulently sweet Vinsantos display a deep amber colour, a thrilling nose of crème brûlée', chocolate and dried apricots and a palate of dates and dried figs.
View Grape
The Region
The volcanic island of Santorini is one of the southernmost in the Cyclades archipelago and among the most famous in Greece. Growing vines has been a long-standing activity and it has successfully survived the competition for hotel-land as well as the extreme viticultural conditions (volcanic eruptions, severe summer drought, hot weather, dry, ferocious winds)
In this unforgiving viticultural environment, vines are pushed to their limits, struggling to produce even 2 tonnes per hectare. This also results to an extraordinary definition of flavours in the fruit.
Asyrtiko, the standout Greek white grape, planted throughout Greece including Macedonia and Attica, is at home here with a magnificent combination of body, steely minerality and high acidity. It works extremely well in its own, but it also lends itself to blends with the more mellow and fruity Athiri and Aidani grapes.
Assirtiko wines are bone-dry, showing citrus aromas intermixed with an earthy, mineral aftertaste that reflects the volcanic soil of Santorini.
Vinsanto or Vissanto
Vissanto, produced since Byzantine times, is a local sweet wine speciality, made from sun-dried Assyrtiko, Aidani and Athiri grapes. Mature examples are half-way between Oloroso and Tawny Port. Less sweet, more youthful versions from a combination of raisined and and un-raisined grapes, or from grapes that have undergone less sun drying, show peach flavors and a lingering aftertaste of wildflower honey, supported by mouthwatering acidity.
Although the island didn't have a reputation for red wine, the red cultivars of Mandilaria (20% of vineyard area) and the oak-aged Mavrotragano (of the Mataro-Mourvedre lineage) have now gained recognition in the Greek wine-making scene.
A rare examples of sweet wine (Madeira-style) from sun-dried grapes is also produced by the local Mavrathiro.
Recommended Producers
Santorini is home to several pioneering boutique wineries. Certain of these have propelled the local industry to achieving modernization, innovation and international recognition; Sigalas, Hatzidakis, Argiros, Antoniou and Heliopoulos are some of the premium quality producers.
View Region
Customer Reviews
Questions And Answers