2013 Jamsheed Beechworth Roussanne, Alpine Valley, Victoria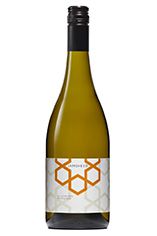 The Producer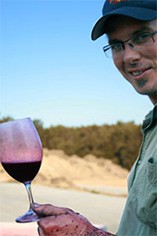 Jamsheed Wines
Jamsheed's proprietor and wine maker Gary Mills, was born in Western Australia and, like many of our new Aussie producers, gained exposure to fine wine through his enthusiastic parents. His step-mother was the owner of a considerable wine cellar of both Australian and international wines, so understanding what good wine was came early. A graduate of Literature and Japanese speaker, early jobs were far removed from wine making. Disgruntled with his latest job as a tour guide for Japanese tourists in Queensland, Gary was struck that whatever he did in the future it must include wine.

A contract job in winemaking at Ridge Vineyards, California came his way and his talent turned a five week placement in to a two year stint working closely with Paul Draper. After some time in Oregon and upon returning to Australia, Gary was intrigued with the spice and perfume of Victorian Syrah and forewent the chance to return to his home state but rather set up in the Yarra Valley working with contracted grapes.

In 2003 the output for the first vintage was 120 cases of Syrah and Gewürztraminer. Sites with old vines planted in sympathetic soils have been difficult to find and when they do there is work in getting his hands on the produce. Now sourcing fruit from the Yarra Valley, Great Western, Beechworth (the Warner Vineyard), Moonambel, Mornington Peninsula and the Victorian Pyrenees, production has grown to over 7000 cases but quantities are limited so he can still undertake 100% of the winemaking.

Jamsheed was the grandfather of wine making, the Persian Prince cited in ancient writings, who observed the transformation of grapes to wine through the happy accident of inadequate protection from the environment. It's an ancient reference, but to us, the wines represent the new wave of cooler climate production in Australia. Pure, expressive and unencumbered wines showing that adaptability in Australian wine making might be its biggest asset.

View Producer
The Grape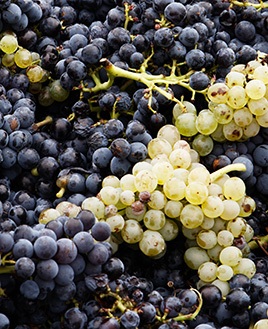 Roussanne
Roussanne is one of the most important white grape varieties in the Rhône Valley. It is a particularly pernickety grape to cultivate being a notoriously low yielder as well as being highly susceptible to rot. It is difficult to ripen, and seemingly prone to oxidation at every opportunity. Roussanne's name comes from its russet-coloured skin and it produces richly aromatic wines, often with fruit characteristics of lime and blossom.
In the northern Rhône it is typically blended with Marsanne to produce the white wines of Hermitage, Crozes-Hermitage, St-Joseph, and St-Péray. Generally Marsanne is the dominant partner and it lends colour, body and weight to the blend, as well as richly scented fruit, while Roussanne contributes bouquet, delicacy and finesse.
It is grown less extensively in the southern Rhône although it is one of the permitted varieties in Châteauneuf-du-Pape. There are plantings of Roussanne in the Languedoc and Rousillon and in the last decade the grape have been cultivated with particular success in California, where it is produced both as a single varietal and as a component of Rhône-style blends.
View Grape
The Region
Victoria's oldest viticultural area dates back to 1837. Initially it won admiration and trophies for its dry wines before losing out first to the fortifieds from South Australia, and then to the dairy cow. The 1960s saw its revival with Dr Bailey Carrodus founding Yarra Yering in 1969, closely followed by another medic, Dr John Middleton, launching Mount Mary in 1971.
Famous for its Pinot Noir and Chardonnay, the region has attracted interest from sparkling houses, notably Domaine Chandon as well as from one or two corporates; Melbourne's continued sprawl represents the biggest threat to this Victorian idyll.
The climate is cool maritime (it's just 15 miles to the ocean), exposed to wind and rain with spring frosts a potential risk. The region's warmer northerly aspects are preferred for viticulture. The best soils are underpinned by a low vigour, red-brown clay subsoil, while a significant swathe of the region is characterised by vigorous deep-red loam.

Recommended producers: Toolangi, Mount Mary
View Region
Customer Reviews
Questions And Answers