2009 Iron Horse Classic Vintage, Brut, Sparkling, Green Valley, California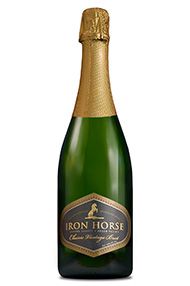 The Producer
Iron Horse Vineyards
Iron Horse is one of Sonoma County's small, independent, family-owned wineries. Founded in 1976, in the Green Valley AVA of Sonoma's Russian River Valley, Iron Horse is renowned for its sparkling wines.

The estate was named after a railroad stop, which crossed the property in the 1890s. Rodney Strong rediscovered it as a vineyard site in 1970, planting the original 55 acres of Chardonnay and 55 acres of Pinot Noir.

Famously served at the White House for the first time for the Reagan - Gorbachev state banquet and then also during four further presidencies, Iron Horse is a new, premium sparkling addition to our Californian wine range and showcases the quality available from California for traditional styled sparkling wines.
View Producer
The Grape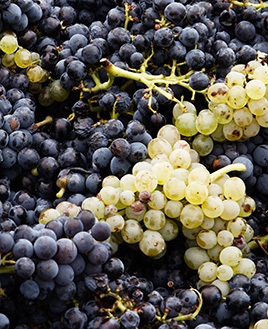 Champagne Blend
Which grapes are included in the blend, and their proportion, is one of the key factors determining the style of most Champagnes. Three grapes are used - Pinot Noir, Chardonnay and Pinot Meunier.

26% of vineyards in Champagne are planted with Chardonnay and it performs best on the Côtes des Blancs and on the chalk slopes south of Epernay. It is relatively simple to grow, although it buds early and thus is susceptible to spring frosts. It produces lighter, fresher wines than those from Burgundy and gives finesse, fruit and elegance to the final blend. It is the sole grape in Blancs de Blancs, which are some of the richest long-lived Champagnes produced.
Pinot Noir accounts for nearly 40% of the plantings in Champagne and lies at the heart of most blends - it gives Champagne its body, structure, strength and grip. It is planted across Champagne and particularly so in the southern Aube district.
The final component is Pinot Meunier and this constitutes nearly 35% of the plantings. Its durability and resistance to spring frosts make the Marne Valley, a notorious frost pocket, its natural home. It ripens well in poor years and produces a soft, fruity style of wine that is ideal for blending with the more assertive flavours of Pinot Noir. Producers allege that Pinot Meunier lacks ageing potential, but this does not deter Krug from including around 15% of it in their final blends.
View Grape
The Region
This low-lying valley Sonoma County in and its 10,000 acres of vineyards was virtually unknown before 1983, when it was granted official appellation status (Russian River Valley AVA).
It has since established a formidable reputation as a prime spot for challenging varieties like Pinot Noir (29% of the acreage in 2007), which thrives in this cool-climate region. Chardonnay (42% of the acreage in 2007) has also blossomed here, showing a signature lean and restrained profile.
The Russian River Valley climate is influenced by cooling fogs, drawn inland from the Pacific. This natural air-conditioning allows the grapes to develop full flavor maturity over an extended growing season, while retaining their life-giving natural acidity.
View Region
Customer Reviews
Questions And Answers