2013 Bonny Doon Vineyards A Proper Claret, Santa Cruz, California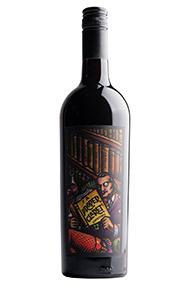 The Producer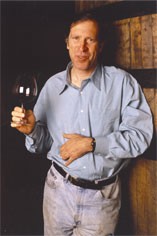 Bonny Doon Vineyard
Bonny Doon Vineyard is situated in the Santa Cruz Mountains in the tiny hamlet of Bonny Doon. Randall Grahm follows in the footsteps of another great winemaker from the Santa Cruz area in so far as he was a Philosophy major until bitten by the wine bug. A complete and insufferable wine fanatic, he returned to the University of California at Davis to complete a degree in viticulture in 1979.
The original vineyard (the Marsanne and Roussanne of Le Sophiste) died of Pierce's Disease 3 years ago and Grahm's fruit sources now include: Washington State (its high latitude and long autumn days make it perfect for riesling); San Bernabe in Monterey (the largest vineyard in the world); San Francisco's Sacramento Delta (the sandy home to 19th century Rhône vines); the Chequera Vineyard in Paso Robles for the Roussanne.
Grahm is known as the "Rhone Ranger" for his pioneering work in the popularization of Rhone and Provencal varieties in California. Fermentation vessels are stainless steel (for reds including syrah and mourvedre, rosé and spicy whites such as malvasia) or very large old oak vessels (roussanne, zinfandel etc). The Moscato is pressed from frozen grapes and has been fortified discreetly. Rhône reds tend to be punched down, whites and delicate reds e.g. pinot noir pumped over. Reds are matured in oak puncheons of varying ages.
View Producer
The Grape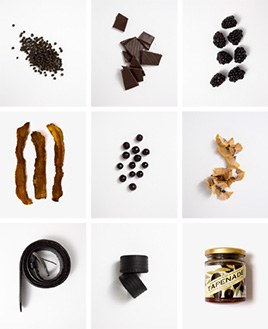 Syrah/Shiraz
A noble black grape variety grown particularly in the Northern Rhône where it produces the great red wines of Hermitage, Cote Rôtie and Cornas, and in Australia where it produces wines of startling depth and intensity. Reasonably low yields are a crucial factor for quality as is picking at optimum ripeness. Its heartland, Hermitage and Côte Rôtie, consists of 270 hectares of steeply terraced vineyards producing wines that brim with pepper, spices, tar and black treacle when young. After 5-10 years they become smooth and velvety with pronounced fruit characteristics of damsons, raspberries, blackcurrants and loganberries.

It is now grown extensively in the Southern Rhône where it is blended with Grenache and Mourvèdre to produce the great red wines of Châteauneuf du Pape and Gigondas amongst others. Its spiritual home in Australia is the Barossa Valley, where there are plantings dating as far back as 1860. Australian Shiraz tends to be sweeter than its Northern Rhône counterpart and the best examples are redolent of new leather, dark chocolate, liquorice, and prunes and display a blackcurrant lusciousness.

South African producers such as Eben Sadie are now producing world- class Shiraz wines that represent astonishing value for money.
View Grape
The Region
While many North American states make wine, it's California (along with Washington State and Oregon) that drives the fine wine (vitis vinifera) industry.
In 2005 California alone accounted for 200,000 hectares of vinous vines (as opposed to those grown for jelly or raisins), well in excess of Washington's 12,150 hectares and Oregon's 5,500 hectares. California's Napa Valley is acknowledged to be the world's second-best source of Cabernet Sauvignon/Bordeaux blends and Chardonnays (in Carneros), while its Santa Barbara and Sonoma Counties are home to world-class Pinot Noir and Chardonnay. Top-notch Zinfandel is also grown in Sonoma County.
The Californian wine industry was born in the south on the back of 18th century Spanish missionaries, and it consolidated in the north following the 1849 Gold Rush. Soon after, vitis vinifera varieties including Zinfandel made their appearance, edging out the inferior Mission grape. French and German immigrants (Krug, Schram, Beringer) helped develop the industry initially in Sonoma and then Napa, before fanning out to the Santa Cruz Mountains, south of the Bay area.
Cabernet Sauvignon was first produced as a wine in Sonoma in the late 19th century, at a time when many of Napa's reds were made from Rhône varieties and Zinfandel. The viticultural boom was accelerated by the transnational railway but was then literally stopped in its tracks by Phylloxera during the 1890s. However, as with Europe, a negative was turned into a positive as the disease allowed the industry to effect many viticultural improvements (varieties, vine densities, trellising). Prohibition threatened to further derail the industry further, were it not for an unprecedented demand for grapes for home winemaking, as well as for sacramental wine.

Despite the Repeal in 1933, the Fine Wine (ie Napa) industry didn't recover until the 1960s, when the likes of Chateau Montelena, Heitz, Robert Mondavi and Paul Draper made their move. In 1976, several of Napa's wines outshone their French counterparts in a blind tasting known as 'The Judgement of Paris'. Such success was short-lived however, as the industry was hit first by the oil crisis, then by the re-emergence of Phylloxera during the late 1980s; the fad for White Zinfandel was an additional setback.

The modern era continues to see an insatiable appetite for Napa wineries, pushing the price of land beyond even the reach of the Silicon Valley techies, piling even more pressure on winemakers to hit 100 points and so justify their fee and the $150-per-bottle price tags.

Californian viticulture is made possible thanks to the presence of the Pacific Ocean, its cool Humboldt Current tempering the summer heat through cyclical onshore breezes and rolling fog, so extending the ripening time of the grapes.

Additionally, to the east of San Francisco the 5,000-metre-tall Sierra Nevada mountain range triggers precipitation, which in turn feeds Central Coast irrigation channels. While the Winkler scale of heat summation points to regional differences, it appears to ignore the subtleties of terroir.
View Region
Customer Reviews
Questions And Answers