2012 De Martino 'Vigno' Old Vines Carignan, Maule Valley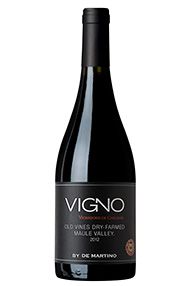 The Producer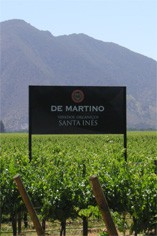 De Martino
De Martino is one of the most progressive and exciting names on the Chilean wine scene, deservedly named Chilean Winery of the year in 2011. Through a network of intellectual partnerships and vineyard acquisition, it has quickly built up a reputation for organic viticulture of the highest quality, farming from over 350 different vineyards.

The corporate vision focuses on sustainability, terroir, and, by logical extension, excellence. By concentrating on the very best sites for the varieties in question, be they in Limari, Elqui or Maipo, and by the development of a world class winemaking team, De Martino now sits at the very top of the Chilean vinous hierarchy.

The Alto Piedras vineyards make up 5 hectares of the sub-Denominacion of the Isla de Maipo, a de facto island as the vines are surrounded by two branches of the Maipo River. Two other self-evident truths are located in the nomenclature; firstly that the terrain is rocky, volcanic gravel to be precise and secondly that the vines are quite high up. Chile's indigenous grape, Carmenère, is here aged for 18 months in new French oak.
View Producer
The Grape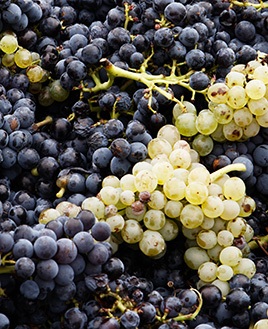 Carignan
Carignan, as its name suggests, is presumably of Spanish in origin, from around the town of Carineña west of Priorat in the province of Aragon.
Carignan, also known as Carginano in Italy and Cariñena or Mazeulo in Spain, is one of the most widely-planted red grapes in France. Planting became widespread in France during the 1960s, when Algeria gained its independence and was no longer an inexpensive source of red grapes. Languedoc-Rousillon (Cotes du Roussillon, Corbières, Saint Chinian) is the bastion of Carignan in France, and it is also grown Provence, although it now gradually being replaced with more complex and characterful varieties such as Syrah and Grenache.
The berries are blue-black, with fairly thick, astringent skins.Carignan buds and ripens quite late, so it is resistant to spring frosts, but requires a long ripening season and warm climate. It is a vigorous grape, which can result a wine of dull character.
Carignan is useful for adding intense colour, acidity, and fleshy tannins to the archetypal Southern French blends of Syrah, Grenache and Cinsault. Few select growers have managed to produce interesting, distinctive wines from this grape by carefully limiting the vine vigour and the yields.

Old Carignan vines (over 50 years) on a combination of low yields and suitable terroir can produce magnificently concentrated and characterful wine. The best expressions can be found in Priorat.
View Grape
Customer Reviews
Questions And Answers