Champagne Devaux, D de Devaux Le Rosé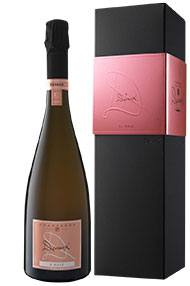 The Producer
Champagne Devaux
In 2007, an encounter between Champagne Devaux and Michel Chapoutier, from the Rhône Valley, gave birth to a daring idea of creating a rare vintage champagne: one that would faithfully capture the image of the vintage, every single year. Together they purchased a vineyard plot in the renowned village of Les Riceys, and decided to focus on wines aged in casks made from oak from the Champagne region.

The name of the cuvée "Sténopé" comes from the French word for a pinhole camera: a simple optical device used at the very beginning of photography to capture an image of reality. The challenge of this unique champagne is, harvest upon harvest, to interpret a season, with all its unique characteristics. Only 3400 bottles and 620 magnums were produced for the vintage 2008 (one of Champagne's greatest ever vintages).

the sensational D de Devaux Rosé, which is aged for 5 years and scored 19/20 by Tom Stevenson in his 2014 Decanter article of Top 10 Rosés… just half a point less than the mythical Dom Perignon Rosé 2002.

View Producer
The Grape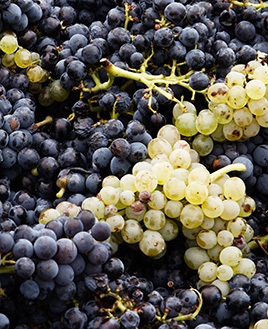 Champagne Blend
Which grapes are included in the blend, and their proportion, is one of the key factors determining the style of most Champagnes. Three grapes are used - Pinot Noir, Chardonnay and Pinot Meunier.

26% of vineyards in Champagne are planted with Chardonnay and it performs best on the Côtes des Blancs and on the chalk slopes south of Epernay. It is relatively simple to grow, although it buds early and thus is susceptible to spring frosts. It produces lighter, fresher wines than those from Burgundy and gives finesse, fruit and elegance to the final blend. It is the sole grape in Blancs de Blancs, which are some of the richest long-lived Champagnes produced.
Pinot Noir accounts for nearly 40% of the plantings in Champagne and lies at the heart of most blends - it gives Champagne its body, structure, strength and grip. It is planted across Champagne and particularly so in the southern Aube district.
The final component is Pinot Meunier and this constitutes nearly 35% of the plantings. Its durability and resistance to spring frosts make the Marne Valley, a notorious frost pocket, its natural home. It ripens well in poor years and produces a soft, fruity style of wine that is ideal for blending with the more assertive flavours of Pinot Noir. Producers allege that Pinot Meunier lacks ageing potential, but this does not deter Krug from including around 15% of it in their final blends.
View Grape
The Region
Rosé wines are produced by leaving the juice of red grapes to macerate on their skins for a brief time to extract pigments (natural colourings). However, Rosé Champagne is notable in that it is produced by the addition of a small percentage of red wine – usually Pinot Noir from the village of Bouzy – during blending.
Recommended Producers : Billecart Salmon (Elizabeth Salmon Rose), Ruinart
View Region
Customer Reviews
Questions And Answers