2008 Pinot Gris, Vendanges Tardives Trimbach
The Producer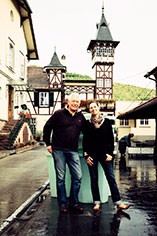 Trimbach
The House of Trimbach was established in 1626 and is now being run by the 12th generation of the family, Pierre and Jean. The family supervises all operations from planting and vinification to selection and bottling, giving them 100% control over production.

If Zind Humbrecht produces wines of extravagant power at one end of the spectrum of excellence within Alsace wine making, then Trimbach definitely stands at the other extreme – "Restraint" is the watchword. The Trimbach style is paraphrased perfectly by Hubert Trimbach and the family itself – "Concentrated not heavy; fruity, not sweet; bracing rather than fat; polite rather than voluptuous".

Trimbach wines are reserved, steely, elegant, even aristocratic; never obvious or flashy. "We are Protestants. Our wines have the Protestant style – vigour, firmness, a beautiful acidity, lovely freshness. Purity and cleanness, that's Trimbach." For those weary of the copious residual sugar found in so many of the contemporary Alsace wines, Trimbach's are a refuge.
The jewel in the crown is the family's Clos Ste-Hune vineyard, a small vineyard just outside Hunawihr. Family-owned for over 200 years, it is widely regarded as one of the best expressions of Alsace Riesling.Trimbach has launched their first-ever terroir named wine with the 2009 Riesling Grand Cru Geisberg, 2.6 ha plot on the Geisberg have always been part of the famous Cuvée Frédéric Emile. A second Grand Cru may be in the pipeline as, in 2012 the Trimbach family purchased a plot in the Kientzheim Grand Cru Schlossberg.
View Producer
The Grape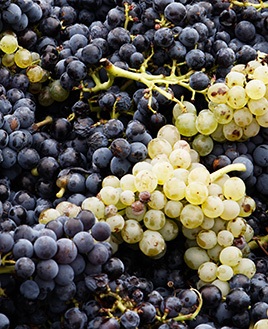 Pinot Gris/Pinot Grigio
A first class grape variety grown in Alsace, where it is known as Tokay Pinot Gris, and in Italy, where it is called Pinot Grigio. In Alsace it is best suited to the deep, clay rich soils found in the north of the region where it produces richly honeyed, dry whites as well as superb sweet late harvest wines. At its best it combines the heady perfume and rich aroma of Gewürztraminer with the acidity one associates with Riesling. It ages very well, developing rich buttery characteristics.
In Northern Italy Pinot Grigio produces many thin undistinguished dry whites. However it comes into its own in Friuli-Venezia and the Alto Adige, where leading producers such as Alvaro Pecorari of Lis Neris produce marvellously rounded, elegant, and mineral laden examples. Pinot Gris is now grown with notable success in Oregon in the USA and in New Zealand.
View Grape
The Region
Also known as Clevner or Klevner, Pinot Blanc is the workhorse grape of Alsace, covering around 21 percent of the vineyard area. It is more full-bodied than Sylvaner, but less concentrated and aromatic than its regional counterparts Riesling, Gewürztraminer and Pinot Gris.
It plays an important role in blends for the sparkling wine of the region, Crémant d'Alsace, which is clean, delicately fruity, very subtly aromatic but with fresh acidity and typically moderate alcohol of 11 to 12.5 percent. It is often blended with Auxerrois, which imparts a richer, broader and spicier character.

Pinot Blanc thrives throughout the region, but its natural home is considered to be Pfaffenheim. The appellation regulations do not authorize Pinot Blanc for wines at Vendange Tardive, Sélection de Grains Nobles and Grand Cru level.
View Region
Customer Reviews
Questions And Answers