2006 Ridge Lytton Springs, Sonoma County, California
The Grape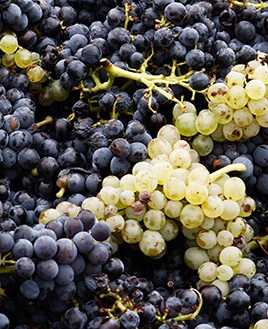 Zinfandel
Zinfandel is California`s most distinctive red grape and is one of the few that is considered one of their "own", even though it originated in Europe.

Although it has been grown in California for well over a century, it took the popularity of white ("blush") Zinfandel in the mid 1980s to persuade growers to retain their Zinfandel vines and indeed to plant more. Within 10 years, plantings had doubled and Red Zinfandel had become a Californian icon.

It is grown all across California though seems to perform best in meso-climates, which combine hot days and cool nights. It has a worrying tendency to ripen unevenly, leaving the producer with a sort of viticultural catch-22 - if he harvests too soon then he has green, unripe grapes, too late and he has dried out raisiny grapes.

After vinification, Zinfandel wines are often matured in American oak, which gives them a vanilla dimension. There is no single flavour character that can be associated with the grape - it can produce light, jammy, almost Beaujolais-type wines, redolent of freshly crushed berries, through to full-bodied, robust, oak aged wines brimming with ripe, peppery, cassis-like fruits. The best can age marvellously.
View Grape
The Region
Dry Creek Valley, approximately 16 miles long and 2 miles wide, is based around the Dry Creek river in Sonoma County, a tributary of the Russian River. The AVA has earned a reputation for its Sauvignon Blanc and Zinfandel. The valley remains a rural setting for small family wineries, yet at the same time it is home to the Sonoma wing of the industry giant, Gallo Wineries .
Zinfandel has long established its position as the valley's top red grape, and its second revival since the late 1990s' brought Dry Creek Valley back in the limelight. Dry Creek Valley has actually succeeded in rivaling Amador County in the Sierra Foothills as a stronghold of Zinfandel. Sauvignon Blanc is the valley's signature white grape.
Cabernet Sauvignon, Merlot and Syrah have also made successful inroads in Dry Creek Valley. Both are growing in acreage as Zinfandel has reached a peak.
View Region
Storage Details
Storage in BB&R Warehouses
Wines bought from Berry Bros. & Rudd can be stored
in our temperature controlled warehouses.
We can only accept orders for unmixed cases.

Storage Charges:
£13.80 (inc. VAT)
per case per annum



Customer Reserves
For wines purchased In Bond,
Duty & VAT charges become payable upon withdrawing from your reserves.
BBX wines can only be bought In Bond.
Minimum annual storage charge applies.
More information on wine storage
£12.60 (inc. VAT)
per case per annum
for Cellar Plan Members
Customer Reviews
Questions And Answers