Seedlip Spice 94, Distilled Non-Alcoholic Spirit
The Producer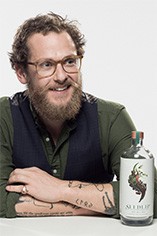 Seedlip
Seedlip is the brainchild of Ben Branson a son of the soil whose family have been farming in Lincolnshire and Yorkshire since the 17th century. Determined to keep his family farming and as he says himself 'happiest in nature' Ben set out to answer one of life's most challenging questions…'what do drink when you are not drinking alcohol?'
Via the wonderfully modern medium of the internet Ben stumbled on The Art of Distillation published in 1651 by the English Physician John French the original of which can be seen in the British Library and which documented apothercaries copper distilled non-alcoholic remedies. Thinking he may be on to something Ben bought himself a small copper still and set to work in his kitchen distilling we suspect everything he could get his hands on.
After a very long period of trial and error Ben came up with a blend of six botanicals – individually distilled – then blended together to produce the world's first distilled, non-alcoholic spirit. Launched in 2015 Seedlip (named after the baskets used to sow seeds buy hand) has become something of a sensation. A grown up, non-alcoholic, sugar free, sweetener free spirits with no artificial colours or flavours which is just delicious with tonic over ice with a twist of pink grapefruit or as a base for a myriad of long or short non-alcoholic cocktails.
We don't normally advocate alcohol free but we really feel Ben has produced something absolutely delicious and we just couldn't resist the opportunity of offering it to you.
View Producer
Customer Reviews
Questions And Answers