2015 Domaine Lyrarakis, Thrapsathiri, Armi, Crete, Greece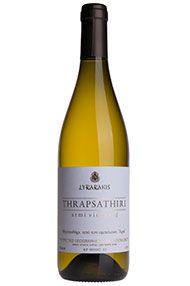 The Producer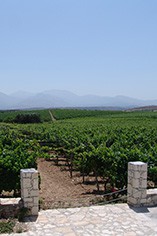 Domaine Lyrarakis
Domaine Lyrarakis, established in 1966 is located in the mountainous commune of Alagni (440m), south of the city of Heraklion, in Crete. The well-preserved 14th century stone-presses in the fields around the winery are a testament to the area's long history of grape-growing and wine making.

The winery is at the forefront of viticultural innovation: It has been long championing obscure local varieties, such as the ancient white cultivars of Plyto, Dafni, Vidiano that were brought back from extinction and have since garnered much acclaim for their quality.

The extensive portfolio consists of a range of monovarietal wines (Vidiano, Plyto, Mandilari, Assyrtiko, Vilana, Thrapsathiri, Kotsifali) – some from single, "premium" vineyard plots, as well as blends of indigenous with international varieties (Syrah, Cabernet, Merlot). Quality remains keynote and the style emphasises fruit precision, purity and supple texture , placing the wines firmly in the modern camp, yet without flamboyance or exaggeration.

A distinctive rendition of the ancient sweet wine of Crete, Malvasia, completes the Estate's extensive range. The wine is based on sun-dried Plyto, Dafni, Vidiano and Vilana and is hence a multi-varietal blend rather than a single varietal wine, which according to the Lyrarakis' family, reflects closely ancient winemaking traditions in the island.

Lyrarakis estate has built on the traditions of the region, taking their wines in a more modern direction while retaining their sense of place.

Read Tom Cannavan's review of Lyrarakis winery: Domaine Lyrarakis has led the wine revolution on the island of Crete

View Producer
The Grape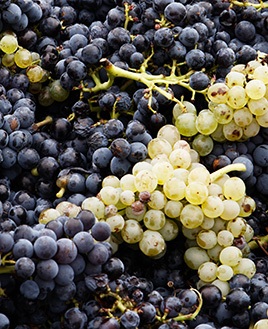 Thrapsathiri
Thrapsathiri is an ancient grape variety originating from Crete and it was originally thought to be related to the Aegian island white variety Athiri. Recent DNA evidence shows that Thrapsathiri is not connected to Athiri, but rather is identical to the local grape Begleri of the Cyclades, and closely related to another grape from Crete, Vidiano. Currently found in vineyards in the two eastern-most districts of Crete (Heraklion and Lassithi) but it is also permitted in the south-east region of Lakonia in Peloponesse.

In the past it formed blends with Vilana, another indigenous grape in Crete, but it is now increasingly vinified on its own, although in some recent bottlings, it is also found in partnership with Sauvignon Blanc. It can stand up well to barrel fermentation and maturation.

The resulting wine is distinctive and aromatic, full-bodied with intense citrus and peach overtones and an interesting proposition for those looking for something new to discover.

The name derives from the ancient Greek word "thrapseros" (meaning prolific, productive) and Athiri (a variety widely planted throughout Aegean).
However, it is worth noting that the dominant and high-productive white varieties in Crete were in the 12th - 18th centuries identified by the umbrella term "thrapsa", and these include the local Vilana, Athiri, and the historic Malvasia di Candia, which together with Thrapsathiri were some of the many components of the ancient Malvasia of Crete sweet wine which in turn was one of the most prized exports from the island in the medieval times.

View Grape
Customer Reviews
Questions And Answers