2008 Kyperounda, Commandaria, Pitsilia Mountains, Cyprus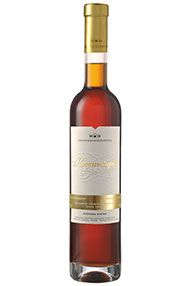 Free Specified Date & Standard UK Delivery 3 working days for orders over £100.
See Further Details
The Producer
Kyperounda Winery
This producer not only boasts the highest winery in Europe at 1140 metres, but also the highest altitude vineyards at over 1400 metres. The views from their estate are correspondingly spectacular. Kyperounda are situated in the Pitsilia range of the Troodos Mountains and are owned by more than 40 shareholders. These include the developed distribution networks and winemaking expertise of the Photiades Group and the Greek winemaker Boutaris. Kyperounda also enjoys the increasingly celebrated ability of their winemaker, Minas Mina.

Owing to their high altitude, Kyperounda invariably harvests at least a month later than vineyards at half their elevation. They grow Cabernet Sauvignon, Merlot, Syrah, Chardonnay and Gewürztraminer, as well as an excellent wine made from the principal native white grape, Xynisteri. Additionally, Kyperounda also produce a Commandaria. This wine is made from Xynisteri and the local black grape, Mavro, grown, fermented and initially aged in the Commandaria region before further maturation at the Kyperounda winery itself.

Kyperounda's cellar holds more than two hundred and fifty 225 litre French oak barrels and their production capacity is approximately 200,000 bottles.

Commandaria represents an ancient wine style, possibly the most ancient wine still in production, and is documented in Cyprus as far back as 800 BC and mentioned by writers such as Hesiod. Until the appellation of Commandaria was created in the late 12th century, this style of wine was referred to as Nama and was considered a holy wine. During the 3rd crusade Commandaria was served at the wedding of King Richard the Lionheart of England to Berengaria of Navarre.

Richard had recently conquered the island's strongholds form the Byzantine renegade, Isaac Comnenos, and subsequently sold Cyprus to the Knight's Templar. They defaulted on the full payment and he then sold it to Guy de Lusignan, King of Jerusalem. However, the Knight's Templar continued to keep a feudal estate at Kolossi, and this became known as La Grande Commanderie, reflecting its status as a military and trade headquarters. Following the Templar's suppression, their lands were sold to the Knights Hospitaller. Later that century, King Philip of France held a wine competition dubbed the Battle of the Wines. The winning wine was believed to have been Commandaria, sealing the wine's reputation until the Turkish conquest of the island in 1570/71.

Traditionally Commandaria was unfortified. 20th century examples of mass-market quality were (and still are) fortified. There exists a resurgent unfortified style amongst those smaller growers intent on raising wine quality. It is obligatory for the grapes destined for Commandaria (Xynisteri and Mavro) to be grown in the PDO Commandaria region in the foothills of the Troodos mountains. The wine must also be made within the confines of the region but may, with the right permission, be matured elsewhere on the island.

Kyperounda produces an exceptional example of an unfortified Commandaria from 85% Xynisteri (white) and 15% Mavro (black). Fully mature grapes (with a potential alcohol of 25% abv) are dried in the sun for 12 days. This shrivels them, reducing the aqueous content of the grapes. It also markedly concentrates sugars, flavour compounds and acids. A slow, cool fermentation follows in stainless steel tanks. The wine is matured in used 225 litre French oak barrels (formerly used to mature their Chardonnay and Petritis Xynisteri) for six years.
View Producer
The Grape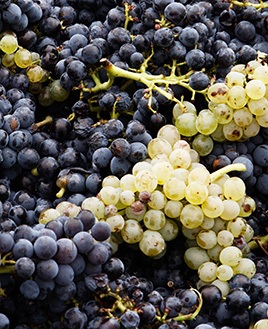 Other Varieties
There are over 200 different grape varieties used in modern wine making (from a total of over 1000). Most lesser known blends and varieties are traditional to specific parts of the world.
View Grape
The Region
The story of wine on the island is one of the oldest in the world, dating back to 3,500 BC and probably well before that time. Cyprus can justifiably be termed the cradle of European wine production. Furthermore, records and archaeological remains show that wine was a major export during the Mycenean, Cypro-Archaic, Classical, Hellenistic, Roman, Byzantine and Medieval periods. The Ottoman conquest of 1570/71 changed these fortunes, whilst British rule of Cyprus (1878 – 1960) resulted in a refreshed industry, albeit one focused on mass-market production. The period following independence, up to Cyprus's accession to the European Union in 2004, witnessed an unfortunate pursuit of high volume/lesser quality wines, grape spirit, and rectified concentrated grape must.

The associated stigma began to be eroded during the very gradual proliferation of smaller wineries in the 1980s and 1990s and subsequent to their efforts to improve wine quality. The most significant developments in regional identity, viticultural improvements and adoption of modern winemaking techniques, have occurred in the last five to ten years. There are now some excellent wines being produced on Cyprus of which the native industry can be justly proud. It is our pleasure to be able to show these wines and to assist a long awaited rebirth of the country that inspired Homer's 'wine-dark sea'.

Today Commandaria is possibly Cyprus's best-known wine and, having possessed its name since 1192, it also holds the oldest origin designation in the world. Nonetheless, it is a low-volume niche market wine. Apart from Commandaria's Protected Designation of Origin (PDO), Cyprus also possesses four regional appellations: Akamas Laona, Vouni Panayias – Ambelitis, Pitsilia, and Krasochorio.

Dry white wine production is dominated by the native Xynisteri grape; the most widely planted white variety on the island. It is also the principal constituent of Commandaria. Rosé is an increasingly popular category and Cyprus possesses the potential to produce exceptional rosé wines. Despite the seasonal appeal of white and rosé wines during the summer months, Cyprus's hot, dry climate is better suited to well-adapted native and international red varieties.

Native red grape varieties

Between 2001 and 2010 production of the native, most widely planted red variety, Mavro ('local black') grape, shrank from almost 11,000 hectares to just over 4,500 hectares, but it still accounts for 46% of the island's vineyard area. Mavro's declining popularity directly reflects its limited quality potential. Higher quality native red grapes, mainly represented by Maratheftiko (still only constituting 3% of native red plantings compared with Mavro's 64%) are relatively sparsely planted at this point in time.

Other native red grapes such as Yiannoudi, Opthalmo, Lefkada (with greater plantings in Cyprus than in its native Greece) are being experimented with in order to better understand potential. Volumes of high quality native red varieties are unable to compensate for the declining production of the limited quality Mavro grape.

This shortfall in production has resulted in a number of producers experimenting with international grapes, principally Syrah, with Cabernet-Franc and Cabernet-Sauvignon proving more successful at cooler, higher altitudes.

Since Cyprus joined the EU in 2004, access to international wines has eased and competition in the home market has increased. The domestic market has benefitted from this stimulation but at the expense of declining exports and imported wines now constituting at least a third of all wine consumed on the island.
Demetri Walters MW
View Region
Delivery Options


UK Wide
Standard: Within 3 working days (for orders placed before 2pm)

Specified Date*: 9am-5pm


* "Specified Date" is not available in Northern Ireland, The Isle of Man, The Isle of Wight, The Isles of Scilly and some areas of Scotland.

Further Details

**Qualifying order value excludes tickets, vouchers and wines bought inbond
Order value per delivery address**:
Over £100 - FREE DELIVERY
Below £100 - £7.50



 
---


Premium Services
Premium Services are available in mainland UK only


Next Weekday or Saturday Delivery

Pre-10am Any Day (not available on Saturday)
£12.50
£15.00
---


Shop Collection
When selecting "Collection" at the check-out, please allow 3 working days for us to process your order from our central warehouses. We therefore highly recommend telephoning before you make your journey to check that your order is ready. Collection is available from our two shops in London  &  Basingstoke.


FREE
---


International
International Delivery to Europe & Rest of the World
Subject to a minimum order value of £100 excluding the delivery charge, per delivery address.

Please note: We are unable to deliver Spirits to the USA

All orders for delivery outside the EU may be liable to local duties and taxes for which customers are responsible. The local delivery agent in your destination country will contact you to arrange payment of these taxes
Customer Reviews
Questions And Answers