2013 Mateo Vicelic, Plavac Mali, Peljesac Peninsula, Croatia
The Producer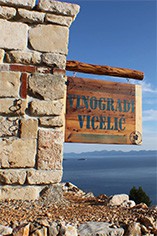 Mateo Vicelic
Mateo Vicelić has dedicated himself to re-vitalising this stunning limestone vineyard site that slopes from 1800 feet down to the coast.

His great grandfather achieved acclaim for the full-bodied red wine from the native Plavac Mali grape, a relative of Zinfandel, but the war years and subsequent austerity made wine-making for anything other than personal use not viable.

Now producing only 10,000 bottles from 3.5ha, but with plans to re-plant some of the additional 6ha in family ownership, there are just two wines produced, the early drinking, medium-bodied and aromatic red Plavac , and the more serious and ageworthy Dingač.
View Producer
The Grape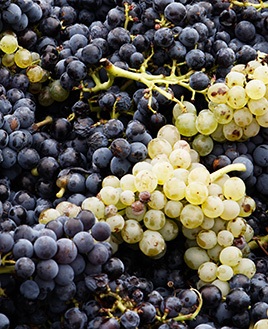 Plavac Mali
Plavac Mali is the literally named "small blue wine grape" of Croatia that is that country's most important red grape, and the first to have an appellation (Dingač, on the Adriatic coast) dedicated to it.

On south-facing slopes it creates ageworthy, full-bodied, structured wines with black fruit character and no lack of alcohol, as befits a relative of Zinfandel. Elsewhere it makes lighter, less powerful wines. The grape variety was first recorded in 1841, but has been cultivated and prized for its powerful wines for centuries before that.
View Grape
The Region
Croatia's wine industry was grown initially by Greek traders and subsequently within the Roman empire. The wines were prized by both empires, particularly those from the islands. Benevolent conditions continued in the medieval period, but the increasing influence of the Ottoman empire from the 15th century put a brake on development that was not released until Croatia came into the sphere of influence of the Hapsburg empire

In the 20th century the Croatian wine industry overcame the ravages of phylloxera without losing the indigenous grape varieties, and survived the state control of Yugoslavia where quality was sacrificed for quantity to emerge, stronger than ever, with new investment and technology.

Ranked just outside the top 20 wine producing countries by volume, Croatia produces more white than red, with a series of well-defined regions of production from Istria, inland Dalmatia and the coast and islands. The wines feature some wonderful indigenous grape varieties that are virtually unknown elsewhere.

One of the highest-regarded varieties is Plavac Mali (related to Zifandel) that forms the core of some of the best examples of Dalmatian Coast red wines, such as Postup, Dingač and Zlatan Plavac.
View Region
Customer Reviews
Questions And Answers