Moulin Touchais 6 btl Mixed (05,97, 96,87,85,79), Coteaux du Layon
The Producer
Moulin Touchais
Moulin Touchais dates back to 1787, when the Touchais family first managed the wine estate. Eight generations on, it is still family owned and is amongst the most traditional properties in the Loire Valley. The traditional methods of viticulture are still in place; low-yields, careful harvesting and meticulous winemaking. Although they have been built upon and improved over the years.
Moulin Touchais has one hundred and fifty hectares of vineyard, thirty five of which are dedicated to sweet wines of the Chenin Blanc grape. The harvesting strategy is to pick 20% of the grapes under ripe so they are still fresh and high in natural acidity, and 80% are picked late with the grapes yielding high sugar levels and concentrated flavours. This creates the smooth and elegant style of a Moulin Touchais wine.
The fermentation process is spread over several weeks, and the wine is bottled early and cellared for a minimum of ten years before leaving under the Moulin Touchais name.
View Producer
The Grape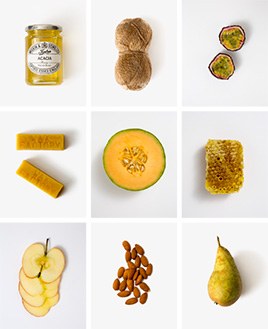 Chenin Blanc
Chenin Blanc is an important white grape variety planted in the Anjou-Saumur and Touraine regions of the Loire Valley and the most widely planted varietal grape in South Africa.

In the Loire it produces high quality dry wines in Savenniéres, and luscious sweet, dessert wines in Coteaux du Layon, Bonnezeaux and Quarts de Chaume. In Vouvray and Montlouis it can be dry, medium dry, or sweet, and still or sparkling. Whether dry or sweet, the best Loire Chenin Blancs possess marvellously concentrated rich, honeyed fruit together with refreshingly vibrant acidity. It is Chenin Blanc's high acidity that enable the wines to age so well.
In South Africa Chenin Blanc is easier to grow and is prized for its versatility. It is used as a cheap blending option with Chardonnay, Colombard, and Muscat but also bottled unblended. The best producers keep their yields low and produce impressive mouthfilling wines.
View Grape
The Region
The Coteaux du Languedoc appellation is either a useful assemblage of the top enclaves in the Hérault department or an extremely unhelpful conglomeration of vastly different sub-regions which would be more helpfully categorised independently. Whatever one's opinion, it is not short of both significance and potential, running along the Mediterranean coast from Narbonne almost as far east as Nîmes, and covering over 10,000 hectares – as well as some of the most attractive and wonderfully-situated vineyards in France.

Several of its sub-appellations are fighting for full AC status, the most famous being La Clape, Picpoul de Pinet and Pic St Loup. Of the others, high quality wines are now being produced in, inter alia, Montpeyroux, Grés De Montpellier and Terrasses du Larzac. All the principle grapes are represented, with Carignan and Cinsault reduced to a maximum of 40 percent apiece to encourage more fashionable varieties, especially Syrah and Mourvèdre. The terroir is equally diverse, with limestone, schist, sand and clay all evidenced.
View Region
Storage Details
Storage in BB&R Warehouses
Wines bought from Berry Bros. & Rudd can be stored
in our temperature controlled warehouses.
We can only accept orders for unmixed cases.

Storage Charges:
£12.00 (inc. VAT)
per case per annum



Customer Reserves
For wines purchased In Bond,
Duty & VAT charges become payable upon withdrawing from your reserves.
BBX wines can only be bought In Bond.
More information on wine storage
£10.20 (inc. VAT)
per case per annum
for Cellar Plan Members
Customer Reviews
Questions And Answers