2016 Côtes du Rhône Villages, La Cadène Blanc, Domaine Chaume Arnaud
The Producer
Domaine Chaume Arnaud
Domaine Chaume-Arnaud is owned and run by Valérie and Philippe Chaume-Arnaud, a young and vibrant couple with 13.5 hectares situated in and around Vinsobres, made up principally of Grenache (60%); Syrah (20%) with some ancient Cinsault, Carignan and Mourvedre (10%) plus Viognier and Marsanne (10%). Yields are kept low, all soil treatments are organic, and harvesting is done solely by hand. Most of the vines average 30 years old, going up to 65 for the Carignan in the Vinsobres cuvée.
Philippe looks after the vines while Valérie works the cellar, all under the watchful eye of her parents - her mother's method of tracking Philippe down is to drive literally into a vineyard and stand and scream at the top of her voice until he appears.
View Producer
The Grape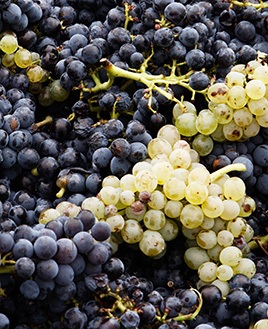 Other Varieties
There are over 200 different grape varieties used in modern wine making (from a total of over 1000). Most lesser known blends and varieties are traditional to specific parts of the world.
View Grape
The Region
A clear step up from basic Côtes du Rhône in terms of both quality and price, the Côtes du Rhône Villages appellation covers an area of 5,700 hectares entirely within the Southern Rhône. About 15 percent of the size of its generic counterpart, it offers mostly excellent, very good value wines from all three hues that are more serious, concentrated and interesting.
Red wines dominate, made up of a minimum 50 percent Grenache, at least 20 percent Syrah and Mourvèdre, and no more than 20 percent from 10 other named varieties. Out of 95 communes that are eligible to use the Villages name, the finest 18 of them have the right to append their village name, as long as the wine is exclusively from that commune. The classification is quite fluid though, with Gigondas, Vacqueyras, and Beaumes de Venise and Vinsobres and Rasteau having been upgraded to AOC status, and other villages like Massif d'Uchaux and Plan de Dieu being added.
Best enjoyed from two to 10 years of age, the best wines probably come from Cairanne and Sablet, but all are well worth a look. The whites are rapidly improving and are delicious in their first three years. Rosé wines are made from the same cépage as the reds and are usually very good.
Recommended Producers: Chapoton, Domaine Cros de la Mûre, La Soumade
View Region
En Primeur Details


Wine Laying Abroad
Also known as Wine Futures, En Primeur refers to the process of buying wines before they are bottled and released onto the market. Wines are purchased exclusive of Duty and VAT and then usually shipped atleast 1 year after the vintage.They can only be purchased by the unmixed case (12 bottles, 24 half bottles, 6 magnums etc.).

On arrival in the UK the wines will be stored, under bond, on your behalf in our Customers' Private Reserves . All En Primeur purchases are Ex-Vat and Ex-Duty.If/when you choose to have the wines delivered (anywhere in the EU) these taxes become payable.

Berry Bros. & Rudd en primeur prices include shipping from the winery to our UK Warehouse AND then onwards to your door within mainland UK. Other merchants may charge you as much as £17 per case extra for shipping, handling, warehousing charges AND then delivery to your door.
See En Primeur FAQs and the benefits of buying En Primeur .

FREE SHIPPING
FREE DELIVERY
Customer Reviews
Questions And Answers