2009 Lovedale Semillon, Mount Pleasant Estate, Hunter Valley, Australia
The Producer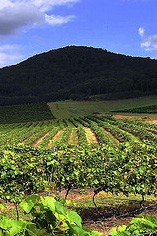 Mount Pleasant Estate
The Mount Pleasant Winery sits in the McWilliams portfolio, one of Australia's most renowned wine families and the family have enthusiastically embraced the concept of making single vineyard wines to demonstrate the diversity of which Australia is capable.

In 1880, English immigrant Charles King planted vines on rich, volcanic soil in the Parish of Pokolbin, at the southern end of the Hunter Valley. In 1921, legendary winemaker Maurice O'Shea purchased and extended the 16.3ha property and named it Mount Pleasant, after the peak that rises behind the winery.

The winery is today one of the most awarded in Australia having won an incredible 6 Championships, 154 trophies, 682 gold, 818 silver and 1731 bronze medals since the late 1960s. When the McWilliam family acquired ownership of Mount Pleasasnt in 1941, Maurice O'Shea was retained as Chief Winemaker and went on to make some of Australia's most highly regarded wines. O'Shea's groundbreaking work has been kept alive by revered winemakers Brian Walsh (1956-1978) and Phil Ryan (1978-current).

The fact that there have been just three Chief Winemakers at Mount Pleasant since 1921 has ensured consistency of wine style and quality. As was O'Shea's tradition, Mount Pleasant winemakers continue to bottle age commercial quantities of wines until they are considered at their peak.
View Producer
The Grape
Sémillon
The main grape for Sauternes and particularly successfully grown in Australia's Hunter Valley. Hunter Valley Sémillon is one of Australia's iconic and unique wines, totally unlike any wine produced elsewhere in the world from the same grape variety.

In youth the wines are quite citrusy and fresh, but are generally perceived to gain hugely in complexity as they age and are deemed to be best drunk when at least 5 years old, frequently lasting for 10 or more years. Unusually for Australia, the alcohol levels rarely exceed 11.5%.

In Bordeaux it is the most widely planted white grape and is blended with Sauvignon Blanc to produce the great long-lived dry whites of Graves as well as the great sweet wines of Sauternes. It is high in alcohol and extract and relatively low in aroma and acidity. Its thin skin makes it very susceptible to botrytis which is prerequisite for the making of Sauternes. It responds well to oak ageing and, while having a lightly lemony aroma when young develops lanolin flavours which some describe as "waxy", as well as a rich, creamy, intense, texture and a deep golden colour.
View Grape
The Region
The 3,000-hectare Hunter Valley is Australia's oldest viticultural area. Located inland from Newcastle in New South Wales, bordering Mudgee to the west, the region was built not on gold but coal in the late 18th century; the Hunter Valley Vineyard Association (HVVA) was founded in 1847. Depression followed until the red wine boom of the 1960s and 1970s, even if it was Murray Tyrrell's Chardonnay wines that proved the most successful.
The region's loamy vineyards are located at between 100 and 240 metres above sea level. The warm to hot sub-humid climate makes rot an issue. Sémillon (often at circa 11 percent ABV) and Shiraz are favoured. The finest Sémillon should have an almost limey, hay-like purity.
Recommended producers: Brokenwood, Tyrrell's and Molly Morgan
View Region
Customer Reviews
Questions And Answers