1999 Quinta da Senhora da Ribeira
The Producer
Quinta da Senhora da Ribeira
Quinta da Senhora da Ribeira is set in the remote, hot and dry Douro Superior and commands a magnificent north bank position, overlooking a broad sweep of the Douro, directly opposite another Symington family-owned vineyard: Quinta do Vesuvio.

The quinta was built close to an ancient and strategic river crossing, guarded by two 12th century hilltop castles, either side of the Douro. A small chapel dedicated to the 'Lady of the River' (literally: Senhora da Ribeira) has stood here for centuries and gave the quinta its name. Travelers would make a pause to pray for a safe river passage and onward journey.
Senhora da Ribeira's wines are some of the finest in the Douro and they complement those from Bomfim in the composition of Dow's classic Vintage Ports. The latter would be incomplete if one of the two was absent.

The quinta's high proportion of old vines (45% are over 25 years old) is of critical importance. The old vines are very low-yielding, producing on average less than 1Kg of grapes each, giving intense and concentrated musts which are ideal for classic Vintage Port.

All the wine is produced by the traditional method of foot treading in the old granite lagares.
View Producer
The Grape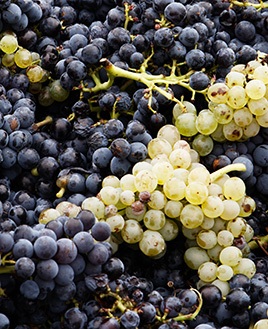 Port Blend
There are around 40 different grape varieties permitted in the production of Port - however the vast majority of Ports are produced from a blend of 5 grapes - Touriga Nacional, Touriga Francesca, Tinta Barroca, Tinta Roriz, and Tinto Cão.
Touriga Nacional produces small, dark-skinned grapes that produce opaque black wines of great extract and high tannins - it gives grip, body, and structure to the blend.
Touriga Franca has a thinner skin and consequently produces wines lighter in colour and tannins than Touriga Nacional. It contributes fruit, aroma, suppleness and roundness.
Tinta Roriz is the Portuguese name for Tempranillo and its high sugar content and low acidity contribute colour and fruit.
Tinta Barroca which is normally grown at highish altitudes and on north-facing slopes, is prized for producing wines of delicacy, finesse and with smooth, velvety fruit. It brings elegance and sweet, ripe fruit to the final blend.
Finally Tinto Cão produces fine and complex wines, though it is probably the least important of the 5 grapes as its painfully small yields have reduced plantings to almost insignificant levels.
View Grape
The Region
Single Quinta Vintage Port is currently one of the most exciting Port categories, which could potentially challenge the dominance of true Vintage Port in years to come. Single Quinta Port is made in much the same way as Vintage: aged for two to three years in cask before bottling without filtration – and is generally produced from a Port house's finest single vineyard, in years that are not declared. In a vintage year, the grapes from these vineyards – like Quinta dos Malvedos for Graham and Quinta de Vargellas for Taylor – will be used as the backbone of the blend and not bottled in their own right.
The more approachable, earlier-maturing Single Quinta Ports enable producers to satisfy demand for Vintage Port while retaining the rarity and caché of its top Port. Single Quinta Ports are not normally as good as true Vintage Port, but there are notable exceptions. Quinta do Vesuvio, Quinta do Noval and Quinta de la Rosa are all produced in vintage years and can be every bit good as their more famous, multi-vineyard rivals. Indeed the greatest and rarest Vintage Port in existence is from a single vineyard: Quinta do Noval Nacional.

Single Quinta Vintage Ports were traditionally sold when the Port house believed they were ready to drink, around eight to 10 years after the harvest, but as they become more serious and more popular, some are released as soon as they are bottled. Single Quinta Ports should be decanted before serving and, with some notable long-lived exceptions, generally age for around 15 to 20 years.
View Region
Customer Reviews
Questions And Answers