2017 Bandol Rosé, Domaine de Terrebrune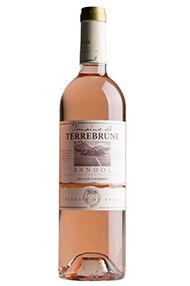 The Producer
Domaine Terrebrune
The wine of Domaine de Terrebrune is located in Bandol on the east side of the Provence wine appellation, nearer to Toulon, that is to say than Marseille, in fact close to the town of Ollioles.

Terrebrune's vines are planted on the terraces of the unusually named Gros Cerveau mountain and its soils are made up of limestone and an eponymous brown clay.

The domaine is planted with Mourvèdre, as well as Grenache and Cinsault that produce classic Bandol wines.

View Producer
The Grape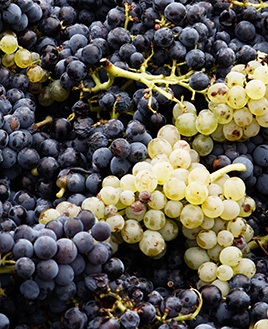 Mourvèdre
Mourvèdre, aka Monastrell in Spain, is a common blending partner of Syrah and Grenache (aka Garnacha in Spain). In Australia and California it can also appear under the name Mataro.

Mourvèdre's bastion in France is Bandol, where it reigns supreme in the red blends and yielding a savoury, gamey, herby wine. It also commonly features in Southern Rhône, Languedoc & Rousillon blends.

The grape needs a warm climate to ripen fully. Its stronghold in Spain are the appellations along the south-east Mediterranean(Murcia, Jumilla, Bullas), where it produces rosé, dry red and sweet fortified wines. Monastrell has played a significant part in Spain's vinous heritage; it nurtures wines that are deep in colour and richly tannic, sometimes overbearing in their intensity and concentration


View Grape
The Region
The appellation, a small enclave adjacent toCôtes de Provence, takes its name from the small fishing village of Bandol, which was once a port that flourished with the region's wine trade. The area has a long history of wine production and, ever since the Phylloxera epidemic in the late 18th century, has concentrated its efforts on the Mouvèdre grape. This late-season, red grape has always been grown in the area and is well suited to the terroir in Bandol.
Bandol is predominantly coastal. The soils (consisting of limestone and silicon) are dry, but the vineyards (usually planted on hilltops) receive moisture from the rain and the sea. Mechanical harvesting is banned throughout the region.

Bandol growers have a saying: 'one vine, one bottle'; hence the region has the lowest yields in France. Yet the area has established a reputation that goes beyond French borders as the best ambassador of quality wine for Provence.
Bandol red is Mourvèdre-dominated, stimulating, mouth-filling, flavoursome, well-structured and age-worthy. The wine is distinguished by deep colour and intense flavours of black fruit, vanilla, spicy concentration and meaty notes. It is aged in oak for 18 months and drinks well from an early age, but has the potential to improve for up to a decade.

Bandol also produces a small quantity of white wines, consumed locally, mostly from Clairette, Bourboulenc and Ugni Blanc, as well as earthy rosés – mainly from Grenache and Cinsault.
View Region
Customer Reviews
Questions And Answers