2017 Berry Bros. & Rudd Provence Rosé by Château la Mascaronne
The Grape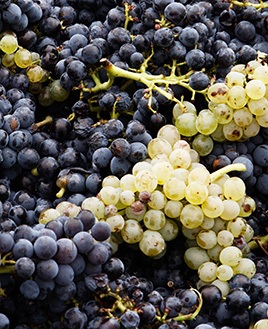 Other Varieties
There are over 200 different grape varieties used in modern wine making (from a total of over 1000). Most lesser known blends and varieties are traditional to specific parts of the world.
View Grape
The Region
The Roman poet Martial once condemned the wines of Provence's capital Marseilles as "terrible poisons, and never sold at a good price". Fortunately, this harrowing proclamation was born of envy.

Quite how long winemaking has been going on in Provence is a matter of historical debate, but it is thought that it dates back as far as the Greek founding of Massilia (now Marseilles) in 600 BC.

Although Rome tried to curtail the production of wine here so as to favour exports of Italian goods throughout the Empire, soldiers retiring from the legions undermined them by privately continuing to grow grapes in this area of France they called Provincia Nostra ('our province').
Like other areas in the Mediterranean, Provence has played host to a series of cultures during its history, and each one has added its own touch to the region's winemaking, particularly in terms of grape varieties. Simply listing some of the grapes found in the province gives a good idea of this variance, as they include Carignan, Cinsault, Grenache (the most planted), Ugni Blanc, Clairette, the indigenous Calitor, Barbaroux, Rolle (Vermentino) and Sémillon, amongst others.

Provence, to the east of Languedoc-Rousillon,is blessed with a Mediterranean climate, entailing warm summers and mild winters. With an annual average of up to 3,000 hours, excessive sun is a concern for many vines. Fortunately the heat is alleviated by the northerly mistral wind, and the risk of fungal diseases is minimal – which makes Provence suitable for organic viticulture.
The region is predominantly known for its rosé wines, which account for over half of Provençal production and are usually dry. The tiny enclave of Cassis stands out as a predominantly white wine region.
Provence's Appellations d'Origine Contrôlée (AOC) are:
Vin de pays is also produced throughout the region.
View Region
Storage Details
Storage in BB&R Warehouses
Wines bought from Berry Bros. & Rudd can be stored
in our temperature controlled warehouses.
We can only accept orders for unmixed cases.

Storage Charges:
£13.80 (inc. VAT)
per case per annum



Customer Reserves
For wines purchased In Bond,
Duty & VAT charges become payable upon withdrawing from your reserves.
BBX wines can only be bought In Bond.
Minimum annual storage charge applies.
More information on wine storage
£12.60 (inc. VAT)
per case per annum
for Cellar Plan Members
Customer Reviews
Questions And Answers