2017 Dolcetto d'Alba, Cascina Fontana, Piedmont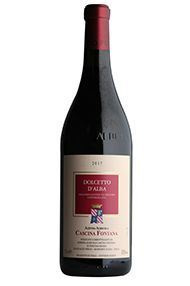 The Producer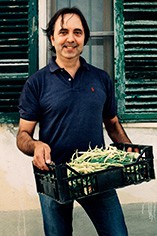 Cascina Mario Fontana, Piedmont
6th generation Mario Fontana, along with his mother Elda, wife Luisa and their two boys Edoardo & Vasco, created Azienda Agricola Cascina Fontana, this tiny 4ha jewel of a Barolo estate in 1995.

Based in the hamlet of Perno they own parcels in three Castiglione Falletto vineyards: Valletti, Villero and Pozzo; in Sinio just beyond Serralunga & also in La Morra's Gallinotto from vintage 2008. Mario tends the vines as sensitively as possible, makes the wine and, when necessary, also delivers it in his blue van.

He prefers the traditional approach to making Barolo wine: blending all his Nebbiolo vineyards to make one wine; the sum of the parts; a thoroughly consistent wine from one year to the next; a 15-20 day stainless-steel cuvaison; 2 years in large 25 hl slavonian barrels (a 30 year old chestnut barrel!), followed by 1 year in stainless steel and 1 year in bottle pre-release.

His languid Langhe Nebbiolo wine is made in the vineyards: using fruit from Castiglione's Pozzo & Sinio's vineyards, macerated for a shorter period than that destined for Barolo, the wine spends a brief invecchiamento (elevage) for twelve months in old french tonneaux. The perfection introduction to Nebbiolo, it can be drunk young or after ten years!

The full but svelte Barbera d'Alba is made from a combination of 60% fresh Sinio & 40% classy Castiglione Falletto fruit, aged for circa 12 months in used barriques; production on average only 500 cases/anno.

His philosophy harks back to the lessons learnt from his grandfather - "I was brought up with the smell of fermentations in my nostrils" – to the extent that he continues to place vats outside during winter to stabilise naturally, and will not move wine nor prune with the new moon.

In addition Mario goes the extra mile in quality control, performing one hundred checks on the wine prior to bottling. Traditional and contemporary winemaking at its best, and best enjoyed with food.
View Producer
The Grape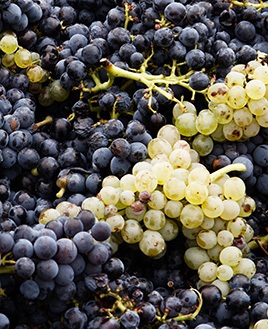 Dolcetto
A native black grape variety of Northern Italy grown almost exclusively in the provinces of Cuneo and Alessandria in Piedmont. It is relatively easy to cultivate, although it is susceptible to fungal diseases. It ripens before Barbera and Nebbiolo and is often grown in high north-facing sites which would be unsuitable for Nebbiolo.
The finest Dolcetto wines come from grapes grown on soils rich with white marls, especially those found on the right bank of the River Tauro. The wines generally are low in tannins and acidity and are usually fruity and fragrant, often with hints of almonds. Most Dolcettos should be drunk within a year or two of the vintage, but the wines from the best producers can last for 5 years and sometimes longer.
View Grape
The Region
Dolcetto d'Alba is a DOC zone producing wines exclusively from the Dolcetto grape. D'Alba is one of the seven Dolcetto zones in Piedmont, the others being Acqui, Asti, Diano d' Alba, Ovada and Dogliani, as well as the less significant Langhe Monregalesi. D'Alba is regarded as the finest-quality zone of all for Dolcetto.

Dolcetto is an important Piedmontese grape, and the antithesis of Nebbiolo. It ripens a month earlier and produces wines that are low in acid yet high in tannins. Planted on the sites spurned by Nebbiolo and Barbera, Dolcetto is most suited to the light, white, sandy, calcareous tufa soils that are common in and around Barbaresco. It is generally made in an unoaked style to accentuate its natural violet perfume and juicy, bitter cherry and almond fruit. Dolcetto d'Alba is the grape's most highly-regarded incarnation and makes the perfect antipasti wine.

Recommended producers: Diano, Dogliani
View Region
Customer Reviews
Questions And Answers