2017 Pinot Blanc Gebreit, Domaine Lucas & André Rieffel, Alsace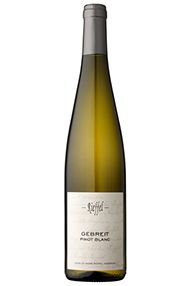 The Producer
Domaine Lucas & Andre Rieffel
In the Bas-Rhin near the town of Barr, surrounding the village of Mittelbergheim, are located the 9.5ha of vineyards owned by Lucas Rieffel and his father André. Lucas took over the reins in 1996, and he has been working towards becoming organic ever since...Since the 2009 harvest wines have been 100% organic.

Benefiting from a spicy mix of sandstone, clay, marl, granite and limestone soils, Lucas's strength lies particularly in his range of fine varietal (fruit) wines, notably Riesling, Pinot Blanc, Pinot Gris, Gewurztraminer, Muscat, Sylvaner & increasingly Pinot Noir.

However he also produces stunning wines from the single Grand Cru vineyard sites of Wiebelsberg, Zotzenberg & Kirchberg de Barr.

Vinification is a traditional blend of 'foudres' and stainless-steel, with malolactic fermentation the norm.
View Producer
The Grape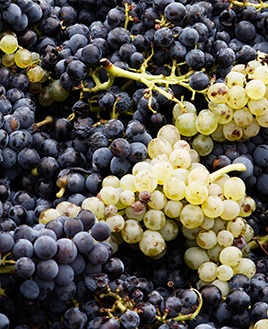 Pinot Blanc
A white grape which is grown in Alsace, where it is sometimes referred to as Clevner or Klevner, and in Germany and Austria, where it is known as Weisseburgunder. In Italy it is called Pinot Bianco and is planted widely in Friuli-Venezia, the Alto Adige and the Veneto.

It is the workhorse grape of Alsace, where it is used to make varietal Pinot Blanc, is part of the blend for Edelzwicker, and is increasingly the main component of Cremant d`Alsace. It lacks the aromatic qualities of other Alsatian grape varieties and may not be used for the production of Grand Cru or late harvest wines.
At its best it produces light to medium-bodied, crisp dry white wines with hints of apples, honey and yeast and a refreshingly pure and clean finish. It normally sees no oak, though in the Alto Adige it is often fermented and matured in oak barrels.
View Grape
The Region
Also known as Clevner or Klevner, Pinot Blanc is the workhorse grape of Alsace, covering around 21 percent of the vineyard area. It is more full-bodied than Sylvaner, but less concentrated and aromatic than its regional counterparts Riesling, Gewürztraminer and Pinot Gris.
It plays an important role in blends for the sparkling wine of the region, Crémant d'Alsace, which is clean, delicately fruity, very subtly aromatic but with fresh acidity and typically moderate alcohol of 11 to 12.5 percent. It is often blended with Auxerrois, which imparts a richer, broader and spicier character.

Pinot Blanc thrives throughout the region, but its natural home is considered to be Pfaffenheim. The appellation regulations do not authorize Pinot Blanc for wines at Vendange Tardive, Sélection de Grains Nobles and Grand Cru level.
View Region
Customer Reviews
Questions And Answers