2018 Barbera d'Alba, Trediberri, La Morra, Piedmont, Italy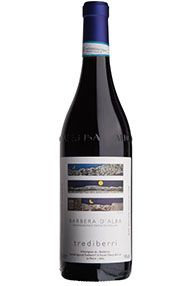 The Producer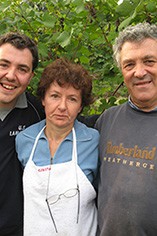 Trediberri, Piedmont
Born only in 2012 the Trediberri cantina of La Morra pulls together three Piedmontesi (Nicola Oberto & his father Federico and their associate Vladimiro Rambaldi) who've invested in 5ha of Berri vineyards, a hamlet of La Morra, back in 2008.

Nicola is a recent graduate of Milan's fine Bocconi University, former Merrill Lynch staff, a statistician and a passionate advocate and lover of fine wine. Father Federico has spent forty years working for a local, large Barolo producer, while Nebbiolo enthusiast Vladimiro runs a bank. There's an important fourth person, Anna Rosa Oberto (mother/wife) who tends the vines fastidiously when not working at the local post office.

In addition to the 5ha, the Oberto family have 2ha of one of the Langhe's top vineyards: Rocche dell'Annunziata; located in the very heart of the vineyard. Indeed their new winery in the Borgata of Torriglione overlooks the vineyard. Guided by Anna Rosa, they follow a low impact, organic approach to viticulture, while the wines are made traditionally with extended macerations & large oak ageing. Trediberri also rent c. 2ha of nearby Cappalotti vineyard.

The range consists of Langhe Sauvignon, Barbera d'Alba, Langhe Nebbiolo, Barolo, and Barolo cru Rocche dell'Annunziata.

View Producer
The Grape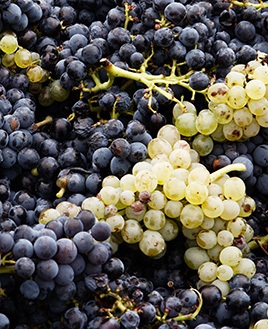 Barbera
Barbera is planted extensively in Piedmont and south-west Lombardy and accounts for over 50% of the wine produced in the region. The majority is sold simply as Barbera del Piemonte, but the best wines are the DOCs, Barbera d'Alba and Barbera d'Asti. It ripens late (after Dolcetto but before Nebbiolo).
The wines are usually ruby red in colour with notably low levels of tannins. They have a pronounced acidity that can be accentuated by overproduction. Barbera wines range from light, tart mouthwashers through to powerful, intensely flavoured wines that require extended cellaring.
View Grape
Customer Reviews
Questions And Answers