2017 Cockburn's, Port, Portugal
Red | For laying down | Cockburn | Code: 59561 | 2017 | Port Blend | Full Bodied, Sweet | 20.0 % alcohol
Scores and Reviews
Jancis

17.5/20

Suckling

98/100
The Producer
Cockburn
Cockburn was founded nearly 200 years ago by Scotsman, Robert Cockburn, who returned to Portugal after first visiting the country as a soldier fighting under Wellington in the Napoleonic Wars. Originally it was based in the Douro valley, the traditional centre of Port production. A year later, Cockburn moved east to the Upper Douro Valley.
Cockburn has a reputation as innovators, which, in such a traditional and conservative industry is sometimes considered disregard for the "rules".
It has, however, brought them great success, namely the revival of the Touriga Nacional vine. A grape recognised for its exceptional quality. Touriga Nacional now accounts for 35% of Cockburns yield.
Cockburns has led the way in modernising standards of wine and environmental management and in 1994 it became the first wine company to be awarded the ISO 9002 for quality management, wine making and production operations.
The owners of Cockburns, Beam Global Spirits, has recently decided to divest the Cockburn's Port Brand to the Symington Family Estates, the leading producer of premium quality ports.

Following the transaction, the Symington family intends to apply their skill and expertise in the production of Port, which dates back for generations, towards further development and growth of Cockburn's around the world.

View Producer
The Grape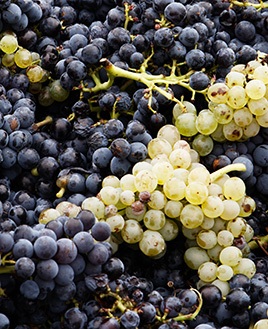 Port Blend
There are around 40 different grape varieties permitted in the production of Port - however the vast majority of Ports are produced from a blend of 5 grapes - Touriga Nacional, Touriga Francesca, Tinta Barroca, Tinta Roriz, and Tinto Cão.
Touriga Nacional produces small, dark-skinned grapes that produce opaque black wines of great extract and high tannins - it gives grip, body, and structure to the blend.
Touriga Franca has a thinner skin and consequently produces wines lighter in colour and tannins than Touriga Nacional. It contributes fruit, aroma, suppleness and roundness.
Tinta Roriz is the Portuguese name for Tempranillo and its high sugar content and low acidity contribute colour and fruit.
Tinta Barroca which is normally grown at highish altitudes and on north-facing slopes, is prized for producing wines of delicacy, finesse and with smooth, velvety fruit. It brings elegance and sweet, ripe fruit to the final blend.
Finally Tinto Cão produces fine and complex wines, though it is probably the least important of the 5 grapes as its painfully small yields have reduced plantings to almost insignificant levels.
View Grape
En Primeur Details


Wine Laying Abroad
Also known as Wine Futures, En Primeur refers to the process of buying wines before they are bottled and released onto the market. Wines are purchased exclusive of Duty and VAT and then usually shipped atleast 1 year after the vintage.They can only be purchased by the unmixed case (12 bottles, 24 half bottles, 6 magnums etc.).

On arrival in the UK the wines will be stored, under bond, on your behalf in our Customers' Private Reserves . All En Primeur purchases are Ex-Vat and Ex-Duty.If/when you choose to have the wines delivered (anywhere in the EU) these taxes become payable.

Berry Bros. & Rudd en primeur prices include shipping from the winery to our UK Warehouse AND then onwards to your door within mainland UK. Other merchants may charge you as much as £17 per case extra for shipping, handling, warehousing charges AND then delivery to your door.
See En Primeur FAQs and the benefits of buying En Primeur .

FREE SHIPPING
FREE DELIVERY
Customer Reviews
Questions And Answers