2017 Fonseca Vintage Port, Douro, Portugal
Red | For laying down | Fonseca | Code: 59639 | 2017 | Port Blend | Full Bodied, Sweet | 20.5 % alcohol
Scores and Reviews
Antonio Galloni

95

Jancis

17.5/20

Other

18
The Producer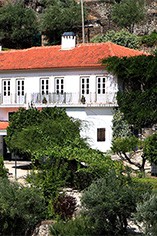 Fonseca
Fonseca was founded in 1822 when Manuel Pedro Guimaraens acquired control of the Fonseca & Monteiro Company. As a condition of the sale, Fonseca insisted that his name be retained.
Shortly after, Manuel Pedro Guimaraens was forced to flee Portugal due to the civil war in an empty port wine cask. During this period, Fonseca grew rapidly in reputation and importance and by 1840 the firm had become the second largest shipper of Port Wine.
Today Fonseca Guimaraens is still a family wine shipper with David Guimaraens being the 6th generation involved in the industry.
In the last 40 years, Fonseca (the middle syllable rhymes with "tech") has been the most "on form" in Vintage Port years, with resounding successes in 1963, 1970, 1977, 1985, 1992, 1994 and 1997, which has created demand and, as a result, it can command the highest prices.

Fonseca is, in fact, a partner to its rival, Taylor's though the two brands have kept their separate identities. Long-lived, the vintage wines are renowned for their quality and intensity of fruit, sheer opulence, structure and balance to last for decades. Fonseca is without doubt a top name and one that everyone should aspire to try.
Much of the fruit used for Fonseca's Vintage Port comes from Quinta do Panascal, purchased in 1978 which then undertook a substantial programme of renovation and development leading to the addition of Quinta do Val dos Muros in 1985. The property now comprises just over 76 hectares of which 44 hectares is under vine producing 858 hectolitres of Port.

All of the grapes are foot trodden in granite lagares situated on the property. Wines from the Tavora Valley are credited with their solid backbone and concentration seen in the Panascal Single Quinta Vintage Port that Fonseca produces when a general vintage declaration is not made.
View Producer
The Grape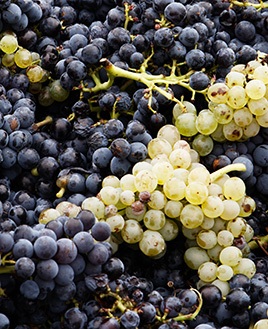 Port Blend
There are around 40 different grape varieties permitted in the production of Port - however the vast majority of Ports are produced from a blend of 5 grapes - Touriga Nacional, Touriga Francesca, Tinta Barroca, Tinta Roriz, and Tinto Cão.
Touriga Nacional produces small, dark-skinned grapes that produce opaque black wines of great extract and high tannins - it gives grip, body, and structure to the blend.
Touriga Franca has a thinner skin and consequently produces wines lighter in colour and tannins than Touriga Nacional. It contributes fruit, aroma, suppleness and roundness.
Tinta Roriz is the Portuguese name for Tempranillo and its high sugar content and low acidity contribute colour and fruit.
Tinta Barroca which is normally grown at highish altitudes and on north-facing slopes, is prized for producing wines of delicacy, finesse and with smooth, velvety fruit. It brings elegance and sweet, ripe fruit to the final blend.
Finally Tinto Cão produces fine and complex wines, though it is probably the least important of the 5 grapes as its painfully small yields have reduced plantings to almost insignificant levels.
View Grape
En Primeur Details


Wine Laying Abroad
Also known as Wine Futures, En Primeur refers to the process of buying wines before they are bottled and released onto the market. Wines are purchased exclusive of Duty and VAT and then usually shipped atleast 1 year after the vintage.They can only be purchased by the unmixed case (12 bottles, 24 half bottles, 6 magnums etc.).

On arrival in the UK the wines will be stored, under bond, on your behalf in our Customers' Private Reserves . All En Primeur purchases are Ex-Vat and Ex-Duty.If/when you choose to have the wines delivered (anywhere in the EU) these taxes become payable.

Berry Bros. & Rudd en primeur prices include shipping from the winery to our UK Warehouse AND then onwards to your door within mainland UK. Other merchants may charge you as much as £17 per case extra for shipping, handling, warehousing charges AND then delivery to your door.
See En Primeur FAQs and the benefits of buying En Primeur .

FREE SHIPPING
FREE DELIVERY
Customer Reviews
Questions And Answers