2004 Ch. Larrivet-Haut-Brion Blanc, Pessac-Léognan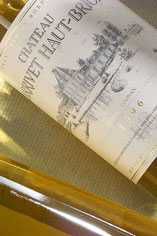 The Producer
Chateau Larrivet Haut-Brion
Château Larrivet Haut-Brion is located a mere 15km south-east of Bordeaux and has been consistently impressive since its excellent 1996. General manager, Philippe Gervoson, has enlisted the help of the legendary oenologist Michel Rolland who has implemented radical changes such as hand-picking the grapes as late as possible to ensure maximum ripeness.
Monsieur Rolland's great skill is to help make wines that are true representations of their commune, and these are fine examples.
View Producer
The Grape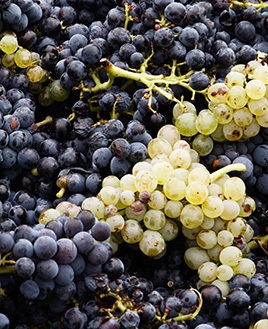 Sauv.Blanc & Sémillon
The blend used for White Graves and Sauternes and rarely encountered outside France. In the great dry whites of Graves, Sauvignon Blanc tends to predominate in the blend, although properties such as Smith Haut Lafite use 100% Sauvignon Blanc while others such as Laville Haut Brion have as much as 60% Sémillon in their final blends. Sauvignon Blanc wines can lose their freshness and fruit after a couple of years in bottle - if blended with Sémillon, then the latter bolsters the wine when the initial fruit from the Sauvignon fades. Ultimately Sauvignon Blanc gives the wine its aroma and raciness while Sémillon gives it backbone and longevity.
In Sauternes, Sémillon is dominant, with Sauvignon Blanc playing a supporting role - it is generally harvested about 10 days before Sémillon and the botrytis concentrates its sweetness and dampens Sauvignon Blanc`s naturally pungent aroma. It contributes acidity, zip and freshness to Sauternes and is an important component of the blend.
View Grape
The Region
In 1986 a new communal district was created within Graves, in Bordeaux, based on the districts of Pessac and Léognan, the first of which lies within the suburbs of the city. Essentially this came about through pressure from Pessac-Léognan vignerons, who wished to disassociate themselves from growers with predominately sandy soils further south in Graves.
Pessac-Léognan has the best soils of the region, very similar to those of the Médoc, although the depth of gravel is more variable, and contains all the classed growths of the region. Some of its great names, including Ch. Haut-Brion, even sit serenely and resolutely in Bordeaux's southern urban sprawl.

The climate is milder than to the north of the city and the harvest can occur up to two weeks earlier. This gives the best wines a heady, rich and almost savoury character, laced with notes of tobacco, spice and leather. Further south, the soil is sandier with more clay, and the wines are lighter, fruity and suitable for earlier drinking.
Recommended Châteaux: Ch. Haut-Brion, Ch. la Mission Haut-Brion, Ch. Pape Clément, Ch Haut-Bailly, Domaine de Chevalier, Ch. Larrivet-Haut-Brion, Ch. Carmes Haut-Brion, Ch. La Garde, Villa Bel-Air.
View Region
Customer Reviews
Questions And Answers