Critics reviews
Nose
Charming. Perfumy. Almond milk. Raisins soaked in sauternes and coated in milk chocolate. So mouthwatering. Honeyed peaches. With a citrus note hovering.
Palate
Silky,caressing. The same luscious combination of fruit with additional spices.
Finish
Drying on spices. Ginger with a delicious nutty comeback.
Comment
An absolute cracker. Delicate, elegant. More than a golden promise. A gem delivery!

Martine Nouet - Whisky Magazine Issue 69 Nose
Extra virgin olive oil,lemon, butterscotch and chocolate.
Palate
Creamy caramel with dark chocolate,lemon zest freshness and hint of toastyness, lusciousness emerges mid-way with underlying malty,and subtle oak notes.
Finish
Lemon zest and orange marmalade with créme caramel sweetness.
Comment
Focused and balanced.

Ian Wisniewski - Whisky Magazine Issue 69
About this SPIRIT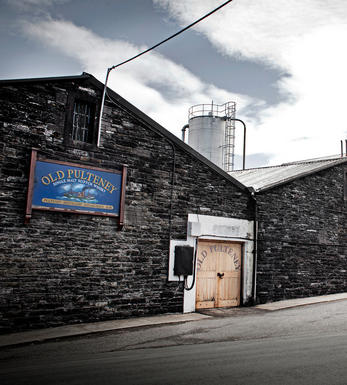 Old Pulteney Distillery, Highlands
Established in 1826 in Wick, Pulteney Distillery is the most northerly distillery on the Scottish mainland and at that time was only accessible by sea. The barley was brought in by sea, the whisky shipped out by boat and many of the distillery workers were also employed as fishermen.

During the years of maturation, Old Pulteney absorbs the sea breeze shaping its distinct flavour. The heritage of Wick is strongly portrayed in the presentation of Old Pulteney. The distinctive still shaped bottle is screen printed with a traditional Wick herring drifter. These boats were used to catch herring at the beginning of the 19th century.  An ancient map of the north of Scotland is printed on the inside, pinpointing Pulteney Distillery.

The distillery is named after an old estate in the Southern part of the city of Wick, Pulteney town. The founding Henderson family kept ownership of the distillery until the mid 1920's, when it was bought by James Wartson, owner of Parkmore and Ord.

The current owners, the Inver House company bought both Balblair and Pulteney distilleries in 1995. Pulteney's signature single malt is known as Old Pulteney, characterised by a vividly fresh, dry, salty tang.

The majority of the production is destined for the blends of Inver House such as MacArthur's and Pinwinnie Royal, and for the Heather Cream whisky liqueur.