2002 Champagne Vilmart, Grand Cellier d'Or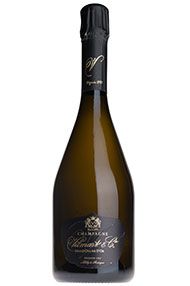 The Producer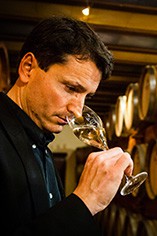 Champagne Vilmart & Cie
One is in no doubt, when chatting and tasting with the affable Laurent Champs of Champagne Vilmart, that one is in the presence of a very assured and gifted winemaker, a visionary in the mould of his close friend Anselme Selosse.

One must listen and taste carefully here however; it is easy to draw the wrong conclusions, be they from the somewhat grandiose architecture of the property or the seemingly ambitious winemaking, most of which relies on oak barrels and battonage, or, conversely, from the reputation of Rilly La Montagne for making sound but not spectacular wines. The answer to the enigma, as always, is located in the glass.

These wines are neither over-made, nor mediocre. Instead they represent some the best examples to come from the Montagne de Reims; the well-named Coeur De Cuvée is now one of the most sought-after of all Champagnes.
View Producer
The Grape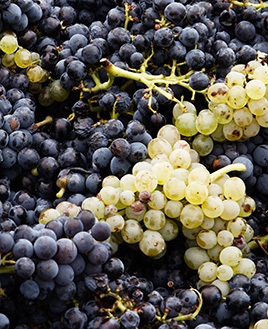 Champagne Blend
Which grapes are included in the blend, and their proportion, is one of the key factors determining the style of most Champagnes. Three grapes are used - Pinot Noir, Chardonnay and Pinot Meunier.

26% of vineyards in Champagne are planted with Chardonnay and it performs best on the Côtes des Blancs and on the chalk slopes south of Epernay. It is relatively simple to grow, although it buds early and thus is susceptible to spring frosts. It produces lighter, fresher wines than those from Burgundy and gives finesse, fruit and elegance to the final blend. It is the sole grape in Blancs de Blancs, which are some of the richest long-lived Champagnes produced.
Pinot Noir accounts for nearly 40% of the plantings in Champagne and lies at the heart of most blends - it gives Champagne its body, structure, strength and grip. It is planted across Champagne and particularly so in the southern Aube district.
The final component is Pinot Meunier and this constitutes nearly 35% of the plantings. Its durability and resistance to spring frosts make the Marne Valley, a notorious frost pocket, its natural home. It ripens well in poor years and produces a soft, fruity style of wine that is ideal for blending with the more assertive flavours of Pinot Noir. Producers allege that Pinot Meunier lacks ageing potential, but this does not deter Krug from including around 15% of it in their final blends.
View Grape
The Region
In Champagne, the term Blanc de Blancs designates Champagnes made only from Chardonnay grapes. The vineyards located between Cramant and Mesnil-sur-Oger in Cote de Blancs yield the best examples of the style.

A classic Blanc de Blancs is restrained and elegant when young, yet with ageing it develops a mouth-coating brioche richness that overlays an intense expression of fruitiness. Blanc de Blancs are endowed with longer ageing potential than a typical Blanc de Noirs.
Recommended Producers: Salon, Billecart Salmon, Jacques Selosse, Dom Ruinart, Krug, Le Mesnil Grand Cru, Guy Larmandier
View Region
Customer Reviews
Questions And Answers