2008 Noon Eclipse Grenache/Shiraz, S. Australia
The Producer
Noon
View Producer
The Grape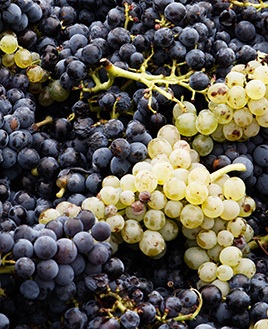 Southern Rhône Blend
The vast majority of wines from the Southern Rhône are blends. There are 5 main black varieties, although others are used and the most famous wine of the region, Châteauneuf du Pape, can be made from as many as 13 different varieties. Grenache is the most important grape in the southern Rhône - it contributes alcohol, warmth and gentle juicy fruit and is an ideal base wine in the blend. Plantings of Syrah in the southern Rhône have risen dramatically in the last decade and it is an increasingly important component in blends. It rarely attains the heights that it does in the North but adds colour, backbone, tannins and soft ripe fruit to the blend.
The much-maligned Carignan has been on the retreat recently but is still included in many blends - the best old vines can add colour, body and spicy fruits. Cinsault is also backtracking but, if yields are restricted, can produce moderately well-coloured wines adding pleasant-light fruit to red and rosé blends. Finally, Mourvèdre, a grape from Bandol on the Mediterranean coast, has recently become an increasingly significant component of Southern Rhône blends - it often struggles to ripen fully but can add acidity, ripe spicy berry fruits and hints of tobacco to blends.
View Grape
The Region
Langhorne Creek is part of the greater Fleurieu zone south of Adelaide, along with McLaren Vale. First identified in 1850 the Langhorne Creek region lies on the edge of Lake Alexandrine, into which the Bremer River flows, its sandy alluvial floodplain providing rich pastures.
Wines were being made by the 1870s and some of Shiraz and Cabernet Sauvignon vines planted in 1892 are still cropping today. After the fortifieds came the dry reds of the '60s, celebrated by a young German winemaker Wolf Blass. One of Australia's first irrigation schemes kept the ticking until salinity levels (now at 1560 ppm) forced the authorities to allow water to be taken directly from the Lake. This triggered a tide of corporates to rush to the area during the 1990s, growing the area from 440 to 6400ha and constructing irrigation pipelines of up to 100km long to feed their vines; the fruit of which is then blended away anonymously. There are up to ten privately-owned estates waving the Langhorne Creek banner.
The feeding frenzy can only last so long as Lake Alexandrina's levels are dropping fast. For so long the Lake's presence has been a great climate moderator, providing a constant breeze, maintaining a high relative humidity (60%) & reducing the risk of frost. Were it to dry up viticulture would probably be unfeasible.
Cabernet Sauvignon is the key grape, ripening well in the sandy soils and benefiting from the notable daily diurnal temperature shift. The Langhorne Creek style is a crunchy rich blackcurrant fruit profile with fine tannins and surprising elegance. Verdelho and Shiraz are also impressive.
Recommended Producers
Bremerton and Noon are arguably the regions top producers
View Region
Customer Reviews
Questions And Answers