Oloroso Sherries, made from Palomino grapes, are by default dry, amber- to mahogany-coloured with pronounced nutty fragrance and flavours, full, vinous body and persistent finish. The alcohol content varies between 17º and 22º.
The sweet version is sweetened before bottling with luscious, sticky, treacle-thick wine made from Pedro-Ximenez grapes. Sweet Olorosos are really hedonistic, combining aromas and flavours of molasses, figs, prunes and melted toffee overlaid by sweet spices (cinnamon, cloves, liquorice) .
Olorosos are not allowed to grow the flor yeast during the maturation, so they lack the fresh yeasty/salty taste of the Fino and Amontillado sherries. Without the layer of flor, Olorosos undergo a more intense oxidative exposure that imparts the characteristic nutty flavours. Precisely because their long oxidative ageing, they are among the longest-lived wine styles. Sweet Olorosos are perfect companion to caramel and dried fruit desserts, cakes and blue cheeses.
Cream sherry, Amoroso, and Brown sherry are different styles (in terms of sugar content) of PX-sweetened Oloroso.
Showing 1-2 out of 2 items
Hide All Details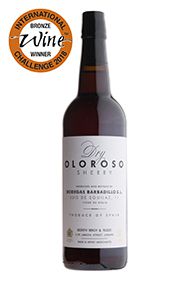 Showing 1-2 out of 2 items