The Changyu Golden Ice Wine Valley is situated in the far north-east of China, in the Liaoning Province, close to the borders of North Korea and Russia. In particular it is the area around Huanlong Lake is considered ideal for ice wine production. At an altitude of 380m and with the temperature moderated by that large body of water, the grapes ripen well in summer but when the winter temperature drops to -8C (as required for ice wine production), this can be held naturally for 24 hours. The brix of grape juice after crushis 350gr/litre which meets and even exceeds the standards of the International Organisation of Vine and Wine for ice wines.

For the giant Changyu wine company, vineyards have been developed in partnership with Aurora, a Canadian wine company, themselves no strangers to ice wine. Ch. Changyu is the home to their ambitious Golden Valley ice wine project.

Initially the Vidal grape variety has been planted, a hybrid cross of Ugni Blanc and Seibel, chosen for its hardiness. It would be interesting to see how Riesling would fare. This is the region with the largest, commercial, regular production of ice wine in the world.
Showing 1-2 out of 2 items
Hide All Details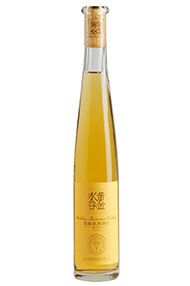 Showing 1-2 out of 2 items