Fine conditions in September were the key to wine quality in 2008 for the Chablis region. The north wind kept the fruit dry and healthy, and picking begun towards the end of the month: 25th September for William Fèvre, 27th for Benoit Droin.

Sugar levels were good while the fruit had also retained its acidity, a key partner to the Chablis region's natural minerality. The wines are more aromatic and fleshier than their 2007 counterparts.

Benoît Droin sees 2008 as a mixture of the freshness of 2007 and the fatness of 2002. He is one of the most interesting of the younger generation of Chablis wine producers, thanks to the fine range of different vineyards he owns and his intelligent approach to vinification and maturation: different percentages of wood are used according to the nature of the wine from a specific terroir. A top player at reasonable prices.

Didier Séguier, the talented winemaker and general manager of William Fèvre, noted that the September north wind concentrated both sugar levels and acidity, as well as (unfortunately) reducing yields. So 2008 has produced very fine wines but not a lot of them. All the grapes are hand harvested then fermented in barrels, but without new wood.
Showing 1-1 out of 1 items
Hide All Tasting Notes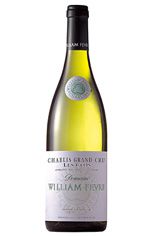 Showing 1-1 out of 1 items