A remarkable grape quality has made 2005 an extraordinary vintage.

Overall warm and dry, 2005 fluxuated between hot and cool periods. Well adapted to the vine's cycle and the grape's needs, this climate was almost ideal.

The cooler month of August allowed the vines to recover and begin the maturation phase. There was a low amount of precipitation.

The moderate temperatures had a very positive affect, with acidity balanced and remaining stable to the end of the harvest. Aromatic potential, especially for the Blancs, developed slowly and fully. Coloring for the Rouges developed favorably with strong skin coloration and ripe tannins.

Picking began in good weather with barely any rain. In general, the Blancs were harvested first and Rouges afterwards.

Whilst 2005 is not a great botrytis year, the concentrated and minerally dry whites are excellent thanks to dry, warm conditions, while the reds are dense & lush.

Showing 1-1 out of 1 items
Hide All Tasting Notes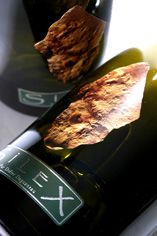 Showing 1-1 out of 1 items