Every two months over a thousand Wine Club cases are delivered to Wine Club customers across the country. Below are the profiles of some of the people that make this happen.
Jasper Morris, MW
Jasper Morris MW developed a reputation as a leading authority on Burgundy while running his own importing business, Morris & Verdin Ltd from 1981 to 2003, at which point he sold the company to Berry Bros. & Rudd. He continues to work for Berry Bros. & Rudd as the company's Burgundy Director, as well as keeping an eye on our ranges from Eastern France and wines at the more esoteric end of the spectrum.
Jasper has been a Master of Wine since 1985, is responsible for all the Burgundian entries in the Oxford Companion to Wine and contributes frequently to The World of Fine Wine magazine, among other publications. He also lectures internationally on Pinot Noir in general and Burgundy in particular.
Though a frequent visitor to the principal Pinot Noir growing countries of the world, Jasper now mainly divides his time between the UK and Burgundy. His reputation as a Burgundy expert was further enhanced in October 2010 with the publication of Inside Burgundy, a lifetime's study of the vineyards and vignerons of the region, which has subsequently won the prestigious André Simon award for the best wine book of the year.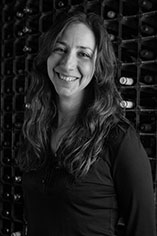 Katherine Dart MW
Katherine's love of food and wine was sparked my gastronomically experimental parents, willing to try and offer her a taste of anything. After completing an MA in Literature and History of Art, Katherine found herself in Oddbins where over the next couple of years she embarked on the steepest and most exciting learning curve. Having obtained her Master of Wine in 2006, she joined Richards Walford which merged with our wholesale arm, Fields, Morris & Verdin, in 2013.
Today she is responsible for purchasing wines from Italy, Alsace, Germany, Austria, North America, South Africa and England; but has – in her own words – "a real soft spot" for Austria, enjoying not just Riesling but the lesser-known Neuburger, Zweigelt and Blaufränkisch. Beyond the working day she is kept busy by her two children and the inability to sit still – taking any spare moment to swim, run, jump ski or scuba dive.
Philip Moulin
After his formative years at Majestic Wines, Philip joined Berry Bros. & Rudd in 1997 as Assistant Manager in the Basingstoke shop. He joined the old "broking department" in 2000 and for five years was responsible for sourcing and broking rare wines for BB&R's subsidiary company in Japan. Following a stint advising customers on building up their Cellar Plans, he now works in the Fine Wine Buying Department, once again sourcing secondary market stock for our outlets in the Far East as well as buying the Bordeaux for our Wine Club.