2012 Greco di Tufo, Vigna dei Ciamillo, Villa Diamante, Campania
White | Ready, but will keep | Villa Diamante, Campania | Code: 27540 | 2012 | Italy > Campania > Fiano di Avellino | Greco | Medium-Full Bodied, Dry | 14.5 % alcohol
Storage: Eligible for storage in our Bonded Warehouses, terms and conditions apply. Read More
The Story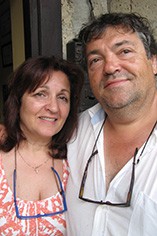 Producer
Antoine and Maria Diamante Gaita at Villa Diamante are producers of sensational, uncompromising, and explosive Fiano di Avellino and Greco di Tufo at their tiny 3.5ha estate in Montefredane, close to Avellino, Campania.

Antoine was born in Belgium, to parents who'd emigrated to the mines after the War. It was there that he developed his taste for and knowledge of French wines, particularly of Burgundy. Returning to Campania, Antoine and his American partner Maria Diamante started to bottle only in 1997, following years of selling wine locally.

Their vines lie at circa 400 msl on (Monte Vesuvius) volcanic soils, close to the village of Montefredane, in an area notable for Fiano. Harvests are late, yields are naturally low, space in the tiny cantina is limited and vinifications are allowed to run their course, with bottlings taking place once the wines have completed their cycle, often after two winters.

Tragically Antoine died in January 2015. Diamante & their son Enrico seem determined to continue Antoine's great work .

Grape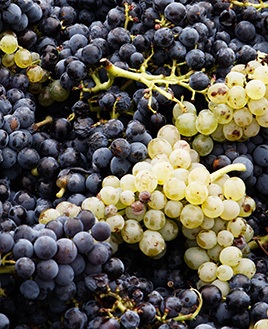 The name 'Greco' actually refers to two different grape varieties, Greco Nero (black) and Greco Bianco (white), the former of which has more land dedicated to its growth, but it is the latter that is most commonly denoted by the shorthand 'Greco.'

Greco Nero plantings make up 3,200 ha, primarily found in Calabria, and it is often used for blending with the Gaglioppo grape.

As for Greco Bianco, the grape is Italian, but is assumed to be of Greek origin, and recent DNA profiling has revealed that some Greco Bianco is identical to Asprinio. In Campania it is used in the production of the DOCG wine Greco di Tufo, and in Calabria it is used to make the DOC wine Greco di Bianco. Recent advances in vinification methods have led to increased appreciation of Greco Bianco, which is notable for its highly aromatic and delicate character.
Storage Details
Storage in BB&R Warehouses
Wines bought from Berry Bros. & Rudd can be stored
in our temperature controlled warehouses.
We can only accept orders for unmixed cases.

Storage Charges:
£12.00 (inc. VAT)
per case per annum



Customer Reserves
For wines purchased In Bond,
Duty & VAT charges become payable upon withdrawing from your reserves.
BBX wines can only be bought In Bond.
More information on wine storage
£10.20 (inc. VAT)
per case per annum
for Cellar Plan Members
Customer Reviews
Questions And Answers