Home > Editorial > Bordeaux 2021 vintage report
FOUR-MINUTE READ
---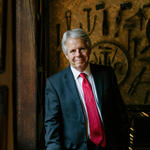 Mark Pardoe MW, Wine Director
The best wines in 2021 have captured a natural and classic freshness, says Mark Pardoe MW. Our Wine Director looks back at the growing season and gives his early thoughts on the style of the wines to come
Most wine-lovers will always associate 2021 with the severe March frosts, which caused considerable damage across northern Europe and especially in Burgundy, Champagne and the Loire Valley. Bordeaux was also bracketed with those regions but the story here is nuanced; not everyone was affected.
Early thoughts
Bordeaux 2021 will be an extremely heterogeneous vintage. The challenges faced by producers were either very localised, or dependent on each vigneron's decisions at key moments. These challenges were: a warm spring; a very rainy spring and early summer; mildew; a cool July and early August; hail; rain in September; and, finally, rot.
Yet, despite this litany of problems, many producers are much more positive than they had dared hope. Of course, 2021 is not a sunny and warm (or hot) vintage in the vein of 2018, '19 and '20. The harvest was only possible towards the end of September and into October for the Cabernet Sauvignon. But the best wines seem to have captured a natural and classic freshness – for some palates, a welcome contrast to the power of the preceding three years.
The growing season
To get a better picture of how these successes were achieved, we need to understand the various challenges.
The warm and wet spring caused the buds to break about two weeks ahead of average, and they were caught badly by the frost. Sauternes was, again, almost wiped out, and inland vineyards were very exposed. However, the Gironde estuary always has a moderating effect; those vineyards close to its waters escaped practically unscathed. But further inland in the Médoc, the damage was more significant. On the hillier Right Bank, those higher on the slopes were mostly spared, although precautions such as lighting candles or burning hay bales were widely employed. In short, if a vineyard is low-lying and/or away from the river, significant frost damage was very likely.
Next came the surge in mildew, encouraged by the warming temperatures and continuing rain. This was a universal problem, and each vineyard's success was dependent on the precautions taken by each vigneron. The traditional treatment for mildew is to spray "Bordeaux Mixture", a liquid mix of copper and sulphur. Those following organic certification are permitted to use it, but in limited and regulated doses. For biodynamic estates, alternatives must be sought. These can include spraying with a preparation made from the horsetail plant or, increasingly popular, a mixture of milk and water. Whatever process was chosen, the ongoing rain would wash off the treatment, which would then have to be reapplied. These were days of endless and exhausting work, with much of the treatment having to be done manually, the vineyards being too wet for tractors. The timing and rapidity of application was critical; those that mistimed it lost a lot of fruit to mildew.
Hail is an annual occurrence but always very localised. When there is a threat forecast, châteaux will often work together to keep a round-the-clock watch and, should the risk mount, prepare to launch balloons containing silver nitrate. These burst inside the hail-bearing clouds and disperse the danger. This option is not available to all, however. And should hail hit a vineyard which has already been frosted and attacked by mildew, the vigneron is looking at a negligible crop.
Springing into overdrive
Relief finally came with hot and dry weather from the middle of August; the vineyards sprung into overdrive. What was needed was warm and dry weather until after harvest and, by and large, this is what happened. It was interspersed with rain, some of it quite prolonged but nothing torrential. With the berries ripening fast, sudden surges of growth occurred after rainfall. Rapidly swelling grapes could burst their skins, leaving the exposed pulp prey to botrytis.
By now it should be clear that, for many, 2021 was not a large harvest. But there are some châteaux, untouched by frost and efficient in their control of mildew, who have made a near-normal crop. However, even the fruit that did make it through to be harvested needed inspection and selection; the volumes of the grands vins may be smaller. But what has surprised so many commentators is the quality of what has been made from the fruit that has been kept.
A word on the dry and sweet whites of the region. The dry wines will benefit hugely from the freshness of the Sauvignon Blanc; the cooler year will produce wines of energy and detail. Being earlier to ripen, the white grapes avoided the later September rain. A wonderful vintage is in prospect. For Sauternes, the frost was almost catastrophic, but the tiny amounts that have been harvested are rich in both noble rot and acidity – and look to be superb.
The conversations to come
At the time of writing, our tasting of the vintage hasn't yet started. Soon, we will head to the region to taste the wines in situ with the people who have made them. There will be plenty of questions to ask around frost damage and mildew control, avoidance of rot and the timing of the harvests. But our early conversations with the producers suggest we will see a vintage of purity. It may be a little minimalist in its architecture, but with ripe tannins and, an increasing rarity, freshness and acidity. For the more traditional palates out there, and I count myself among them, this may turn out to be a vintage of delicious drinkability.
For more on the vintage, you can follow Mark's appellation-by-appellation tasting reports on our blog.