Home > Editorial > Château Montrose: "things change"
Château Montrose: "things change"
Words: Charlie Geoghegan
Published: 5th May 2023
SEVEN-MINUTE READ
---
You'd be hard-pressed to find a better-situated vineyard than Château Montrose. Yet this estate has never rested on its laurels, and the Bouygues family continue to push things forward in a thoughtful, sustainable way
Like any outdoorsy youngster growing up in the Médoc, Arnaud Frédéric has long been familiar with Château Montrose. He was born down the road at Château Gruaud Larose in St Julien, where his parents worked. "Since I was young, I used to run in the vineyards," he says. He cycled, too – taking the scenic route north through Pauillac, along the Gironde Estuary into St Estèphe and past Montrose. "You don't really understand Montrose from down there," he reflects; he has recently become the sales director here, giving him a newfound perspective on the place. "You understand Montrose from the top of the hill here, looking down at the river."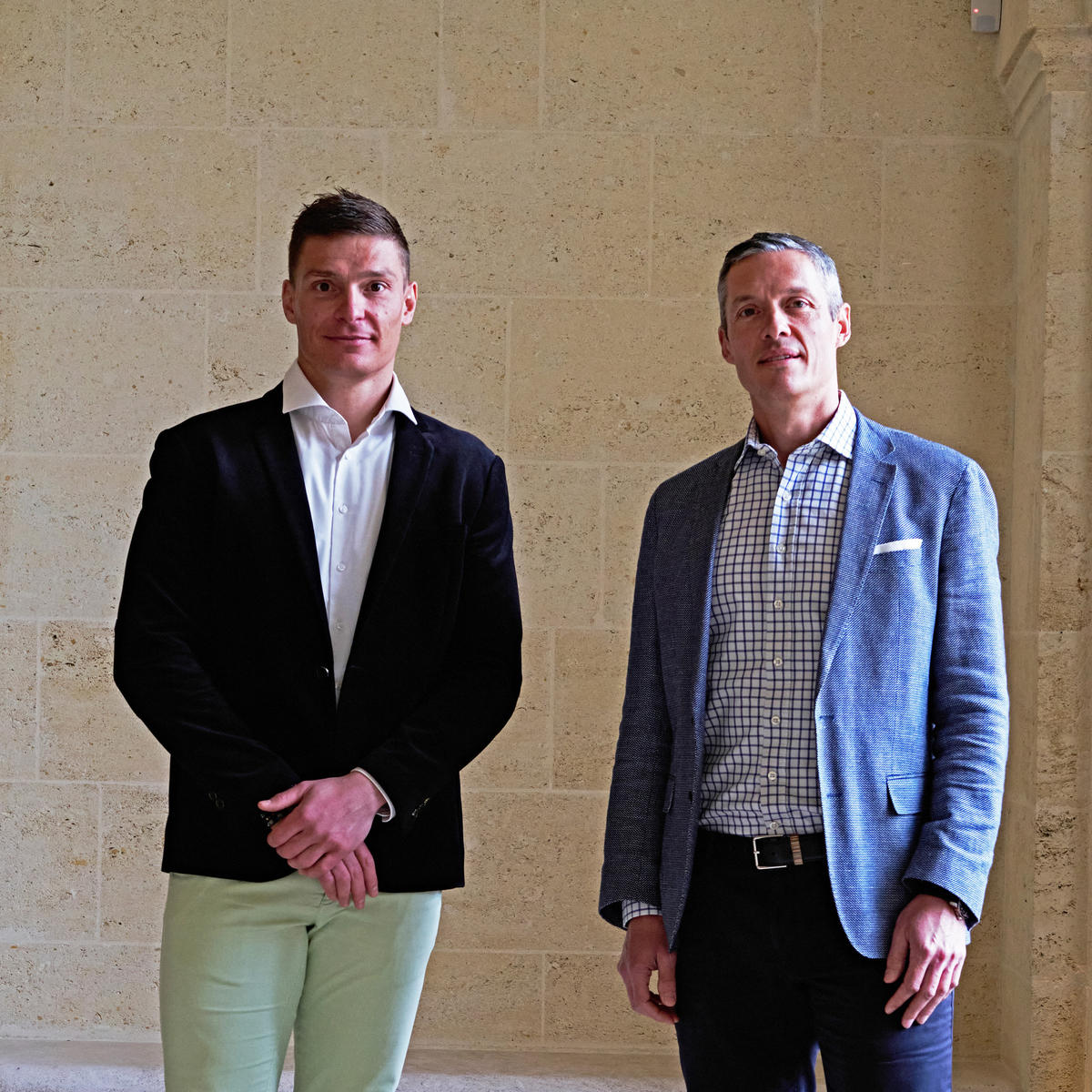 01
02
01: Arnaud Frédéric and Pierre Graffeuille, two of the dynamic new faces at Montrose

02: An illustrative map depicts Montrose's proximity to the river
Pound for pound, Montrose is surely one of the best-situated vineyards in Bordeaux. The "hill" here is more of a gentle slope, facing the water and reaching 18 metres' elevation at its highest point (which is significant by local standards). It's a large property, with 95 hectares of vines in one single block. Forty-five hectares sit on a particular patch of ground that Arnaud describes as "the perfect soil for Cabernet Sauvignon". There are six distinct gravel outcrops, or terraces, in the Médoc. This one, Terrace 4, consists of "really poor, acid soil with big gravels," Arnaud explains. "It's quite deep, with clay at the very bottom." The clay retains water, which helps in hot or drought-affected vintages – like 2022. And the vines grown on this soil ripen relatively early in cool vintages, a real benefit in St Estèphe where ripening has historically been an issue.
The gravel formation here is a continuation of the very same that runs through other top châteaux including Latour and Léoville Las Cases. The proximity to the Gironde brings a refreshing breeze, which limits disease pressure; the water also moderates temperatures, helping the estate to avoid the worst of spring frost – or, as in 2022, extremes of heat.
This is perhaps what attracted the Bouygues family, owners here since 2006. Brothers Martin and Olivier Bouygues are best known for their family firm, a large group involved in construction, telecoms and other sectors. Yet over the last couple of decades, they have been building an enviable wine portfolio, too. Along with Montrose and its neighbour Tronquoy-Lalande, the family's wine interests extend to Burgundy, with Domaine Henri Rebourseau; and the Loire Valley, with Clos Rougeard.
The properties are today overseen by Pierre Graffeuille, who arrived last year, and Charlotte Bouygues, Martin's daughter. Pierre is a real heavy hitter in Bordeaux wine, having been a winemaker, a wine broker (courtier) and a wine merchant (négociant). In his previous role, he ran the three châteaux owned by the Delon family: Léoville Las Cases, Nénin and Potensac. "He is a true master," Arnaud says, "bringing his technical knowledge and his business knowledge; it makes a huge difference." As well as sitting on the board of the family business, Charlotte heads up strategy and development for the wine portfolio.
"We have to think about the world in a different way"
— Arnaud Frédéric, Château Montrose
Despite its acclaim today and its enviable location, Montrose is relatively young by local standards. Vines were planted here as recently as 1815; until then, it was anonymous scrubland that had belonged to the Ségur family of nearby Château Calon Ségur. Montrose's founder, Etienne Théodore Dumoulin, clearly saw the vineyard's potential. He was right, evidently, and just 40 years later, it was ranked a Second Growth in the 1855 classification.
That Montrose would quickly rise to prominence and not falter over time is a testament both to the intrinsic quality of the vineyard and also to the dedication of the four families that have run it: Dumoulin, Dollfus, Charmolüe and Bouygues. Family businesses can afford to think for the long term or, perhaps, cannot afford not to. The Bouygues family seem to take their responsibility in this area very seriously.
Until recently Bordeaux was not exactly held up as a beacon of sustainability in the wine world, though that is changing rapidly. And Montrose, to its credit, has been a leader in sustainable viticulture and winemaking. Its efforts and innovations have been well documented, from the capture and recycling of carbon during alcoholic fermentation to the use of electric tractors, water management and beyond.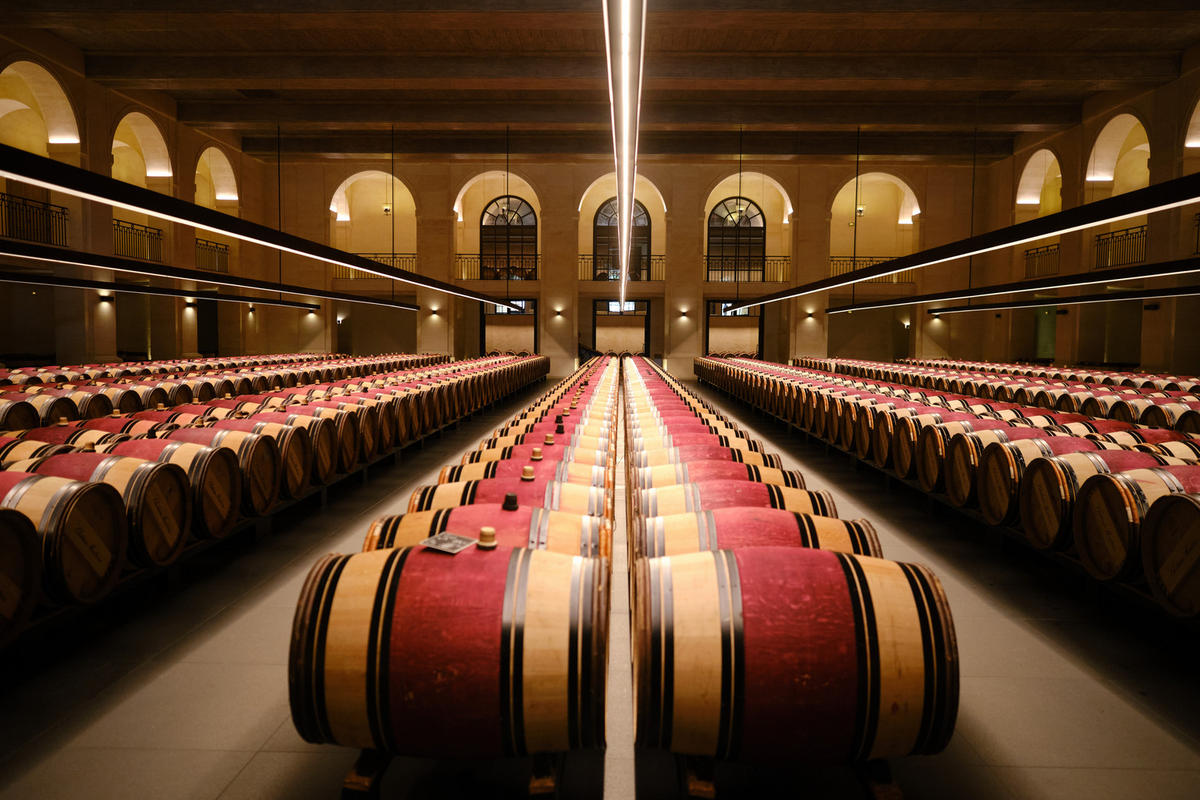 03
03:The barrel hall at Montrose is one of the Médoc's most distinctive
The winery itself is a world-class example of smart energy usage, Arnaud explains. "We produce as much energy as we consume," he says – pointing out the extra-thick, reinforced walls which have reduced the estate's energy consumption accordingly. The cellar has no air-conditioning, relying instead on geothermal energy. Its primary source of electricity is the sun; the facilities boast 3,000 square metres of solar panels.
Much of this is cutting-edge technology, of course. But innovation is nothing new at Montrose, Arnaud says. Particularly notable was Mathieu Dollfus, whose efforts in the 19th century to fight off one of the vineyard's gravest-ever threats have become part of the estate's lore. "In 1875, there was a huge attack of phylloxera," Arnaud explains. Dollfus's solution was to install a wind turbine to pump the vineyard full of water, flooding it and effectively drowning the louse. Ultimately this wasn't enough to stop the onslaught of phylloxera here, but it is indicative of a spirit – of solution-seeking and trying new things – that persists to this day.
Arnaud works closely with the other estates in the family group. Making wine in three distinct French regions gives the entire team a more holistic view of viticulture in France today – and for the future. "We have to think about the world in a different way," Arnaud suggests. Bordeaux, Burgundy and the Loire each have their own specificities and idiosyncrasies, but there is a lot the Bouygues estates can teach – and learn from – one another. "There are different grape varieties and different patterns, but we can cross-reference the figures to see what is happening with climate change," Arnaud says.
Montrose has been a leader in sustainable viticulture and winemaking
A tangible change in this part of the world relates to harvest dates. In St Estèphe and the northern Médoc, grapes have at times struggled to ripen before the onset of cooler, wetter weather. Some vineyards wouldn't ripen until "the first or second week of October," Arnaud explains. "By then, it might be eight degrees Celsius, cold and with lots of rain. Sometimes the grapes would ripen fully; other times it was a nightmare." Now, grapes ripen, and the harvest takes place, earlier – avoiding the worst of the inclement weather. "I hate to say it, but this is thanks to climate change," Arnaud laments.
Considerably further north – 240 kilometres or so – the vineyards of Saumur have had a comparable experience. So Arnaud has discovered from discussions with his colleague Cyril Chirouze, winemaker and estate manager at Clos Rougeard. The occurrence of an early vintage there, pre-September in this case, is ever more frequent: twice in 100 years, then twice in 20 years and now twice in 10 years. "That means something," Arnaud says. "Things change."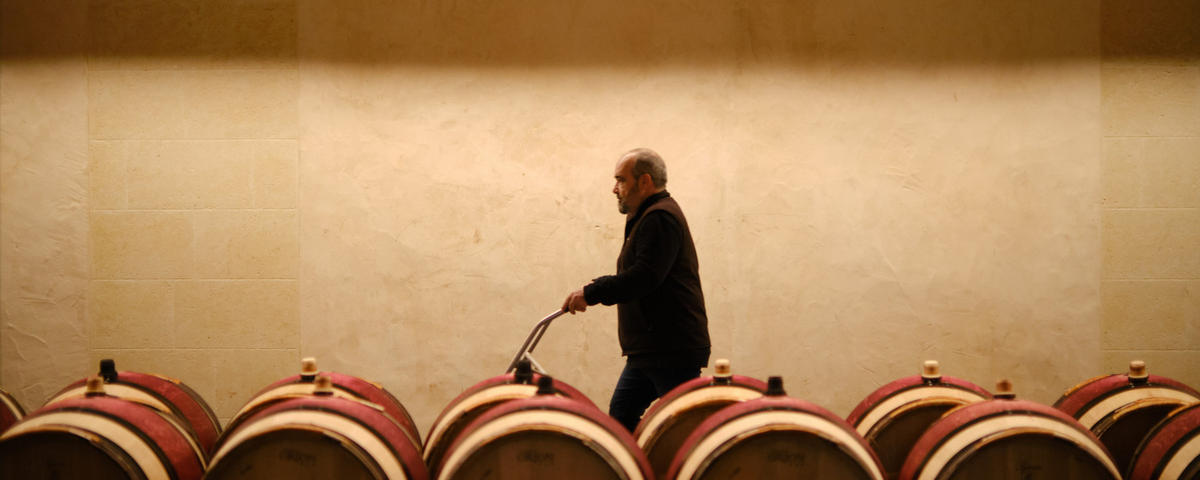 04
04:The cellar team work on the 2022 vintage ahead of the En Primeur tastings
For Arnaud, "the real challenge" of the changing climate will be in the vineyard. In the past, Médocain winegrowers struggled to ripen their grapes, so they trellised their vines higher for greater sun exposure. What was once a solution to one problem has now caused an entirely new problem: "With the warmer seasons, the alcohol content is getting higher," Arnaud explains. There is a dedicated research and development (R&D) office here, with vineyard health very much part of its remit. Arnaud cites a replanting programme involving massal selection as a key development, and the estate is in its first year of organic conversion. "In the cellar, we can improve, get more precise and more analytical," he says. "But it all starts in the vineyard."
Montrose, and the Médoc at large, has changed profoundly in recent decades. As a local in his mid-30s, much of this has happened in Arnaud's lifetime. "Back in the day, our region was a bit narrow-minded," he says. Sustainability – in viticulture, in winemaking and in a broader, economic and social, sense – is taken seriously. Producers big and small are talking to one another, within and beyond appellation borders. If there is a solution to the climate threat, surely it will be the open-mindedness of leaders like Montrose that helps find it.