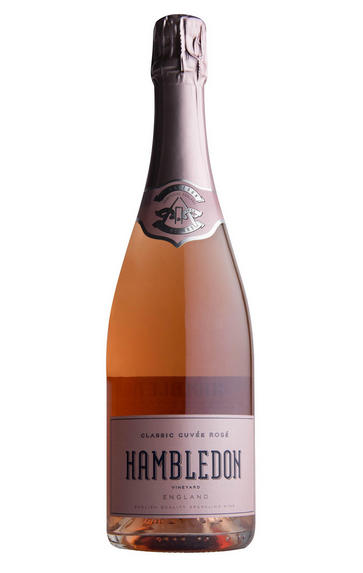 Hambledon, Classic Cuvée Rosé, Sparkling, Hampshire, England
Prices start from £37.00 per bottle (75cl).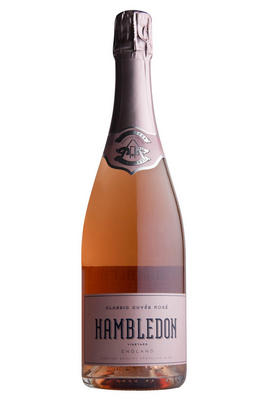 Critics reviews
The NV Classic Cuve Rosé is a blend of 90% Chardonnay and 10% Pinot Noir, the latter mainly from the 2013 Reserve. Disgorged in August 2016, this marks the debut release and it spent around 42 months on the lees. It offers a clean and fresh, slightly reserved bouquet on the nose with delicate strawberry and Morello scents. The palate is crisp on the entry with a lovely chalky texture, saline and vibrant with a precise finish. This is the top English sparkling fizz from Hambledon that should drink well for several years.
Neal Martin, Wine Advocate (Jun 2017)
A complex, savoury nose of biscuits and flinty summer fruits. An umami-rich, concentrated palate of red apple, raspberry and strawberry. 45+ months of ageing on lees provide more texture, while dosage at 10 g/l gives honeyed charm to the bright and elegant red fruits. Long with red apple peel on the finish. A beautifully poised summer fizz.
Sylvia Wu, Decanter.com (Apr 2022)
About this WINE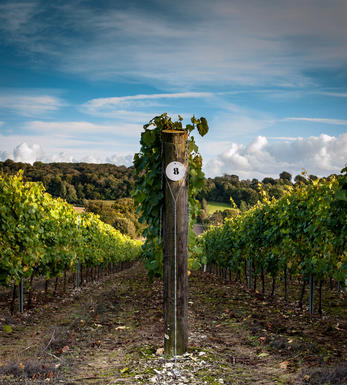 Hambledon Vineyard
Hambledon Vineyard has a long and fascinating history. Not only does the village have the reputation as the cradle of cricket, long before Lord's it seems, but it is also the location of the first English commercial vineyard, courtesy of the Francophile Sir Guy Salisbury Jones. A name familiar to anyone who has ever done any of the WSET wine exams, Sir Guy developed the vineyards in the early fifties. After an uneventful hiatus the vineyard was purchased by Ian Kellett in 1999 and his investments of both patience and capital are now yielding fruit, quite literally, in the form of some of the best located Chardonnay, Pinot Noir and Pinot Meunier grapes in the country.

Hiring the renowned oenologist Hervé Jestin, already a good friend of Berry Bros. & Rudd, through his links to our Rosé Champagne producer, Benoit Marguet, is but one of the qualitative initiatives that have propelled Hambledon back to the top of the vinous tree. Others include the purchase of an extremely expensive Coquard press, the judicious ( and costly ) separation of cuvée and taille after the pressing and also the extensive lees ageing. Equally important and some may say more important is the quality of the vineyards themselves.

Renaissance man Ian is an amateur geologist ( as well as a professional chemist and former City financier) it seems, and has pinpointed the specific chalk type in his three vineyards (Newhaven Chalk formation that developed between the Santonian and Campanian eras of the Upper Cretaceous period , known as the Senonien period in Champagne, in case you were wondering). Many of the emerging English vineyards, it would appear, actually have less chalk than one may think, given the powerful PR machine of association and many, especially those located further to the west, are dominated by green sand and clay.

Free-draining chalk, with its long association with Champagne, is seen as the ideal terroir and Hambledon has it, if you will pardon the expression, in spades. We are delighted to be working with this outstanding English winery. Sparkling wine in England goes from strength to strength, and we are confident that Hambledon will prove to be the finest of them all. Sir Guy would have been very proud.
Simon Field MW, Wine Buyer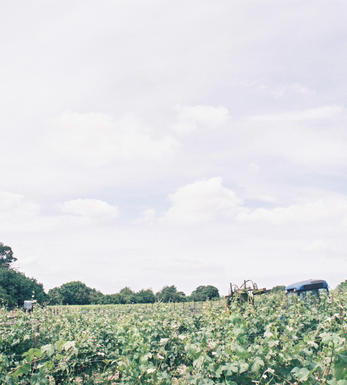 Hampshire
Hampshire is a county in South East England that has become celebrated for its production of English wine, and English sparkling wine in particular.
Leading producers here include Hambledon Vineyard, Exton Park Vineyard and Hattingley Valley. It is also home to Bride Valley Vineyard, founded by the late wine writer Steven Spurrier and his wife, Bella.
Hampshire has long been an important place for Berry Bros. & Rudd: we have offices and warehouses in Basingstoke and Andover.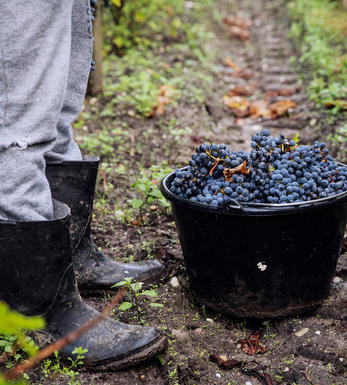 Champagne blend
Which grapes are included in the blend, and their proportion, is one of the key factors determining the style of most Champagnes. Three grapes are used - Pinot Noir, Chardonnay and Pinot Meunier.

26% of vineyards in Champagne are planted with Chardonnay and it performs best on the Côtes des Blancs and on the chalk slopes south of Epernay. It is relatively simple to grow, although it buds early and thus is susceptible to spring frosts. It produces lighter, fresher wines than those from Burgundy and gives finesse, fruit and elegance to the final blend. It is the sole grape in Blancs de Blancs, which are some of the richest long-lived Champagnes produced.
Pinot Noir accounts for nearly 40% of the plantings in Champagne and lies at the heart of most blends - it gives Champagne its body, structure, strength and grip. It is planted across Champagne and particularly so in the southern Aube district.
The final component is Pinot Meunier and this constitutes nearly 35% of the plantings. Its durability and resistance to spring frosts make the Marne Valley, a notorious frost pocket, its natural home. It ripens well in poor years and produces a soft, fruity style of wine that is ideal for blending with the more assertive flavours of Pinot Noir. Producers allege that Pinot Meunier lacks ageing potential, but this does not deter Krug from including around 15% of it in their final blends.