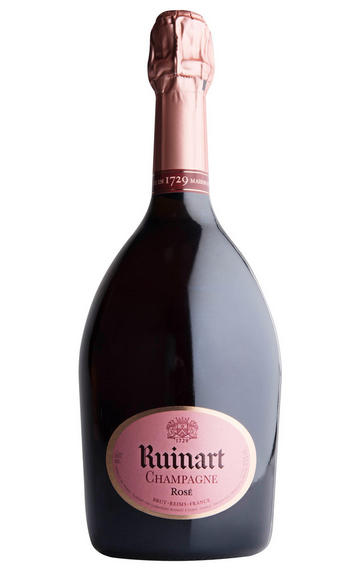 Champagne Ruinart, Rosé, Brut
Prices start from £74.75 per bottle (75cl).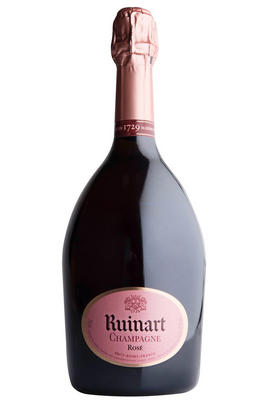 Critics reviews
The latest rendition of Ruinart's NV Brut Rosé is a lovely, vibrant wine that offers inviting aromas of tangerine, blood orange, plum and freshly baked bread. Medium to full-bodied, fleshy and precise, tangy acids and a lovely mousse, it's a ca-harming, comparatively vinous wine already showing well.
Drink 2021 - 2031
William Kelley, Wine Advocate (September 2021)
Rather dark-coloured with cherry, watermelon and stone undertones. Full-bodied and layered, with iron and strawberry at the end. 
Drink now
James Suckling, JamesSuckling.com (August 2022)
The best non-vintage Champagnes to buy.
Utterly delicious, totally fruit-driven and with surprising finesse, this is just the second Ruinart Brut Rosé cuvée produced by Fred Panaiotis, the young, highly talented new chef de caves. If he keeps this up, Ruinart, the oldest Champagne house, could be a superstar in the making.
Tom Stevenson, Decanter.com
About this WINE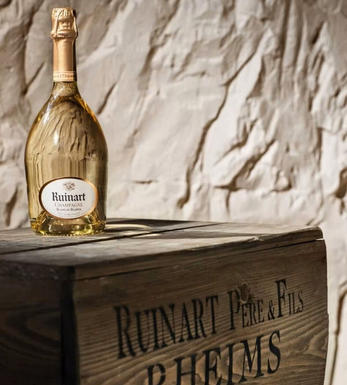 Champagne Ruinart
Ruinart is a low profile, yet select, Champagne house which is steeped in history. It dates back to the 17th century, the time of the famous Dom Pérignon. It was founded in 1729 by Nicolas Ruinart in the city of Reims, the year after a Royal Decree in 1728 whereby Louis XV gave his consent for sparkling wines to be shipped in baskets containing 50 to 100 bottles. This opened the gates of Europe to champagne and thus makes Ruinart the oldest Champagne House. Nicolas' uncle was Dom Thierry Ruinart, close friend to Dom Pérignon himself and an inspiration behind the creation of this house after the Dom's death. Its Gallo-Roman chalk cellars are now a UNESCO-classified historical monument and every two years the finest sommeliers in Europe gather there to compete for the Trophée Ruinart.

Since the second world war the house has become synonymous with class and its production of only 1.7 million bottles per annum is small compared to other grande marques. It is now part of the LVMH group that also owns Moët & Chandon.

The house style emphasises the pre-eminence of Chardonnay over Pinot Noir and Pinot Meunier.

The 'R' de Ruinart NV contains 40% Chardonnay minimum, with 25% reserve wines. Ruinart Blanc de Blancs is 100% Chardonnay, sourced predominantly from Premier Cru vineyards, while Ruinart Brut Rosé is typically 45% Chardonnay and 55% Pinot, of which 18% is red wine, so following the assemblage, rather than the saignée method of rosé production.

The Dom Ruinart range, named for the spiritual father of the House, represents the prestige cuvées of the house. Dom Ruinart Blanc de Blancs is a Grand Cru Chardonnay, predominantly from the Côte des Blancs (70%) and the remainder from the Montagne de Reims.

Dom Ruinart Rosé champagne has the same basis as the Blanc de Blancs (Chardonnay) to which 15%-20% red wine (Pinot Noir from Verzenay and Verzy) has been added. These are amazingly rich and pure in youth developing red Burgundian notes with long ageing such as in the 1988 or 1990 vintages.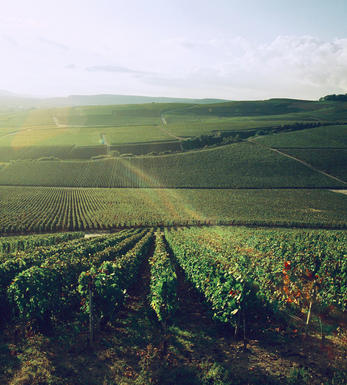 Rosé Champagne
Rosé wines are produced by leaving the juice of red grapes to macerate on their skins for a brief time to extract pigments (natural colourings). However, Rosé Champagne is notable in that it is produced by the addition of a small percentage of red wine – usually Pinot Noir from the village of Bouzy – during blending.
Recommended Producers : Billecart Salmon (Elizabeth Salmon Rose), Ruinart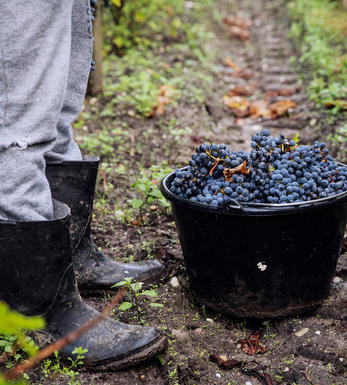 Champagne blend
Which grapes are included in the blend, and their proportion, is one of the key factors determining the style of most Champagnes. Three grapes are used - Pinot Noir, Chardonnay and Pinot Meunier.

26% of vineyards in Champagne are planted with Chardonnay and it performs best on the Côtes des Blancs and on the chalk slopes south of Epernay. It is relatively simple to grow, although it buds early and thus is susceptible to spring frosts. It produces lighter, fresher wines than those from Burgundy and gives finesse, fruit and elegance to the final blend. It is the sole grape in Blancs de Blancs, which are some of the richest long-lived Champagnes produced.
Pinot Noir accounts for nearly 40% of the plantings in Champagne and lies at the heart of most blends - it gives Champagne its body, structure, strength and grip. It is planted across Champagne and particularly so in the southern Aube district.
The final component is Pinot Meunier and this constitutes nearly 35% of the plantings. Its durability and resistance to spring frosts make the Marne Valley, a notorious frost pocket, its natural home. It ripens well in poor years and produces a soft, fruity style of wine that is ideal for blending with the more assertive flavours of Pinot Noir. Producers allege that Pinot Meunier lacks ageing potential, but this does not deter Krug from including around 15% of it in their final blends.