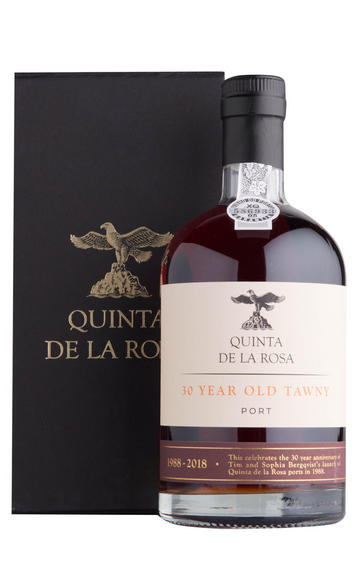 Quinta de la Rosa, 30-Year-Old, Tawny Port, Portugal (Anniversary Edition Gift Box)
Prices start from £73.00 per half litre bottle (50cl).
Critics reviews
A bottling to celebrate the anniversary of Tim and Sophie Bergqvist]'s launch of Quinta de la Rosa ports in 1988. Pale rosy tawny colour – beautifully glowing and star bright. Light but fragrant and beautiful nose. Nuts and orange peel. Long and rich on the finish. Really quite sweet but tense and beautifully balanced. Not the most complex tawny port but capable of giving enormous pleasure.

Drink 2018 - 2022

Jancis Robinson, jancisrobinson.com (Jan 2019)
The NV 30 Year Old Tawny Port was aged in old Portuguese pipas (550 liters) and tonels (10,000 liters). It comes in with 126 grams per liter of residual sugar and was bottled in September 2018 with a bar-top cork. This was made to celebrate the Bergqvist family's 30th anniversary running the La Rosa property. It is wonderful. Surprisingly fresh for its age, it is spicy, long on the finish and still complex, this is a wonderful 30 that touches all the bases, then slides into home to score. It does nothing wrong and everything well. It's brilliant.

Drink 2019 - 2060

Mark Squires, Wine Advocate (Jul 2019)
About this WINE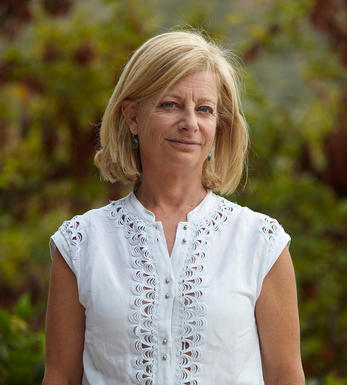 Quinta De La Rosa
Quinta de La Rosa is a small estate in the heart of the Port wine-growing region in Alto Douro, near Pinhao, owned and operated by the Bergqvist family: Tim, his wife Patricia, son Philip and his two daughters, Sophia and Olivia, with the aid of the talented winemaker Jorge Moreira since 2002

The Quinta and its vineyards were given to Tim's mother as a Christening present by her parents, the Feurheerds, who established the property in 1906.

It remains one of the few Single Quintas where the vineyards start at the bank of the Douro and rise 450 meters to the towering top of the mountain. From the river's edge to the top, one passes through 11 different microclimates. This gives La Rosa great flexibility to add variety and complexity to its Port.

La Rosa and Tim Berqgvist are special. In many ways they represent what the Douro is all about... pride, courage, tradition, and the determination to produce the finest product from in one of natures' most difficult climactic conditions.

Quinta de la Rosa produces small quantities of superb quality Ports and red wine (Val da Clara Douro label)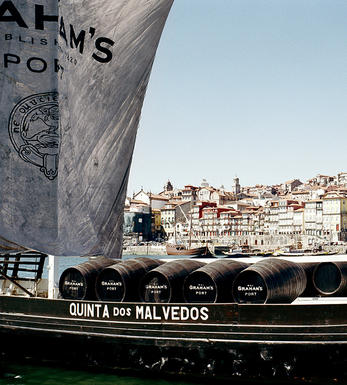 Vintage Port
Vintage Port accounts for only a small percentage of the total Port production - which includes Tawny, Ruby, Late Bottled Vintage, Single Quinta Vintage styles, among others - but is the finest, longest-lived and most expensive style that is produced. The best are as good as any wine in existence.
With the exception of legendary vineyards like Quinta do Noval Nacional and Quinta do Vesuvio, Vintage Port is made from a blend of wines from a producer's finest plots. It is aged for around 18 months in wooden casks before bottling; from then on the watch-word is patience. At least 15 years ageing – and for the top wines it will be significantly longer – is required before the tannins, spirit and fruit are fully integrated. Indeed, the finest examples can last well over 50 years.
Vintage Port is only made in exceptional years (normally around three times per decade) with considerable stylistic variation between different years and shippers. However, they all share a sweet, warming, spicy richness, power and complexity. In other good but not great vintages, many shippers produce a Single Quinta Vintage Port from their finest vineyard. These are made in the same way and have the same style as Vintage Port but tend to mature faster and are less profound. All Vintage Port throws a sediment as it matures, and thus requires decanting.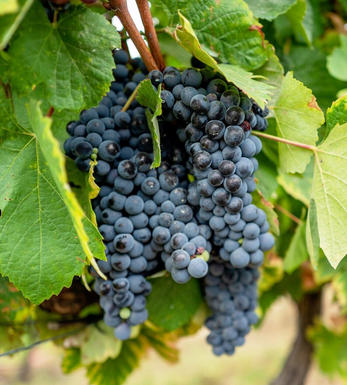 Port Blend
There are around 40 different grape varieties permitted in the production of Port - however the vast majority of Ports are produced from a blend of 5 grapes - Touriga Nacional, Touriga Francesca, Tinta Barroca, Tinta Roriz, and Tinto Cão.
Touriga Nacional produces small, dark-skinned grapes that produce opaque black wines of great extract and high tannins - it gives grip, body, and structure to the blend.
Touriga Franca has a thinner skin and consequently produces wines lighter in colour and tannins than Touriga Nacional. It contributes fruit, aroma, suppleness and roundness.
Tinta Roriz is the Portuguese name for Tempranillo and its high sugar content and low acidity contribute colour and fruit.
Tinta Barroca which is normally grown at highish altitudes and on north-facing slopes, is prized for producing wines of delicacy, finesse and with smooth, velvety fruit. It brings elegance and sweet, ripe fruit to the final blend.
Finally Tinto Cão produces fine and complex wines, though it is probably the least important of the 5 grapes as its painfully small yields have reduced plantings to almost insignificant levels.