About this SPIRIT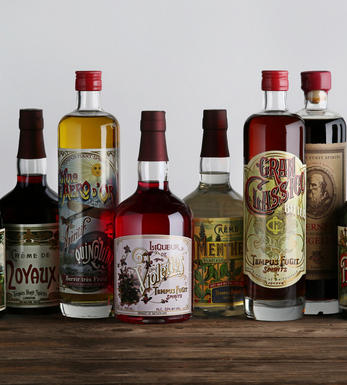 Tempus Fugit Spirits
Tempus Fugit is a small producer based in California. It was founded by John Troia and Peter Schaf in the early 2000s, both of whom are historians and experts in the field of historical cocktails, spirits and liqueurs.
Their mission is to recreate forgotten spirits and rediscover lost flavour profiles. Their spirits are crafted according to historical recipes, with a view to "arriving as close in taste to these forgotten spirits as is possible".
Tempus Fugit's distinctive portfolio includes a Crème de Banane made using heritage varieties of bananas; a Crème de Violettes; a Crème de Noyaux; and various absinthes. True to their historical focus, they also produce an intriguing Fernet: a dark brown, bitter medicinal spirit which was widely consumed in medieval times, but has since fallen out of fashion.
Their Crème de Banane is a firm favourite among Berry Bros. & Rudd staff and customers alike. John Troia lets us in on the process behind formulating this original spirit:
"One of the most important aspects of creating an authentic historic liqueur is to ensure that the ingredients are accurate to the era of your source recipe," he explains. "For our Crème de Banane, we are producing a French recipe from 1884. Very rarely would a vintage recipe specify a specific varietal for an ingredient. In the case of our Crème de Banane, the recipe just references a certain quantity of bananas.
"The important next step is to ask the question: what kinds of bananas were available to a French distiller in 1884 and where did they come from? The answer, in this case, would have most certainly been from the Caribbean, specifically Guadeloupe and Martinique. After considering all of the historic data relating to banana imports to France in the 1880s, we knew that our banana sourcing needed to focus on variants grown within the Caribbean Sea corridor."
We are delighted to offer a wide range of spirits from Tempus Fugit, all of which are made in this meticulously considered way.