About this WINE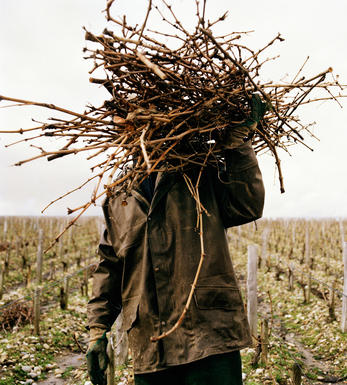 Jacques Selosse
Anselme Selosse, variously described as eccentric, obsessed, charismatic and messianic,depending on one's point of view, is one of the most fascinating vignerons at work in Champagne today. His philosophy is conspicuously Burgundian in the winery, where all of his 35 Chardonnay plots (in Avize, Cramant, Oger, Le Mesnil, Ay, Mareuil-sur- Ay and Ambonnay) are vinified separately in small Burgundian barrels that have been bought in from Domaine Leflaive, no less.
Eschewing malolactic fermentation and keeping the dosage low are practices which find empirical antithesis in the ripeness of fruit which has been farmed as late as possible. Man and wine alike court strong opinion, in itself no bad thing in a region dominated by the power of the ur-Grandes Marques.

The range includes:
Initial - a blend of three vintages of Chardonnay grapes, aged for at least 2 years before disgorgement in a Brut style. Version Originale is also a blend of three vintages of Chardonnay, but aged longer in bottle (42 months) before disgorgment and has very little dosage (Extra Brut) style.

Millésime - a single vintage Blanc de Blancs from the grapes of two vineyards in Avize, Le Mont de Cramant and Les Chantereines. Substance is a Blanc de Blancs from a single vineyard in Avize. This Champagne is made in a unique solera system with the base grapes for this wine coming from the 1987 vintage, the blend is topped up with more recent vintages each year.

Contraste is a Blanc de Noirs, made from Pinot Noir grapes, from a single vineyard (La Côte Faron in the village of Aÿ), also made in a solera style with the base grapes from the 1994 vintage. Exquise is a Demi-Sec Blanc de Blancs champagne, with around 24g/l of dosage.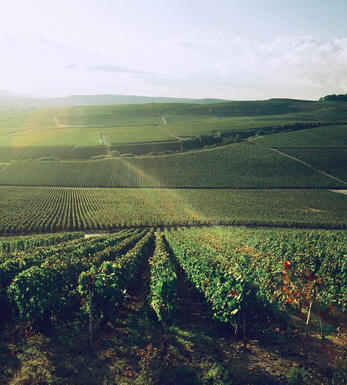 Rose Champagne
Rosé wines are produced by leaving the juice of red grapes to macerate on their skins for a brief time to extract pigments (natural colourings). However, Rosé Champagne is notable in that it is produced by the addition of a small percentage of red wine – usually Pinot Noir from the village of Bouzy – during blending.
Recommended Producers : Billecart Salmon (Elizabeth Salmon Rose), Ruinart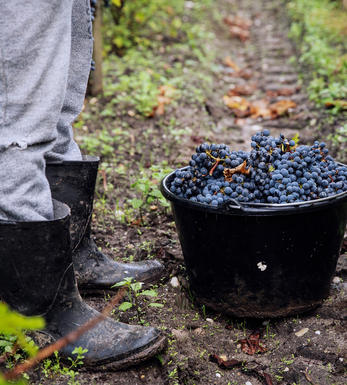 Champagne Blend
Which grapes are included in the blend, and their proportion, is one of the key factors determining the style of most Champagnes. Three grapes are used - Pinot Noir, Chardonnay and Pinot Meunier.

26% of vineyards in Champagne are planted with Chardonnay and it performs best on the Côtes des Blancs and on the chalk slopes south of Epernay. It is relatively simple to grow, although it buds early and thus is susceptible to spring frosts. It produces lighter, fresher wines than those from Burgundy and gives finesse, fruit and elegance to the final blend. It is the sole grape in Blancs de Blancs, which are some of the richest long-lived Champagnes produced.
Pinot Noir accounts for nearly 40% of the plantings in Champagne and lies at the heart of most blends - it gives Champagne its body, structure, strength and grip. It is planted across Champagne and particularly so in the southern Aube district.
The final component is Pinot Meunier and this constitutes nearly 35% of the plantings. Its durability and resistance to spring frosts make the Marne Valley, a notorious frost pocket, its natural home. It ripens well in poor years and produces a soft, fruity style of wine that is ideal for blending with the more assertive flavours of Pinot Noir. Producers allege that Pinot Meunier lacks ageing potential, but this does not deter Krug from including around 15% of it in their final blends.
Reviews
Customer reviews
Critic reviews
An utterly electrifying wine, the NV Brut Rose is simply drop dead gorgeous. The style is all about energy, delineation and minerality with this release, a blend of vintage 2004 and 2005 Chardonnay with the addition of still Pinot. This isn't one of the more vinous versions of the Rose, which actually helps to make it quite versatile. Selosse's NV Rose can be enjoyed before a meal but also has the tension to pair beautifully with food. The balance and overall sense of harmony are both dazzling.

Despite all of the acclaim and recognition Anselme Selosse has received over the years, he continues to push the envelope of what Champagne is and can be. The new lieu-dit Champagnes, which now encompass six different bottlings – all of them multi-vintage blends – are off the charts, but frankly, so are the rest of the wines.
Antonio Galloni - eRobertParker.com #1112 - Nov 2012