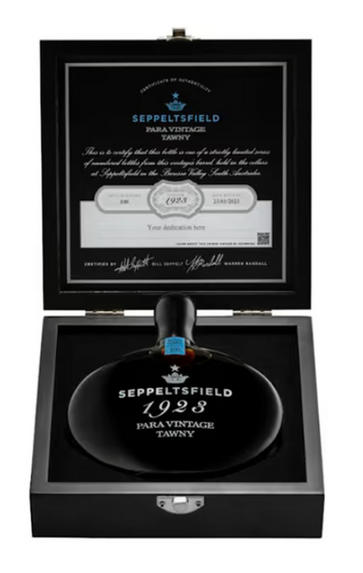 1923 Seppeltsfield, Para Vintage Tawny, Barossa Valley, Australia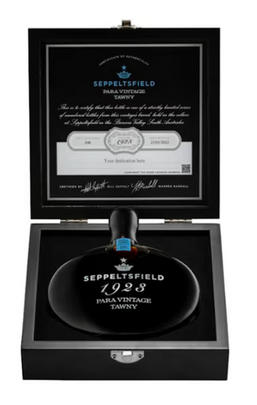 Critics reviews
Deeply colour olive green. Classical dark chocolate, roasted walnut, panforte, toffee, orange rind, polished mahogany aromas. Hugely concentrated dark chocolate, roasted chestnut, praline, prune, marmalade, nutty flavours, fine grainy bittersweet textures, superb density and viscosity, and underlying fresh aniseed notes. Finishes creamy and fresh with an endless taste of roasted walnuts and panforte.
Drink now – 2070
Andrew Caillard MW  
The wine is every bit as awesome as its predecessors, the intensity, the flavours, and the flavours lingering in the mouth for a seemingly endless time. The acidity has none of the edgy cuts that can sometimes need a spice-laden biscuit or chocolate to tame the acidity, though don't feel embarrassed if you have either one or both any way. 100 points? Of course. It is the one and only wine whose history, past, and future demands it. But that's not all. The design people have risen to create a stunning upgrade of the box and the print on the 100ml bottle in which this nectar of the gods is sold.
James Halliday, Wine Companion (February 2023)
Thick and viscous, this 100-year-old Seppeltsfield 1923 Para Vintage Tawny opens up with glorious aromas of antique furniture, wood polish, old leather, coffee grounds, espresso and cocoa beans. A deep, brooding, dark chocolate center offers a rush of sweet fruit. Despite its age, the 1923 retains unbelievable vibrancy showing all the qualities of a wine that could go on for decades. Then it displays a silky core of fruit with a strong backbone of acidity underlying spicy, old wood rancio and raisin before a long, bright and ethereal finish that, while sweet, almost finishes dry with extraordinary length. The 1923 is an Australian icon, a wine deserving of a perfect score.
Drink now to 2040
Angus Hughson, Vinous.com (February 2023)
The dark amber/tawny colour thickly coats the glass and leaves a lingering residue; the bouquet is sensationally concentrated and powerful, with a lift of volatile acidity that is such an integral part of the wine as to not be a fault, and the concentration of flavour has to be tasted to be believed. The flavours are espresso coffee, very dark chocolate, molasses, treacle, Christmas pudding and a high note of nutty oak. The closest comparison I can make is with very, very old balsamic vinegar from Modena. It's tremendously viscous, sweet and unctuous in the mouth, with an almost endless aftertaste. A breath-taking old tawny.
Huon Hooke, The Real Review
About this WINE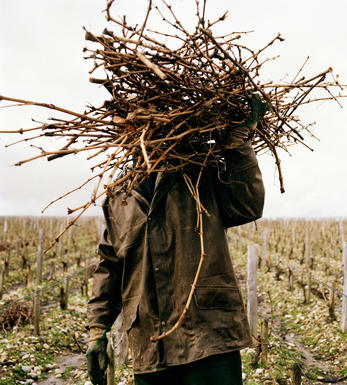 Seppeltsfield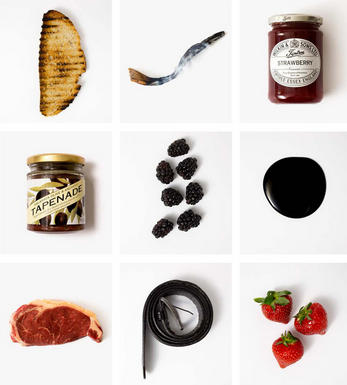 Grenache/Garnacha
Grenache (Noir) is widely grown and comes in a variety of styles. Believed to originate in Spain, it was, in the late 20th century, the most widely planted black grape variety in the world. Today it hovers around seventh in the pecking order. It tends to produce very fruity, rich wines that can range quite widely in their level of tannin.

In many regions – most famously the Southern Rhône, where it complements Syrah and Mourvèdre, among other grapes – it adds backbone and colour to blends, but some of the most notable Châteauneuf du Pape producers (such as Château Rayas) make 100 percent Grenache wines. The grape is a component in many wines of the Languedoc (where you'll also find its lighter-coloured forms, Grenache Gris and Blanc) and is responsible for much southern French rosé – taking the lead in most Provence styles.

Found all over Spain as Garnacha Tinta (spelt Garnaxa in Catalonia), the grape variety is increasingly detailed on wine labels there. Along with Tempranillo, it forms the majority of the blend for Rioja's reds and has been adopted widely in Navarra, where it produces lighter styles of red and rosado (rosé). It can also be found operating under a pseudonym, Cannonau, in Sardinia.



Beyond Europe, Grenache is widely planted in California and Australia, largely thanks to its ability to operate in high temperatures and without much water. Particularly in the Barossa Valley, there are some extraordinary dry-farmed bush vines, some of which are centuries old and produce wines of startling intensity.