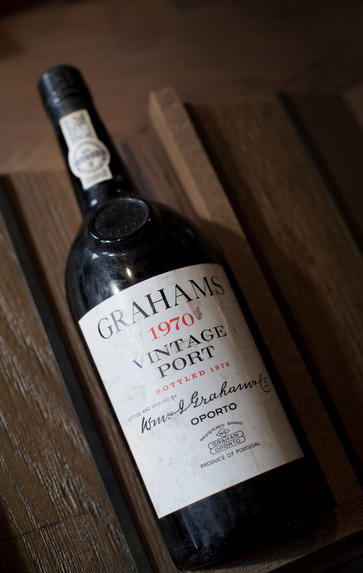 1970 Graham's, Port, Portugal
Prices start from £157.00 per bottle (70cl).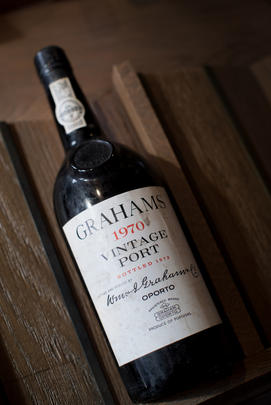 Critics reviews
Tasted at John E. Fells portfolio tasting. A Porto bottling this, but with a definite Bordeaux-like nose! Well defined, foursquare at first, opening up nicely with maraschino cherries, cloves, burnt wood/embers and bergamot, gaining intensity all the time in the glass. The palate is very harmonious and elegant (not dissimilar in texture to a '63 opened a few months earlier). Fleshy, harmonious, and seductive on the palate, with allspice, nutmeg, and ginger sprinkled over the viscous finish and freshly rolled tobacco on the aftertaste. It has good length and is powerful like many of the 1970 ports continue to be. Superb. 
Drink now - 2020+ 
Neil Martin, Wine Advocate (May 2010)
Tasted as part of the Symington's event at the Portuguese embassy in London to launch the Graham's and Warre's 2020 anniversary ports and celebrate 650 years of Anglo-Portuguese friendship. A wet winter with a cold and dry March. Warm weather in April was ideal for flowering. Spring and summer were calm and settled. Rain fell in late August and early September. Harvesting started at Malvedos on 21 September. Good weather throughout the vintage. Winemakers James and Peter Symington. TA 4.05 g/l. 'Drinking history', says Johnny Symington. This was their first declaration of Graham's.
Browning core with tawny rim but still some red in the colour. It has a lovely herbal scent with hints of bitter orange, plus figs and complex-scented dried fruits but not at all raised; tannins still have a little bit of friction, but there's an incredible amount of fruit even now, and silky on the finish. Deep and gently chewy with the intense freshness of spiced bitter orange. Port expert Richard Mayson described it as 'one of the post-war greats'. Fabulous length and unfolds in the glass. Great freshness.
Drink 1990 - 2050
Julia Harding MW, JancisRobinson.com (December 2022)
About this WINE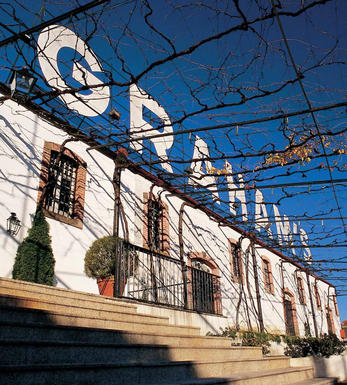 Graham
W & J Graham was originally a Glasgow-based textiles firm, founded by two brothers William and John Graham, which became port shippers in the early 1800s. The family already had extensive business interests in Scotland and India but they decided to channel their considerable resources and energy towards the pursuit of the Port industry.
Later that century, a young Scot called Andrew James Symington emigrated to work for Graham's, but, losing interest in textiles, he became a successful port shipper and his descendants today now own Graham's, which is the jewel in the crown of the Symington Group.
The Symington family's ancestry in the Port trade spans a period of over 350 years, through 13 generations with 5 members of the family currently actively involved in Graham's day to day management.
Throughout the 19th century Grahams rapidly grew and went from strength to strength and in 1980 they became one of the first Port companies to invest in Upper Douro vineyards with the acquisition of Quinta dos Malvedos. Since then Quinta dos Malvedos has been recognized as one of the Douro Valleys finest 'river quintas'.
The Port wines from Quinta dos Malvedos form the backbone of Graham's renowned Vintage Port in declared years. The vineyard produces Ports with floral characteristics, opulent blackberry fruit aromas backed by well balanced tannins.

Graham's Vintage Ports are the epitome of richness and concentration, and this is reflected right through their range of wines from ruby to vintage classics. They are Port wines with innate quality and potential for long-term ageing.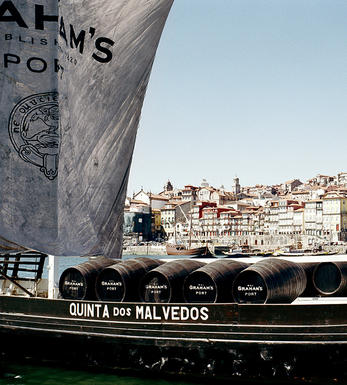 Vintage Port
Vintage Port accounts for only a small percentage of the total Port production - which includes Tawny, Ruby, Late Bottled Vintage, Single Quinta Vintage styles, among others - but is the finest, longest-lived and most expensive style that is produced. The best are as good as any wine in existence.
With the exception of legendary vineyards like Quinta do Noval Nacional and Quinta do Vesuvio, Vintage Port is made from a blend of wines from a producer's finest plots. It is aged for around 18 months in wooden casks before bottling; from then on the watch-word is patience. At least 15 years ageing – and for the top wines it will be significantly longer – is required before the tannins, spirit and fruit are fully integrated. Indeed, the finest examples can last well over 50 years.
Vintage Port is only made in exceptional years (normally around three times per decade) with considerable stylistic variation between different years and shippers. However, they all share a sweet, warming, spicy richness, power and complexity. In other good but not great vintages, many shippers produce a Single Quinta Vintage Port from their finest vineyard. These are made in the same way and have the same style as Vintage Port but tend to mature faster and are less profound. All Vintage Port throws a sediment as it matures, and thus requires decanting.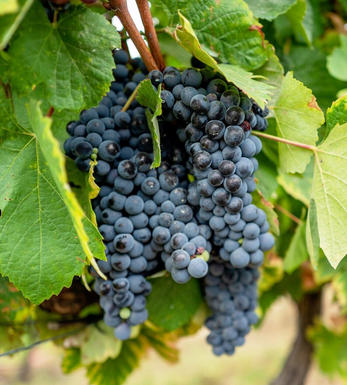 Port Blend
There are around 40 different grape varieties permitted in the production of Port - however the vast majority of Ports are produced from a blend of 5 grapes - Touriga Nacional, Touriga Francesca, Tinta Barroca, Tinta Roriz, and Tinto Cão.
Touriga Nacional produces small, dark-skinned grapes that produce opaque black wines of great extract and high tannins - it gives grip, body, and structure to the blend.
Touriga Franca has a thinner skin and consequently produces wines lighter in colour and tannins than Touriga Nacional. It contributes fruit, aroma, suppleness and roundness.
Tinta Roriz is the Portuguese name for Tempranillo and its high sugar content and low acidity contribute colour and fruit.
Tinta Barroca which is normally grown at highish altitudes and on north-facing slopes, is prized for producing wines of delicacy, finesse and with smooth, velvety fruit. It brings elegance and sweet, ripe fruit to the final blend.
Finally Tinto Cão produces fine and complex wines, though it is probably the least important of the 5 grapes as its painfully small yields have reduced plantings to almost insignificant levels.