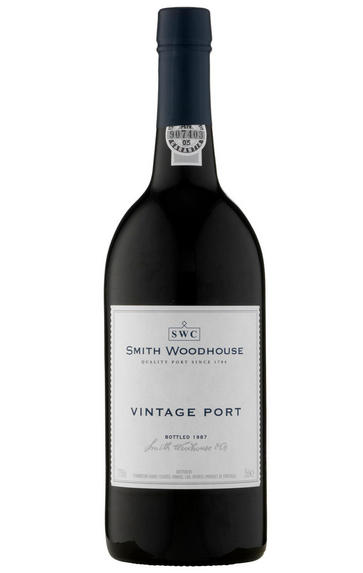 1994 Smith Woodhouse, Port, Portugal
Prices start from £475.00 per case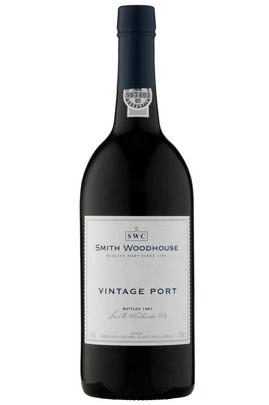 Critics reviews
Very dark crimson with some evolution at the rim. Extremely hedonistic nose. Full, round and ripe. Nice little edge of pepper. Very positive and vigorous. Lots of sweetness on the front palate with neat, dry tannins and no excess of alcohol. It is promising for the long term.
Drink 2012 - 2027
Jancis Robinson MW, JancisRobinson.com (August 2005)
An under-rated producer, Smith-Woodhouse has turned out a port with an impressively saturated dark ruby/purple colour. This powerful port is moderately sweet, forward, rich, and full-bodied, with nicely integrated alcohol and tannin. While it is not one of the vintage's blockbusters, it should be ready to drink in 3-5 years and keep for 15-20.
Robert M. Parker, Jr., Wine Advocate (October 1996)
Ripe, dense, heady fruit on the nose with more to give. Rich and plummy with good purity and definition backed by ripe tannins and a big, ripe, well-structured finish. It finishes with a flourish.
Drink 2014 - 2045
Richard Mayson, Decanter.com (October 2014)
About this WINE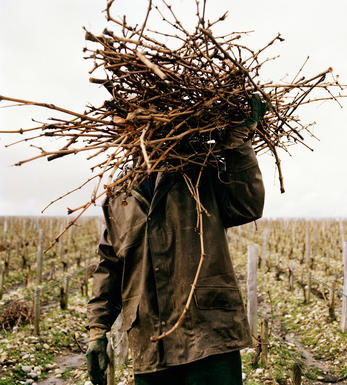 Smith Woodhouse
Smith Woodhouse was founded in 1784 when Christopher Smith, Lord Mayor of London, created a small company to ship Port from the Douro valley. Shortly after, he was joined by the Woodhouse brothers. The amalgamation of the Smith and Woodhouse families over 200 years ago gave this highly reputable company its name.
Another brand in the Symington family portfolio and, while it might not have top-flight status, it is without doubt a pretender with five members of the Symington family currently engaged in the management of Smith Woodhouse.
Smith Woodhouse Port comes from the Upper Douro in the Rio Torto district. The majority of the Port is still produced using the ancient tradition of treading the grapes by foot in stone lagares. Smith Woodhouse Port is mostly sourced from the Madalena vineyard producing smooth, well balanced and delicate fruit flavours.
Through the last 200 years, this small Port Company has built a reputation for outstanding Vintage Ports. Young Smith Woodhouse Vintage Ports show all the immense depth and concentration of one of the top half-dozen brands but, with its more modest name they represent superb value.

Their Ports have outstanding length and structure and are drier than most. Its Vintage Ports show a characteristic opulent rich style, balanced by firm hard tannins. Ageing gives these wines an unmatched elegance.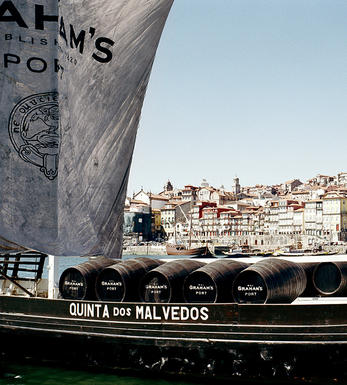 Vintage Port
Vintage Port accounts for only a small percentage of the total Port production - which includes Tawny, Ruby, Late Bottled Vintage, Single Quinta Vintage styles, among others - but is the finest, longest-lived and most expensive style that is produced. The best are as good as any wine in existence.
With the exception of legendary vineyards like Quinta do Noval Nacional and Quinta do Vesuvio, Vintage Port is made from a blend of wines from a producer's finest plots. It is aged for around 18 months in wooden casks before bottling; from then on the watch-word is patience. At least 15 years ageing – and for the top wines it will be significantly longer – is required before the tannins, spirit and fruit are fully integrated. Indeed, the finest examples can last well over 50 years.
Vintage Port is only made in exceptional years (normally around three times per decade) with considerable stylistic variation between different years and shippers. However, they all share a sweet, warming, spicy richness, power and complexity. In other good but not great vintages, many shippers produce a Single Quinta Vintage Port from their finest vineyard. These are made in the same way and have the same style as Vintage Port but tend to mature faster and are less profound. All Vintage Port throws a sediment as it matures, and thus requires decanting.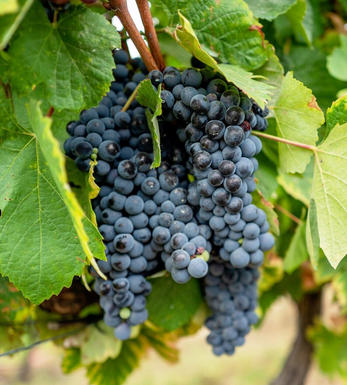 Port Blend
There are around 40 different grape varieties permitted in the production of Port - however the vast majority of Ports are produced from a blend of 5 grapes - Touriga Nacional, Touriga Francesca, Tinta Barroca, Tinta Roriz, and Tinto Cão.
Touriga Nacional produces small, dark-skinned grapes that produce opaque black wines of great extract and high tannins - it gives grip, body, and structure to the blend.
Touriga Franca has a thinner skin and consequently produces wines lighter in colour and tannins than Touriga Nacional. It contributes fruit, aroma, suppleness and roundness.
Tinta Roriz is the Portuguese name for Tempranillo and its high sugar content and low acidity contribute colour and fruit.
Tinta Barroca which is normally grown at highish altitudes and on north-facing slopes, is prized for producing wines of delicacy, finesse and with smooth, velvety fruit. It brings elegance and sweet, ripe fruit to the final blend.
Finally Tinto Cão produces fine and complex wines, though it is probably the least important of the 5 grapes as its painfully small yields have reduced plantings to almost insignificant levels.