About this WINE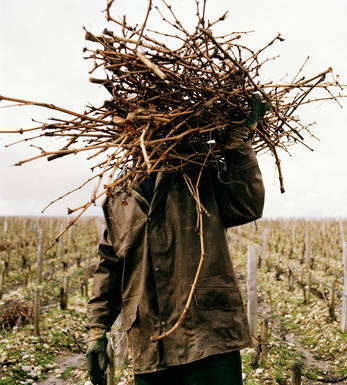 Gould Campbell
Gould Campbell has come to establish a reputation for excellent quality of their Ports and their Vintage Ports in particular. Once described as the "Saab of Vintage Ports", a comparison to the good-value and totally reliable, with a touch of slightly quirky flair, Swedish motor-cars.

Gould Campbell was founded in 1797 by Garret Gould who sailed to the shores of Portugal in order to avoid the political issues facing Ireland. The firm survived the Peninsula War which followed a few years later and soon became very successful bringing into partnership the prestigious Merchants and Bankers James Campbell & Co.

In 1970 the firm was acquired by the Symington family, already established Port producers since 1882. Gould Campbell is the least-known of the six brands in the Symington's portfolio, the innovative, family-owned shippers that have done so much for Port over the years. It is one of the very few Port shippers which remain a private family business, therefore retaining its individuality and distinctiveness.

The vineyards used for Gould Campbell are based in the Alto Douro area where yields tend to be very low but the grapes produce Ports of immense complexity and depth. The winery is situated in Pinhão where modern temperature controlled fermentation tanks are used. However a significant proportion of Gould Campbell Ports are still made using the traditional methods of treading the grapes by foot in stone tanks called lagares in small quintas around the hills in Pinhão.

Gould Campbells Ports are rich in style and very full-bodied. For their ageing potential they really are well worth consideration.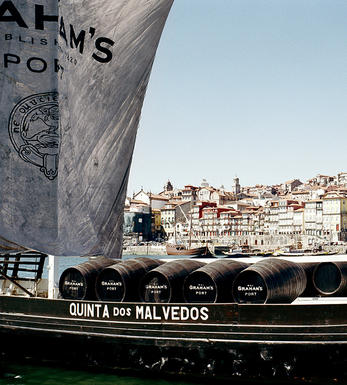 Vintage Port
Vintage Port accounts for only a small percentage of the total Port production - which includes Tawny, Ruby, Late Bottled Vintage, Single Quinta Vintage styles, among others - but is the finest, longest-lived and most expensive style that is produced. The best are as good as any wine in existence.
With the exception of legendary vineyards like Quinta do Noval Nacional and Quinta do Vesuvio, Vintage Port is made from a blend of wines from a producer's finest plots. It is aged for around 18 months in wooden casks before bottling; from then on the watch-word is patience. At least 15 years ageing – and for the top wines it will be significantly longer – is required before the tannins, spirit and fruit are fully integrated. Indeed, the finest examples can last well over 50 years.
Vintage Port is only made in exceptional years (normally around three times per decade) with considerable stylistic variation between different years and shippers. However, they all share a sweet, warming, spicy richness, power and complexity. In other good but not great vintages, many shippers produce a Single Quinta Vintage Port from their finest vineyard. These are made in the same way and have the same style as Vintage Port but tend to mature faster and are less profound. All Vintage Port throws a sediment as it matures, and thus requires decanting.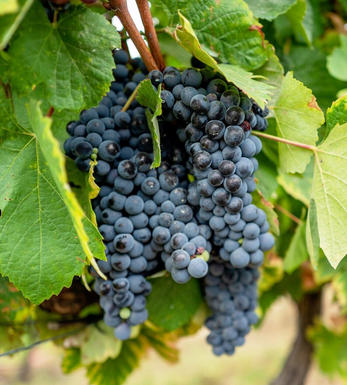 Port Blend
There are around 40 different grape varieties permitted in the production of Port - however the vast majority of Ports are produced from a blend of 5 grapes - Touriga Nacional, Touriga Francesca, Tinta Barroca, Tinta Roriz, and Tinto Cão.
Touriga Nacional produces small, dark-skinned grapes that produce opaque black wines of great extract and high tannins - it gives grip, body, and structure to the blend.
Touriga Franca has a thinner skin and consequently produces wines lighter in colour and tannins than Touriga Nacional. It contributes fruit, aroma, suppleness and roundness.
Tinta Roriz is the Portuguese name for Tempranillo and its high sugar content and low acidity contribute colour and fruit.
Tinta Barroca which is normally grown at highish altitudes and on north-facing slopes, is prized for producing wines of delicacy, finesse and with smooth, velvety fruit. It brings elegance and sweet, ripe fruit to the final blend.
Finally Tinto Cão produces fine and complex wines, though it is probably the least important of the 5 grapes as its painfully small yields have reduced plantings to almost insignificant levels.