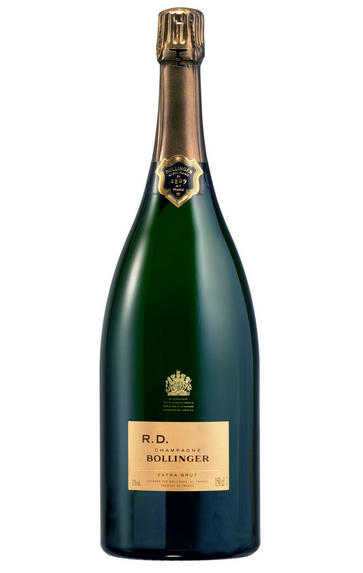 2002 Champagne Bollinger, R.D., Extra Brut
Prices start from £1,000.00 per case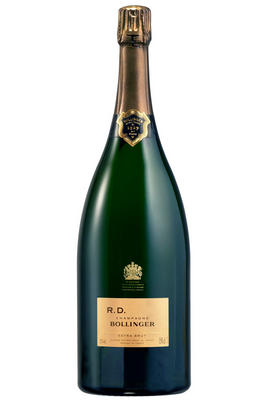 Critics reviews
Fully mature aromas comprise lovely brioche, citrus and baked apple nuances. There is a notably refined bead to the mousse that is dense, yet a little aeration allows the beautifully delineated yet subtly shaded full-bodied flavours to shine before culminating in a beautifully long, complex, intensely yeasty and classy finish. 
As the R.D. almost always is, this is full-flavoured, yet it arguably drinks like a blanc de blancs because of its purity and subtlety. In a word, this is gorgeous. Note that I have experienced some bottle variation, with some seeming distinctly more youthful than others.
Drink now
Allen Meadows, Burghound.com (October 2020)
Antonio Galloni, Vinous
95/100
The most remarkable thing about the 2002 Extra Brut R.D. is its tense and structure. Despite being disgorged over two years ago, the 2002 is tightly wound. After several hours, the power and resonance of the vintage start to come through, along with the natural richness of Pinot from Aÿ. Whereas most 2002 Champagnes are quite ripe in profile, the 2002 R.D. has plenty of depth, but it is depth through concentration instead of elevated ripeness. 
The low dosage style further adds to that sensation. Hints of chamomile, sage, dried flower and red fruits emerge over time, but only with reluctance. I prefer to cellar the 2002 for at least a few years. If that is not possible, readers should open the wine at least a few hours in advance. Even so, the 2002's best drinking lies somewhere in the future. I sense that the 2002 will be at its best between the ages of 20 and 30.
Disgorged: September 11, 2015.
Drink 2020 - 2032
Antonio Galloni, Vinous.com (December 2017)
Disgorged 17 May 2017. 60% Pinot Noir, 40% Chardonnay (usually more like 30%).
Incredibly intense aromas – baked apple, cinnamon, freshly baked bread. Conventional and recognisably champagne, but to a greater, more intense degree. There is some creamy coffee on the palate and wonderfully savoury salinity on the finish. Very, very long persistence. Champagne to the power of ten.
Drink 2018 - 2033
Richard Hemming MW, JancisRobinson.com (March 2018)
I've encountered some bottle variation with Bollinger's 2002 Extra-Brut R. D., but this example, disgorged in 2016, was showing exceptionally well, offering up a deep bouquet of dried fruits, orange zest, mocha, spices, English walnuts and hazelnuts. Full-bodied, broad and enveloping, with a pillowy, seamless profile and a fleshy core, it concludes with a long, sapid finish. With two grams per litre less acidity than the more incisive 2008 (which has yet to be released as R. D.), the 2002 is a giving, expansive wine that is drinking well today.
Drink 2015 - 2030
William Kelley, Wine Advocate (August 2022)
This late-release version of the vintage wine from Bollinger was 13 years on the lees before being disgorged in May of 2017 with an extra-brut dosage of just 3g/L. The initial blend was 60% Pinot Noir, 40% Chardonnay, fermented in cask, and aged under cork. The wine is a sublime expression of the late-disgorged style, both very fresh and showing characteristic notes of coffee and toast that long lees ageing brings. The texture is very lively and crisp, and the energy of the 2002 vintage carries this to an immense finish. This wine should age for decades.
Drink 2021 - 2051
Charles Curtis MW, Decanter.com (April 2021)
About this WINE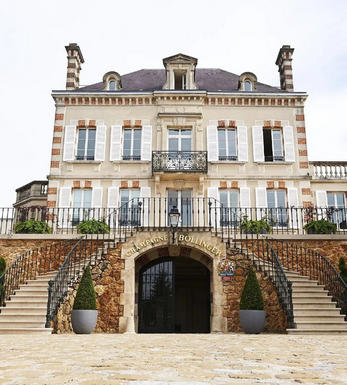 Bollinger
The Champagne House of Bollinger was established in 1829 by Jacques Bollinger and Paul Renaudin. Over the years the vineyard holdings have been steadily increased with the largest expansion taking place under the stewardship of the legendary Mme Lily Bollinger. She ran the company between 1941 and 1977 and today it is managed by her great-nephew, Ghislain de Montgolfier.
Bollinger has a reputation for producing muscular champagnes with body, depth and power, and is today considered one of the "Great" Champagne houses.

70% of the grapes come from the firm's own vineyards. 80% of the harvest is barrel-fermented with the wines being kept on their yeast lees for an extended period of time (in the case of the RD, around 10 years).

Bollinger produces classic, complex, Pinot-Noir dominated champagnes with the ability to age gracefully for many years.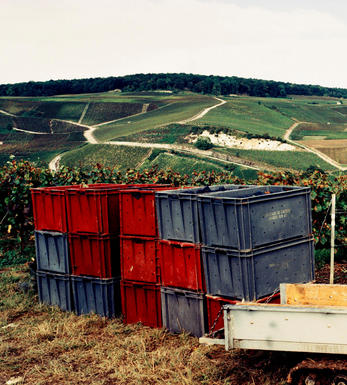 Recently Disgorged
The Recently Disgorged (RD) Champagne style was introduced for the first time by Madame Bollinger in 1961, on the 1952 Bollinger La Grande Année vintage. Disgorgement (or dégorgement) is a core process in the traditional method of sparkling wine-making. It involves the removal of the frozen sediment (yeast) collected in a plastic pot (pellet) at the neck of the inverted bottle, at the conclusion of the Champagne's ageing process after the second fermentation.

In instances where disgorgement is deliberately delayed to the point just prior to the release of the bottling to the market, the Champagne benefits from a prolonged maturation on its lees (yeast), which reinforces the aromatic subtlety and complexity of the final wine. Most importantly, late disgorgement allows the Champagne to retain its freshness, vivacity and fruity expression despite the ageing.
Recommended Producers: Bollinger RD the most famous and exquisite exponent of the style, Pol Roger.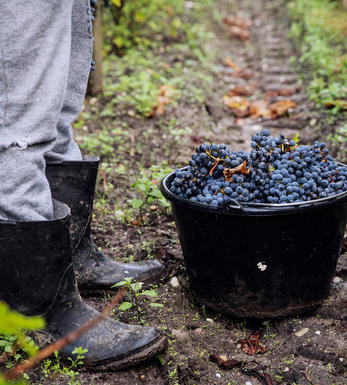 Champagne blend
Which grapes are included in the blend, and their proportion, is one of the key factors determining the style of most Champagnes. Three grapes are used - Pinot Noir, Chardonnay and Pinot Meunier.

26% of vineyards in Champagne are planted with Chardonnay and it performs best on the Côtes des Blancs and on the chalk slopes south of Epernay. It is relatively simple to grow, although it buds early and thus is susceptible to spring frosts. It produces lighter, fresher wines than those from Burgundy and gives finesse, fruit and elegance to the final blend. It is the sole grape in Blancs de Blancs, which are some of the richest long-lived Champagnes produced.
Pinot Noir accounts for nearly 40% of the plantings in Champagne and lies at the heart of most blends - it gives Champagne its body, structure, strength and grip. It is planted across Champagne and particularly so in the southern Aube district.
The final component is Pinot Meunier and this constitutes nearly 35% of the plantings. Its durability and resistance to spring frosts make the Marne Valley, a notorious frost pocket, its natural home. It ripens well in poor years and produces a soft, fruity style of wine that is ideal for blending with the more assertive flavours of Pinot Noir. Producers allege that Pinot Meunier lacks ageing potential, but this does not deter Krug from including around 15% of it in their final blends.