 2002 Taittinger Collection, Amadou Sow
Prices start from £140.00 per case Critics reviews
Senegalese artist Amadou Sow has created the latest limited edition bottle for the Taittinger Collection Champagne range, to house the 2002 vintage. The 12th in the series of bespoke bottles, Sow is the first African artist to be commissioned by the Champagne house.

Amadou Sow's bottle is 12th in the series. Sow describes the universe as being at the heart of the artist's mission, and he aims to convey a message through his paintings. Sow has named his Collection "Cosmic Pearls" and it depicts evening in Africa with vibrant colours on a black backdrop reflecting the star-studded sky, the universe and beyond. His colourful bottle design is also reminiscent of Champagne bubbles.

Champagne Taittinger Brut 2002 is a blend of 50% Chardonnay from the "Grands Crus" of the Côte des Blancs and 50% Pinot Noir from the "Grands Crus" of the Montagne de Reims and the start of the Vallée de la Marne. The Collection Series was the brainchild of Claude Taittinger who approached the Hungarian artist Victor Vasarely in 1983 with a view to commissioning the artist to make a distinctive look for a small number of vintage 1978 bottles. So successful was the execution, and so popular the concept, that Taittinger has continued to handpick artists to commemorate their special vintages.
About this WINE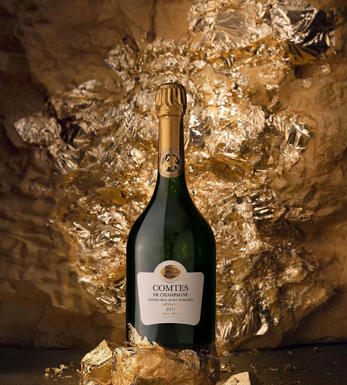 Champagne Taittinger
Taittinger is one of the few family-owned independent Champagne houses in Reims. It produces a very classy Non-Vintage blend and complex Vintage Champagnes as well.
Its top Champagne is Comtes De Champagne - first produced in 1952, it is made from 100% Chardonnay grapes from 6 Grand Cru sites in the Côte de Blancs. This is finely aromatic, rich, creamy Blanc de Blancs at its best, though patience is required as the wine should not be approached for at least ten years.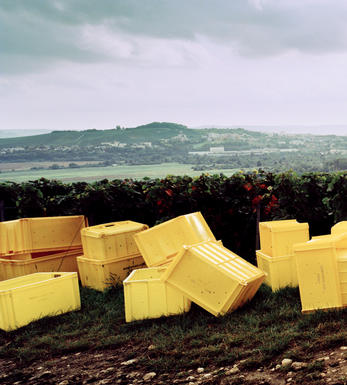 Brut Champagne
Brut denotes a dry style of Champagne (less than 15 grams per litre). Most Champagne is non-vintage, produced from a blend from different years. The non-vintage blend is always based predominately on wines made from the current harvest, enriched with aged wines (their proportion and age varies by brand) from earlier harvests, which impart an additional level of complexity to the end wine. Champagnes from a single vintage are labelled with the year reference and with the description Millésimé.

Non-vintage Champagnes can improve with short-term ageing (typically two to three years), while vintages can develop over much longer periods (five to 30 years). The most exquisite and often top-priced expression of a house's style is referred to as Prestige Cuvée. Famous examples include Louis Roederer's Cristal, Moët & Chandon's Dom Pérignon, and Pol Roger's Cuvée Sir Winston Churchill.
Recommended Producers : Krug, Billecart Salmon, Pol Roger, Bollinger, Salon, Gosset, Pierre Péters, Ruinart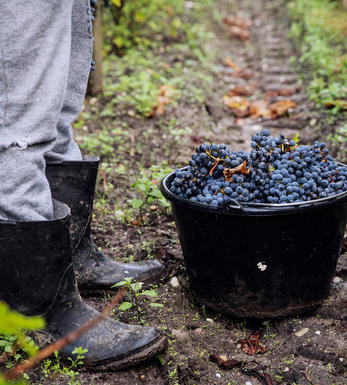 Champagne blend
Which grapes are included in the blend, and their proportion, is one of the key factors determining the style of most Champagnes. Three grapes are used - Pinot Noir, Chardonnay and Pinot Meunier.

26% of vineyards in Champagne are planted with Chardonnay and it performs best on the Côtes des Blancs and on the chalk slopes south of Epernay. It is relatively simple to grow, although it buds early and thus is susceptible to spring frosts. It produces lighter, fresher wines than those from Burgundy and gives finesse, fruit and elegance to the final blend. It is the sole grape in Blancs de Blancs, which are some of the richest long-lived Champagnes produced.
Pinot Noir accounts for nearly 40% of the plantings in Champagne and lies at the heart of most blends - it gives Champagne its body, structure, strength and grip. It is planted across Champagne and particularly so in the southern Aube district.
The final component is Pinot Meunier and this constitutes nearly 35% of the plantings. Its durability and resistance to spring frosts make the Marne Valley, a notorious frost pocket, its natural home. It ripens well in poor years and produces a soft, fruity style of wine that is ideal for blending with the more assertive flavours of Pinot Noir. Producers allege that Pinot Meunier lacks ageing potential, but this does not deter Krug from including around 15% of it in their final blends.