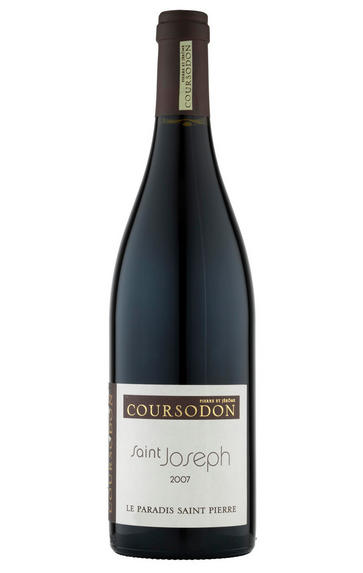 2007 St Joseph Rouge, Le Paradis Saint Pierre, Domaine Coursodon, Rhône
Prices start from £279.00 per case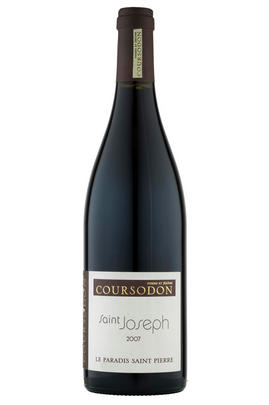 Critics reviews
The top cuvee, the 2007 St.-Joseph Le Paradis St.-Pierre, comes from the granite hillside vineyards of Mauves and Tournon. An elegant bouquet of raspberries, black cherries, crushed rocks, and spring flowers is followed by a medium-bodied, Burgundian-styled red that should provide plenty of pleasure over the next 5-7 years.
Robert M. Parker, Jr. - 29/04/2009
The top cuvee, the 2007 St.-Joseph Le Paradis St.-Pierre, comes from the granite hillside vineyards of Mauves and Tournon. An elegant bouquet of raspberries, black cherries, crushed rocks, and spring flowers is followed by a medium-bodied, Burgundian-styled red that should provide plenty of pleasure over the next 5-7 years.
(Robert Parker - Wine Advocate - Apr 09)
About this WINE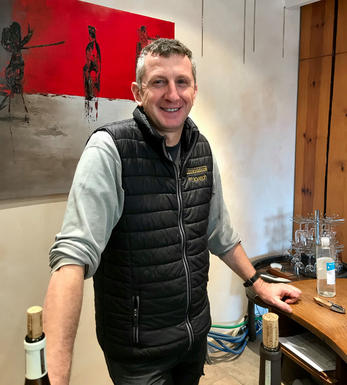 Domaine Coursodon
Based in St Joseph, this small 16-hectare domaine places great emphasis on its granitic terroir, considering its wines to be both pure and compelling. This is a thread which runs through all the property's wines. Jérôme Coursodon is the fifth generation of his family to run the estate. Ever affable, he says, "I tend to produce generous, powerful and elegant wines. Wines with a soul, made from grapes with character."
Jérôme is St Joseph specialist: he only makes wines from this commune and is extremely knowledgeable about its terroir. His Silice Blanc and Rouge are so-named for the high silica content in the soil in those parcels. His L'Olivaie and Paradis de St Pierre lieux-dits cuvées are a masterclass in different styles of St Joseph expression.
Jérôme didn't suffer too badly with frost in 2021 as his vines are all on the slopes and escaped most of the damage. Nonetheless, the challenging vintage conditions made him take the difficult decision not to produce his Paradis St Pierre Rouge this year, opting instead to concentrate all his efforts on making two exceptional cuvées rather than risk making three weaker ones. It's always impressive to see a winemaker put quality above quantity in a tough year and it certainly feels like this was the right decision. Containing declassified Paradis fruit, L'Olivaie is particularly stunning in 2021."
Sadly, Jérôme's white wines had very low yields in 2022 due to the severe drought conditions, so we can only offer Silice Blanc from this vintage and hope to see the Paradis Blanc return next year.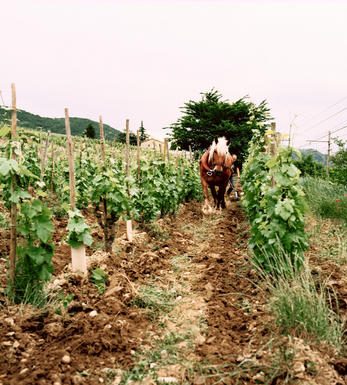 Saint-Joseph
Saint-Joseph is the second-largest appellation in the Northern Rhône with 50 growers producing wines from over 600 hectares of vineyards. Established in 1956, over 90 percent of the wine is red – made exclusively from the Syrah grape. The white wines, meanwhile, are typically a blend of Marsanne and Roussanne varieties. Its vineyards run due south on the west side below Condrieu, and are in six communes: Mauves, Tournon, St Jean-de-Muzols, Lemps, Vion and Glun.
The styles of wine in St Joseph tend to be much lighter than other red Appellations d'Origine Contrôlee and the quality can vary dramatically. The soils and climate differ, as it is a long, narrow AOC. There is no particular characteristic of the commune as some wines are produced near Côte-Rôtie, whilst others are near to Cornas.
The best St Josephs are still produced in the original heartland of the appellation between St Jean-de-Muzols and Mauves, where soils are predominately granitic with patches of limestone and schist. Typically, even the finest St Josephs are slightly lighter and faster-maturing than the wines of Hermitage, as Saint-Joseph's east-facing vineyards lose the sun up to two hours earlier in the crucial ripening season.
Recommended producers: Pierre Gaillard, Domaine Coursodon and Paul Jaboulet.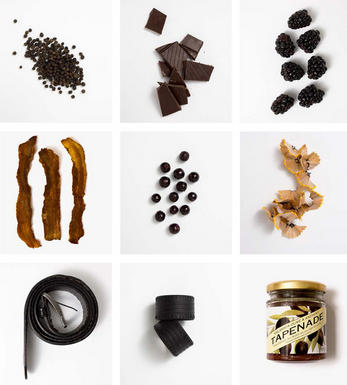 Syrah/Shiraz
A noble black grape variety grown particularly in the Northern Rhône where it produces the great red wines of Hermitage, Cote Rôtie and Cornas, and in Australia where it produces wines of startling depth and intensity. Reasonably low yields are a crucial factor for quality as is picking at optimum ripeness. Its heartland, Hermitage and Côte Rôtie, consists of 270 hectares of steeply terraced vineyards producing wines that brim with pepper, spices, tar and black treacle when young. After 5-10 years they become smooth and velvety with pronounced fruit characteristics of damsons, raspberries, blackcurrants and loganberries.

It is now grown extensively in the Southern Rhône where it is blended with Grenache and Mourvèdre to produce the great red wines of Châteauneuf du Pape and Gigondas amongst others. Its spiritual home in Australia is the Barossa Valley, where there are plantings dating as far back as 1860. Australian Shiraz tends to be sweeter than its Northern Rhône counterpart and the best examples are redolent of new leather, dark chocolate, liquorice, and prunes and display a blackcurrant lusciousness.

South African producers such as Eben Sadie are now producing world- class Shiraz wines that represent astonishing value for money.