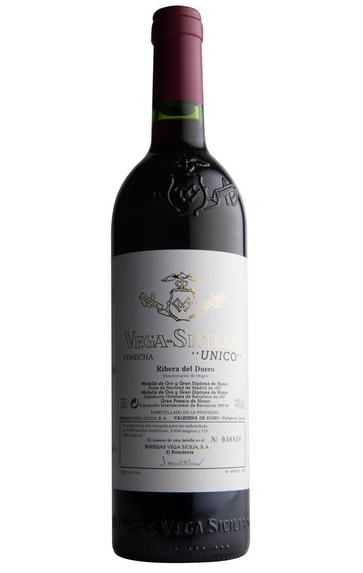 2009 Único, Vega Sicilia, Ribera del Duero, Spain
Prices start from £750.00 per case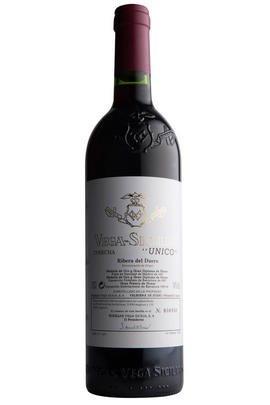 Critics reviews
Josh Raynolds, Vinous
98/100
Inky ruby. An assertively perfumed, highly complex bouquet displays powerful, mineral-accented dark berry preserve, exotic spice, vanilla, potpourri and incense aromas, along with suggestions of cola and mocha. Broad, focused, and intensely concentrated, it offers palate-staining black and blue fruit liqueur, violet pastille, and spice cake flavours that show remarkable clarity and are given spine and lift by a core of juicy acidity. 
The spice, mineral, and floral notes resonate emphatically on the strikingly long, sweet finish, which features harmonious tannins and building, resonating with the dark berry character.
Drink 2026 - 2042
Josh Raynolds, Vinous.com (February 2021)
Jancis Robinson MW
18.5/20
94% Tinto Fino, 6% Cabernet Sauvignon. Very cold winter with frosts until 23 April. Relatively dry spring. Harvest 23 September to 3 October. Bottled June 2015: 74,274 bottles, 3,390 magnums, 209 double magnums and 22 Impériales. From magnum.
Crimson. Heady and evolved on the nose. Rich and gorgeous already. Very Tempranillo and intense but fresh and refined on the finish. It's a lovely wine already.
Drink 2024 - 2050
Jancis Robinson MW, JancisRobinson.com (September 2022)
2009 was a warm and dry year, but the 2009 Único from Magnum showed very well. It was released ten years after the vintage after the previous years were not released in chronological order. This felt young and energetic, still a little closed but powerful and balanced. As with the 2011, it's "only" 14% alcohol. 3,390 magnums were filled in June 2015. Artwork by Lita Cabellut.
They seem to never stop at Vega Sicilia. The latest development has been to increase the volume they can age in large oak vats to some 40,000 litres so that the ratio of wine to oak can be a little lower as they use more vats and fewer barriques.
I attended a once-in-a-lifetime tasting of all the vintages in magnum from Vega Sicilia to celebrate the 40th anniversary of the purchase of the winery by the Álvarez family. It was not a very formal tasting but more of a day of enjoyment and celebration with colleagues from the international press. Food (from Celler de Can Roca) was even served during the tasting, so my notes are sometimes very sketchy, but I wanted to take the opportunity to give context to some of the greatest vintages ever (mostly 1970 and 1968), tasting all the wines side by side.
Drink 2024 - 2045
Luis Gutiérrez, Wine Advocate (January 2023)
Some peppery notes showing here, underpinning the black fruit, tar, cedar and nutmeg. Excellent focus, with a medium body and firm, integrated tannins. There is so much focus and tension to the wild dark fruit and dry spice. 94% tempranillo and 6% cabernet sauvignon. Tasted from magnum. 
Drink or hold
James Suckling, JamesSuckling.com (September 2022)
Vividly aromatic. For all its 13 years it's a fruit-forward style with a fine brambly acidity. Very complete, with chocolate, coffee, mineral notes and a firm grip. Overall elegant, long and concentrated. Ready to please now. Last frost on April 23. Diurnal temperature swings of almost 20°C in spring. Healthy development across the summer. 74,274 bottles, 3,390 magnums, 209 double magnums and 22 Imperials. Tasted from magnum.
Drink 2023 - 2045
Sarah Jane Evans MW, Decanter.com (September 2022)
About this WINE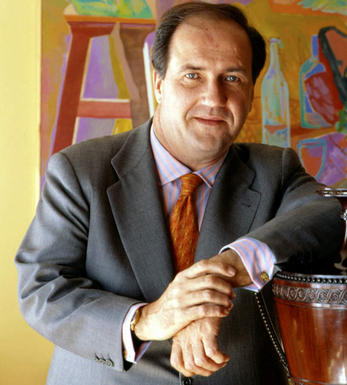 Vega Sicilia
Vega Sicilia, Spain's "first growth" and most prestigious wine estate, is located in Ribera del Duero. It was founded in 1864 by Don Eloy Lecanda y Chaves, who arrived from Bordeaux with cuttings of local grapes (Cabernet Sauvignon, Merlot and Malbec) and planted them, together with Spain's signature grape Tinto Fino (aka Tempranillo) in the arid Ribera soils.

The winery begun building its formidable reputation after 1903 under the ownership of Antonio Herrero, winning a number of awards at home and overseas. The estate changed hands several more times before its acquisition by the current owners, the Álvarez family, in 1982.

The estate's success is founded on its meticulous approach. In the vineyard it applies low yields, aided by green harvesting and painstaking selection at harvest. In the winery, wines are aged in any number of receptacles – using French and American, new and old oak, small barrels or huge vats – to engender further complexity. Despite prolonged barrel ageing, the fruit is never dried out or overly oaky – compelling evidence of the superb quality of its raw materials.

The Vega Sicilia range includes three cuvées: Único (literally translating as "unique") is the flagship, followed by Único Reserva Especial (a multi-vintage blend) and their "entry-level" offering Valbuena 5° (an expression of Tinto Fino aged for five years, hence the "5°"). The top two wines are a blend of Tinto Fino with a small percentage of Cabernet Sauvignon and/or Merlot, depending on the vintage. They are both aged for approximately 10 years prior to release, normally spending six of those in barrel and three in bottle.

This illustrious property laid the founding stone for Ribera del Duero, which is now acknowledged to be one of the best wine regions in Spain.

Vega Sicilia has now built up a portfolio which includes Bodegas Alion (providing a more modern expression of Ribera del Duero), Bodegas Pintia (in the emerging region Toro), Macán (a partnership with Benjamin de Rothschild) and the Hungarian Tokaji estate, Oremus.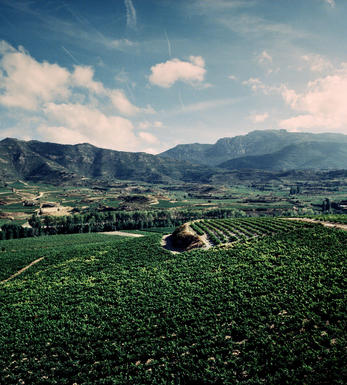 Ribera del Duero
In the last 30 years, Ribera del Duero has emerged from almost nowhere to challenge Rioja for the crown of Spain's greatest wine region. Once known only as the home of Vega Sicilia it now boasts numerous bodegas of outstanding quality like Cillar de Silos, Alión and Hacienda Monasterio. Ribera del Duero was granted its DO status in 1982, at a time when only nine bodegas were operating there, yet today it has over 200 wineries and more than 20,000 hectares of vines. Most of Ribera del Duero's production is red, with only a modest quantity of rosado produced. No white wines are allowed under the DO.
Ribera del Duero owes its success to a combination of factors: firstly, its terroir of schistous sub-soil bears remarkable similarity to other famous winemaking regions such as the Douro and Priorat. Secondly, its microclimate, with its high altitude, hot days and cool nights (a phenomenon known as "diurnal variation"), ensures ripeness while preserving the vivacity of the fruit, aromatic flavours and refreshing acidity.
Thirdly, it has been blessed with an exceptional native grape, Tempranillo (also known as Tinto del País or Tinto Fino). This yields superb, complex red wines that are delicious when young but which also have the capacity to age into magnificent Gran Reservas. Finally, the immense influence of its winemakers has been key – historically, of course, Vega Sicilia, but more recently Peter Sisseck (Hacienda Monasterio) and the indefatigable Aragón family of Cillar de Silos.
The same DO rules govern Ribera's barrel-aged styles as for Rioja: Crianzas are aged for two years before release with at least a year in oak barrels; Reservas must be three years old with at least a year spent in oak; and, finally, Gran Reservas must be five years old before going on sale, with two years spent in barrel. The young (joven) unoaked red wines, called Roble, tend to boast a moreish, vibrant, bramble fruit while the best oak-aged styles of Crianza, Reserva and Gran Reserva show intense, generous fruit, overlaid with notes of vanilla and sweet spice, and wrapped up in polished, elegant tannins.
Recommended producers: Vega Sicilia (including Alión), Cillar de Silos, Hacienda Monasterio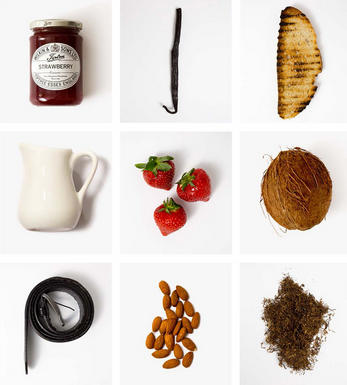 Tempranillo/Tinto Fino
A high quality red wine grape that is grown all over Spain except in the hot South - it is known as Tinto Fino in Ribera del Duero, Cencibel in La Mancha and Valdepenas and Ull de Llebre in Catalonia. Its spiritual home is in Rioja and Navarra where it constitutes around 70% of most red blends.
Tempranillo-based wines tend to have a spicy, herbal, tobacco-like character accompanied by ripe strawberry and red cherry fruits. It produces fresh, vibrantly fruit driven "jovenes" meant for drinking young. However Tempranillo really comes into its own when oak aged, as with the top Riojas where its flavours seem to harmonise perfectly with both French and American oak, producing rich, powerful and concentrated wines which can be extraordinarily long-lived.
In Ribera del Duero it generally sees less oak - the exception being Vega Sicilia where it is blended with Cabernet Sauvignon and Merlot and then aged for an astonishing 7 years in oak and is unquestionably one of the world`s greatest wines.