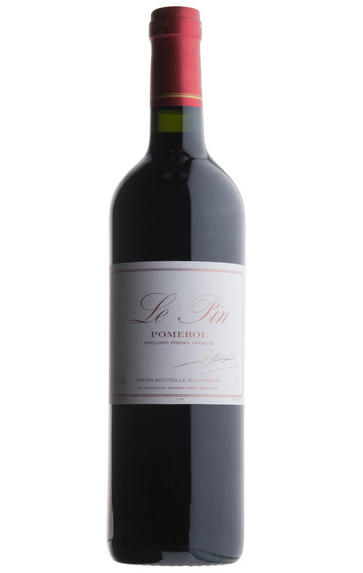 2010 Le Pin, Pomerol, Bordeaux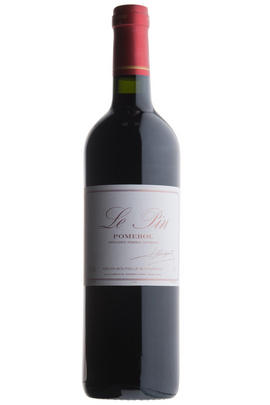 Critics reviews
Made from 100% Merlot (one percent for each rating point I've assigned), this wine is explosively rich and compelling. Dense plum/purple, it boasts the remarkable delineation and freshness that are hallmarks of this vintage. From a much smaller production than normal because of Merlot's poor flowering, the very hot, dry growing and harvest conditions, this is a super-endowed, very rich Le Pin with its exotic new oak largely buried behind its extravagant concentration, power and richness. I don't know what its natural alcohol level is, but I suspect it is pushing 15% in 2010. Rich, tannic, but exceptionally well-endowed, this is a sublime example of Merlot at its very finest. Forget it for 5-7 years (which is somewhat unusual for Le Pin) and drink it over the following three decades.
(100 Robert Parker - Wine Advocate - Feb 2013)

The 2010 Le Pin is 100% Merlot, aged in 100% new oak, but the Thienponts never want to hear that this is one of those "cult wines." It has been widely imitated by others thanks to its enormous success, and as I have written many times, it is a relatively exotic take on Bordeaux. The 2010 is the darkest colored Le Pin I have ever seen – black purple, no doubt due to tiny yields and the very small berries that were the result of the drought of 2010. Uber-concentrated, with fabulous cassis and black cherry fruit, licorice, and notes of subtle smoke and toast, the wine is full-bodied, with sweet tannin and remarkable thickness/unctuosity. It should prove to be one of the longest-lived Le Pins made in its first 30+ years of existence.
(96-98 Robert Parker- Wine Advocate- May 2011)
The 2010 Le Pin is very dark crimson and voluptuous. Lovely combination of richness, savour and freshness. A big step up. Fresh minerality on the finish. Jacques Thienpont was worried about the Merlots, and Alexandre Thienpont encouraged picking here so that he could pick at Vieux Château Certan. Most unusual freshness. Sinewy. Really racy but with great density... Jacques says he would like to have waited a little longer but the results aren't too bad, are they?
(Jancis Robinson MW- jancis robinson.com, Apr 2011)

This is a stunning display of purity, with lush raspberry and boysenberry fruit, that never gets heady despite its obvious weight. Alluring spice and graphite notes flicker, but for now this is still exuberantly youthful and primal. And very, very long. Tasted non-blind.
(James Molesworth – The Wine Spectator – Apr 2011)
The 2010 Le Pin has all the charm of the 2009 vintage but to my mind a touch more vivacity and structure. Lifted Burgundian red fruit and spice aromas and flavour. Supple caressing fruit on the palate. Decadent sweetness on the mid-palate then long filigree tannins.
Made from 100% Merlot (one percent for each rating point I've assigned), this wine is explosively rich and compelling. Dense plum/purple, it boasts the remarkable delineation and freshness that are hallmarks of this vintage. From a much smaller production than normal because of Merlot's poor flowering, the very hot, dry growing and harvest conditions, this is a super-endowed, very rich Le Pin with its exotic new oak largely buried behind its extravagant concentration, power and richness. I don't know what its natural alcohol level is, but I suspect it is pushing 15% in 2010. Rich, tannic, but exceptionally well-endowed, this is a sublime example of Merlot at its very finest. Forget it for 5-7 years (which is somewhat unusual for Le Pin) and drink it over the following three decades.
(100 Robert Parker - Wine Advocate - Feb 2013)

The 2010 Le Pin is 100% Merlot, aged in 100% new oak, but the Thienponts never want to hear that this is one of those "cult wines." It has been widely imitated by others thanks to its enormous success, and as I have written many times, it is a relatively exotic take on Bordeaux. The 2010 is the darkest colored Le Pin I have ever seen – black purple, no doubt due to tiny yields and the very small berries that were the result of the drought of 2010. Uber-concentrated, with fabulous cassis and black cherry fruit, licorice, and notes of subtle smoke and toast, the wine is full-bodied, with sweet tannin and remarkable thickness/unctuosity. It should prove to be one of the longest-lived Le Pins made in its first 30+ years of existence.
(96-98 Robert Parker- Wine Advocate- May 2011)
The winningly self-­effacing Jacques Thienpont continues to work his magic at this small Pomerol jewel. The nose is still a little oaky, but the wine beneath it is very feminine, with feline grace, subtle, allusive fruit flavours of red cherry and raspberry, a sprinkling of aniseed, fine-­grained tannins and a fresh, elegant finish. Bound to be
very pricey, but undoubtedly a great wine.
(Tim Atkin MW,
www.timatkin.com
, May 2011)
About this WINE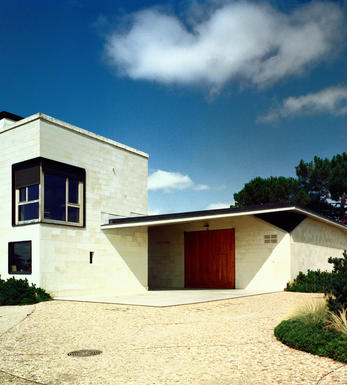 Le Pin
Le Pin is the most expensive wine in the world. Jacques Thienpont purchased the meagre 1.6 hectares of land for one million francs in 1979. The Thienpoints named their wine Le Pin after a solitary pine tree that shaded the property. By acquiring tiny adjoining plots of land, Jacques has doubled the size of Le Pin to five acres. The south-facing vineyard on a well-drained slope of gravel and sand is planted with Merlot (about 92%), and a small amount of Cabernet Franc.
Le Pin's soil is a mixture of gravel and clay with a little sand and is exceptionally low yielding (between 30 to 35 hl/hc). The grapes are hand-harvested and are fermented in stainless steel before being matured in`200%` new oak barriques for between 14 and 18 months. Dany Rolland, wife of cult-oenologist Michel Rolland, is a consultant here.
Le Pin produces just 600 to 700 cases each year (Lafite Rothschild produces approximately 29,000 cases of wine a year and and Pétrus about 4,000) and its rarity is one of the driving forces behind its high prices. Le Pin produces super-concentrated, decadent, lush and lavishly oaked wines - they can be drunk young but are best with 7-10 years of bottle ageing.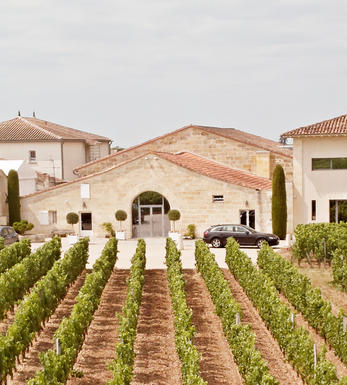 Pomerol
Pomerol is the smallest of Bordeaux's major appellations, with about 150 producers and approximately 740 hectares of vineyards. It is home to many bijou domaines, many of which produce little more than 1,000 cases per annum.

Both the topography and architecture of the region is unremarkable, but the style of the wines is most individual. The finest vineyards are planted on a seam of rich clay which extends across the gently-elevated plateau of Pomerol, which runs from the north-eastern boundary of St Emilion. On the sides of the plateau, the soil becomes sandier and the wines lighter.

For a long time Pomerol was regarded as the poor relation of St Emilion, but the efforts of Jean-Pierre Moueix in the mid-20th century brought the wine to the attention of more export markets, where its fleshy, intense and muscular style found a willing audience, in turn leading to surge in prices led by the demand for such limited quantities.


There is one satellite region to the immediate north, Lalande-de-Pomerol whose wines are stylistically very similar, if sometimes lacking the finesse of its neighbour. There has never been a classification of Pomerol wines.

Recommended Châteaux : Ch. Pétrus, Vieux Ch. Certan, Le Pin, Ch. L'Eglise-Clinet, Ch. La Conseillante, Ch. L'Evangile, Ch. Lafleur, Trotanoy, Ch. Nenin, Ch. Beauregard, Ch. Feytit-Clinet, Le Gay.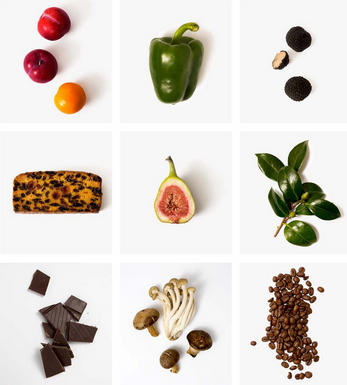 Merlot
The most widely planted grape in Bordeaux and a grape that has been on a relentless expansion drive throughout the world in the last decade. Merlot is adaptable to most soils and is relatively simple to cultivate. It is a vigorous naturally high yielding grape that requires savage pruning - over-cropped Merlot-based wines are dilute and bland. It is also vital to pick at optimum ripeness as Merlot can quickly lose its varietal characteristics if harvested overripe.
In St.Emilion and Pomerol it withstands the moist clay rich soils far better than Cabernet grapes, and at it best produces opulently rich, plummy clarets with succulent fruitcake-like nuances. Le Pin, Pétrus and Clinet are examples of hedonistically rich Merlot wines at their very best. It also plays a key supporting role in filling out the middle palate of the Cabernet-dominated wines of the Médoc and Graves.
Merlot is now grown in virtually all wine growing countries and is particularly successful in California, Chile and Northern Italy.