 2010 Pinot Gris, Clos Jebsal, SGN Trie Spéciale Zind Humbrecht Critics reviews
Last tasted from the ten-year-old demi-muid in which it was destined to have spent at a total of at least four years, the Zind-Humbrecht 2010 Pinot Gris Clos Jebsal Selection de Grains Nobles Trie Speciale was at that time not yet even legally wine. But like its author, Ill venture an interim tasting note to give you a flavor of the thing. Imagine motor oil-weight yet almost weightless concentrates of pear and apricot laced with yeast, candied grapefruit rind, caramel and fleur de sel that coat the palate and linger with truly amazing persistence. What a lot there is to look forward to here through mid-century! (A 2009, tasted alongside and also from barrel, displayed awkwardly oxidative and volatile notes that by no means negated the positive effects of its phenomenal concentration of pit fruits, honey and sorghum and were certainly part of a formidably complex performance, but that led me to believe I would have been describing and rating it at an inopportune moment. It needs to mellow and ripen in cask yet, remarked its author.)
David Schildknecht - 28/08/2014
About this WINE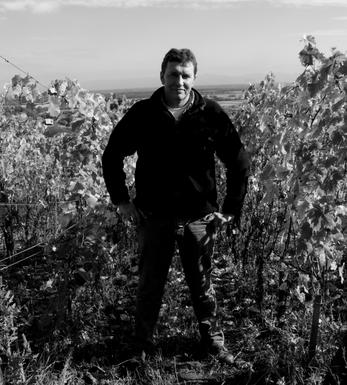 Domaine Zind Humbrecht
The wines of Olivier Humbrecht M.W. need little introduction, possessing great depth, exactitude as well as generosity…like the man himself.

The Humbrecht family viticultural roots can be traced back to The Thirty Years War of 1620. Today they own forty hectares across five villages in the Haut-Rhin, the southern half of the picturesque vineyards overlapping the Vosges foothills, treasured for its idyllic climate, tapestry of terroirs as much for its half-timbered houses.

The domaine has vines in 4 Grands Crus - Rangen (Thann) 5.5 ha, Brand (Turckheim) 2.4 ha, Hengst (Wintzenheim) 1.4 ha, Goldert (Gueberschwihr) 0.9 ha as well as Single Vineyards; Rotenberg (Wintzenheim) 1.8 ha, Clos Häuserer (Wintzenheim) 1.2 ha, Herrenweg (Turkheim) 11.5 ha, Clos Jebsal (Turkheim) 1.3 ha, Heimbourg (Turkheim) 4 ha and Clos Windsbuhl (Hunawihr) 5.2 ha.

Olivier has arguably overseen the most notable improvements in the estate's illustrious history: a new cellar in 1992 while retaining the traditional 'foudre' oval barrels; initiating biodynamic practices in 1997 (certified in 2002); and the buying of a horse in 2006 to plough the vineyards!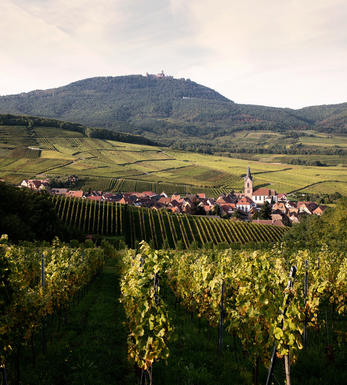 Alsace
While Alsace's 16,000 ha may have accounted for only two percent of France's vineyards in 2004, and although 50 percent of the production is still made by cooperatives, paradoxically the region remains the source of some of the world's finest white wines.

There are several reasons for this: the region's 47.5 degrees north latitude ensures high sunshine levels; it has a deep continental climate and superb mesoclimate created by the sheltering presence of the Vosges Mountains, whose foothills have in turn provided excellent aspects and elevation (up to 360m), notably along the southern, east-facing Haut-Rhin region; the diverse array of soil types (13 in all); the cultural meticulousness of the local French/Swiss/German people; and finally, the choice of noble varieties such as Riesling, Pinot Gris, Gewürztraminer, Muscat (Ottonel and d'Alsace), Sylvaner and Pinot Blanc.

Alsace is also famed for being the birthplace of biodynamic viticulture in France, dating back to 1924; hence it has the country's highest proportion of biodynamic producers.

Furthermore, the region enjoys a rich viticultural heritage stretching back to the Roman Empire; their good work was briefly interrupted by the marauding Alemanni hordes before being revived by the Church. Riesling was first documented in 1477, Muscat and Traminer first appeared in 1500, while Tokay Pinot Gris surfaced later in 1650. The region returned to France in 1648 at the end of the Thirty Years' War, when Louis XIV offered free land to the French, German and Swiss immigrants. The commercial imperative of the time was one of quantity fuelled by the anodyne Elbling grape and exported widely.

The French Revolution did nothing to reverse this trend, resulting in nearly 7,000 ha (John Baxevanis's 'The Wines of Champagne, Burgundy, Eastern and Southern France' quotes 30,000 ha planted in Alsace by 1828, p.28) being planted by the time of the Franco-Prussian War; the province becoming German momentarily before being plagued by oidium, mildew and latterly phylloxera. Cheap blends predominated until the territory was handed back to France after the First World War. Plans to join France's Appellation d'Origine Contrôlée system in 1933 were postponed by the Second World War until 1962.
Alsace differs stylistically from its German cousins further up the Rhine in that the wines are typically fermented dry in large old oak foudres at ambient temperatures to give a fuller-bodied wine that is a natural accompaniment to the finest fare (unsurprisingly, Alsace boasts one of the highest concentrations of Michelin-starred restaurants).
Alsace is unique for a French wine region for many reasons, but perhaps most significantly in its labelling laws that stipulate that producers must specify the grape variety used on the label. Riesling, Pinot Gris, Gewürztraminer and a little Muscat are the noble names, along with some Pinot Blanc and Sylvaner for thirst- quenching purposes, and Pinot Noir for those who wish for red wine – not much of the latter travels to export markets.
There are three superior categories of wine to look out for: The best vineyards have been designated Grand Cru (25 of them appointed in 1983, a further 25 in 1985, and just one in 2008), while late-harvested wines achieving specified sugar levels may be labelled Vendanges Tardives or, for exceptional items, Selection des Grains Nobles. Apart from these two categorisations, there is no indication as to whether the wine will be fully dry or possibly contain residual sugar.
As elsewhere, it pays to follow the producer, both in the pursuit of quality and also for security of style. Some growers look for mineral intensity (Ostertag, Trimbach, André and Lucas Rieffel), others achieve an awesome opulence (Zind Humbrecht). An impressive number of top names have converted to biodynamic farming in recent years.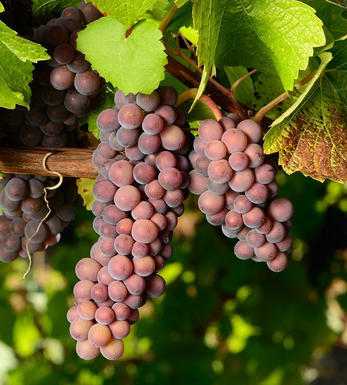 Pinot Gris/Pinot Grigio
A first class grape variety grown in Alsace, where it is known as Tokay Pinot Gris, and in Italy, where it is called Pinot Grigio. In Alsace it is best suited to the deep, clay rich soils found in the north of the region where it produces richly honeyed, dry whites as well as superb sweet late harvest wines. At its best it combines the heady perfume and rich aroma of Gewürztraminer with the acidity one associates with Riesling. It ages very well, developing rich buttery characteristics.
In Northern Italy Pinot Grigio produces many thin undistinguished dry whites. However it comes into its own in Friuli-Venezia and the Alto Adige, where leading producers such as Alvaro Pecorari of Lis Neris produce marvellously rounded, elegant, and mineral laden examples. Pinot Gris is now grown with notable success in Oregon in the USA and in New Zealand.